ChinaJoy opens amid glares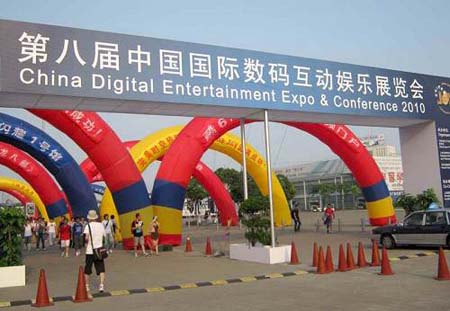 The entrance of the Expo site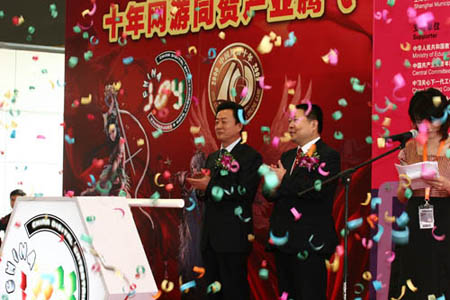 The opening ceremony of ChinaJoy
The 8th Digital Entertainment Expo & Conference, also widely known as ChinaJoy, was held in the Shanghai New International Expo Centers on July 29. Over 200 game producers across the globe gathered and shared their experiences in this exciting industry.
Liu Chuanbin, director of the General Administration of Press and Publication (GAPP), addressed the opening ceremony, paying high praise to China's rapid development in games production. He said that efforts are to be taken to lead the rising industry towards healthy development.
ChinaJoy, together with the Electronic Entertainment Expo and Tokyo Game Show, is considered one of the three largest events for the game industry. Every year, producers from Europe, America and Japan and other countries with rich experience in games production all come to the event and showcase their established products and, more to the point, take it as a golden opportunity to reach the vast Chinese market.
As the industry churns, destroying some producers while creating others, China has seen a solid improvement in its game industry over recent years. The Chinese game producers have come along through the ups and downs of the industry as a whole. They are trying to enhance their R&D capabilities as they have come to realize that the commercial success hinges on their ability to innovate.
Since they still stand nowhere near their foreign counterparts, like Blizzard, whose renowned game, World of Warcraft, has become a phenomenon in China, they are working to pick up know-how from their foreign partners and will eventually gain ground.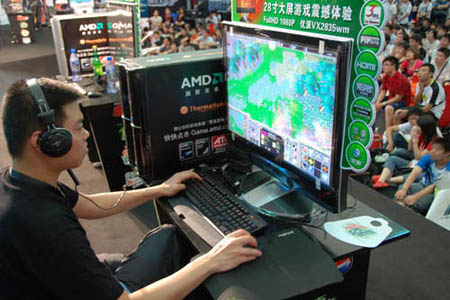 E-sport competition
So far, ChinaJoy has become the largest digital entertainment expo in Asia in terms of scale and effect on the direction of the games industry. As the Shanghai Expo is in full swing, the four-day expo (July 29—August 1) adds another flavor to the dynamic city.
As important components of China Joy, China Game Business Conference, China Game Development Conference and China Game Outsourcing Conference were held in Shanghai International Convention Center for the duration of the event. Global professionals exchanged their ideas on China's digital entertainment industry and its future development.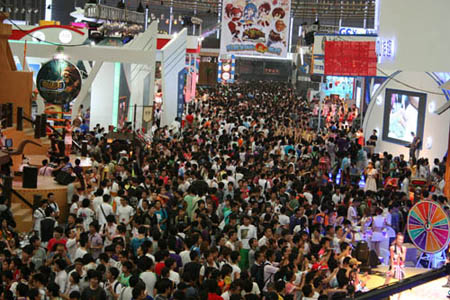 Crowded visitors are moving to look for something new.
The organizing committee, on the other side, expected all the game producers to profitably share experience and meet their desired goals in the event.
In addition, e-sports competitions and cosplay performances were both given by the game fans to bulk up the contents.
ChinaJoy is co-hosted by GAPP, the General Administration of Sport, the China Council for the Promotion of International Trade and other national departments. It has won generous support from foreign organizations, such as the Interactive Software Federation of Europe and Computer Entertainment Supplier's Association since it was initiated in 2004 in Beijing.