-----------------------------------------------------------------------------------------------------------------------------------------------------------------------------------------
Jailed tycoon loses battle for Gome  2010-09-28
Jailed tycoon Huang Guangyu lost his battle to wrestle back control of Gome Electrical Appliances, China's second largest electronics retailer, in Hong Kong on Tuesday evening.
Shareholders voted against replacing Huang's successor and former protege, Chen Xiao, and another top executive, with Huang's sister and one of his lawyers. [Full story]
Huang Guangyu, 40, founder and the largest shareholder of Gome, successfully revoke Gome's "general mandate" to issue new shares without first offering them to current shareholders, a move that could dilute majority shareholding in the company. Huang won the vote by 55 percent to 45 percent.

Huang, sentenced to 14 years in jail for insider trading and bribery, and his wife hold 32.47 percent majority shareholding in the company.

Huang had built Gome into China's biggest appliance retailer and was listed by the Hurun Report as China's richest man in 2004, 2005 and 2008.

Chen Xiao, 51, current chairman of Gome, defeated the resolutions to oust him and vice-president Sun Yiding by a vote of about 52 percent to 48 percent.

Chen has about 1.25 percent of the shares.

Bain Capital LLC, regarded as supportive to Chen, announced on Sept 15 that it had boosted its stake to 9.98 percent by converting bonds into equity.
Huang responds to special general meeting results 2010-09-28
The Founding Shareholders believe that without their contributions, Gome would "stray from the path of profitable growth, resulting in deteriorating core competency and losing its industry leadership."
"Nothing has changed about our concerns regarding the unrepresentative nature of the Board, and we reserve all our rights to take appropriate action to protect our interest and those of other shareholders." [Full story]
Shareholders of Gome to decide fate of chairman 2010-09-28
The power struggle in Gome came to a climax at the company's special shareholders' general meeting on Sept 28 in Hong Kong. Shareholders attending the meeting, held in the Regal Hong Kong Hotel at Causeway Bay, the downtown area, would vote on eight proposals, five of which were by Huang. [Full story]
Huang calls for shareholders' support 2010-09-27
Huang called for the support of his shareholders to dismiss the company's current chairman Chen to retain control of the company, "in order to ensure the long-term stability of Gome".
The statement accused Chen of not acting and speaking "in the best interests of the company and its shareholders." [Full story]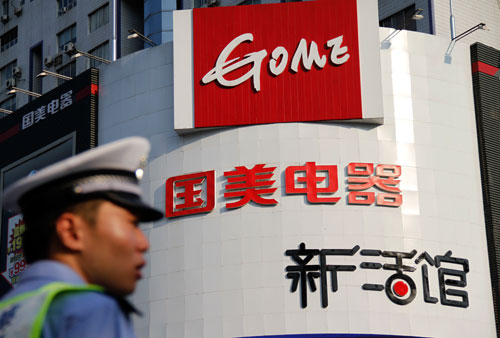 Fierce battles for control of Gome 2010-09-16
Huang has urged other Gome shareholders to support his demands, which include the removal of company chairman Chen Xiao and three directors appointed by the US private equity firm Bain Capital LLC.
Bain Capital has converted its 1.59 billion yuan bond holding in Gome Electrical Appliances Holdings Ltd to a 9.98 percent stake in the company, according to an exchange statement filed on Sept 15. [Full story] 
Huang may sell stores to hike stakes in Gome
2010-09-14
Huang may seek to sell 400 privately owned stores to the company to increase his stake, said Zou Xiaochun, who works as a corporate lawyer for Huang, on Sept 12 in Beijing.
Huang retained personal ownership of part of the appliance chain's network when it was listed in Hong Kong in 2004. [Full story]
Huang loses appeal, wife released 2010-08-31
The Beijing High People's Court upheld Huang's conviction for insider trading and bribery, as well as his 14-year prison term and a fine of 800 million yuan ($117.58 million), the prosecutor's office announced on Aug 30.
The sentence of Huang's wife, Du Juan, was reduced to three years with a three-year reprieve and ordered her released.
Gome filed a writ of summons against Huang at Hong Kong's High Court for his alleged breach of fiduciary duties in early 2008 as a former board director. [Full story]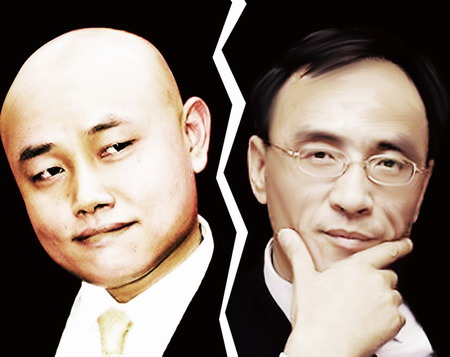 Battle lines drawn in Gome tussle 2010-08-28
Sources said that Huang would rise his holdings in the company to 36 percent after he acquires another 2 percent share from the market. Gome officials are believed to have started roadshows in Singapore and Hong Kong for selling as much as 20 percent of the company's shares. [Full story]
Gome plans stock placement to dilute Huang's stake 2010-08-16
Gome Electrical Appliances Holdings Ltd, plans to sell 3 billion shares in a private placement, diluting the stake held by its founder, Huang Guangyu. [Full story]
Gome spat makes Chinese business cautious about foreign investment
Entrepreneurship experts claimed that the relationship between Chinese entrepreneurs and foreign institutional investors might be affected. Chinese entrepreneurs, who used to follow foreign investors for leapfrog growth opportunities, are now becoming more cautious. They are afraid to be the next Huang, who has lost his participation to Gome's decision-makings. [Full story]
Jailed Huang under spotlight in struggle for appliance giant
A survey at Qq.com, one of China's most popular portals, attracted over one million Internet users.
More than 879,000 Internet users, or 77.24 percent of the total voters, supported Huang Guangyu, once China's richest man who is now serving a 14-year jail term for bribery and insider trading, in his battle over Chen Xiao, Gome's chairman of board of directors, who is backed by Gome executives and the US company, Bain Capital.
Many Internet users expressed concerns that Gome, a top brand in China, might be merged by Bain and accused Chen of betraying Huang, who created Gome from scratch and appointed Chen as CEO, in forums on most major Chinese portals. [Full story]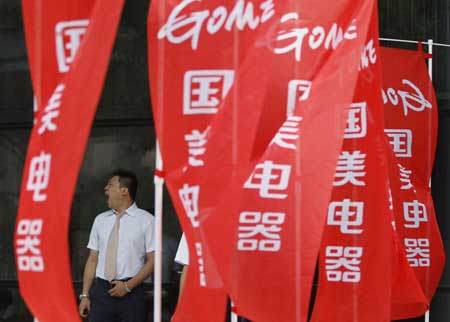 Huang battles hard for control of Gome
The founding shareholders of Gome Electrical Appliances Holding Ltd have sounded the battle bugle just ahead of the company's Sept 28 special general meeting, which is expected to decide the fate of China's second-biggest electronics retailer.
Huang Guangyu, the founder and largest shareholder of Gome, who has been sentenced to 14 years in jail for insider trading and bribery, issued a statement on Wednesday saying that the company has lagged behind major competitors in terms of store network, operational scale and profitability. [Full story]
Gome said to open 160 stores in September
Gome will open 160 stores in September, including 70 new stores and 90 renovated ones. Of the 70 new stores, 49 belong to the company's listed subsidiary, Gome Electrical Appliances Holding, and 61 of the 90 upgraded stores are under the listed arm. [Full story]