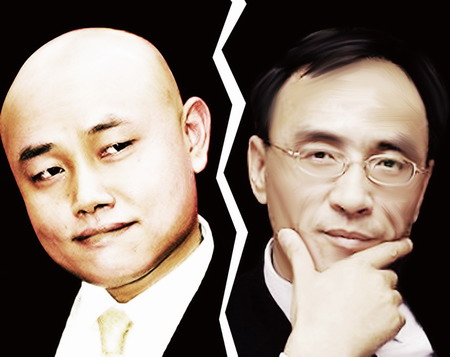 Gome founder Huang Guangyu is pressing for the removal of current chairman Chen Xiao at a special general meeting. [Provided to China Daily]

BEIJING- The jailed founder of Gome, China's largest home appliance retailer, called for the support of shareholders to dismiss the company's current chairman amid a struggle to retain control of the company.
Huang Guangyu, also known as Wong Kwong-yu, founder of Gome, said in a statement Sunday night as a special general meeting approaches.
"In order to ensure the long-term stability of Gome, we solemnly call on you to actively take part in the special shareholders' general meeting and vote in favor of our resolutions to ensure the company's long-term stability," according to the statement made in the name of the Founding Shareholders.
Huang and Chen Xiao, Gome's chairman of the Board of Directors, have been struggling to control the company since Huang was first jailed in 2008. He is now serving a 14-year jail term for bribery and insider trading.
At the special general meeting to be held Sept 28, shareholders will discuss and vote on whether to support Huang's proposals for removing Chen and another executive director from their positions, revoking a general mandate that permits the company's directors to issue Gome shares, and appoint two new executive directors representing Huang and other "Founding Shareholders."
The statement accused Chen of not acting and speaking "in the best interests of the company and its shareholders."
"Chen had publicly stated his wishes to dilute the equity interests of the Founding Shareholders, breaking free of the Founding Shareholders' supervision and having unbalanced control over the company," it said.
Related readings:


 Gome spat makes Chinese business cautious about foreign investment


 Huang battles hard for control of Gome


 Ex-chief may sell stores to hike stake in Gome


 Gome said to open 160 stores in Sept

Huang and his wife hold about 32 percent of the company's share. They would lose their right to veto important company proposals if more Gome shares are issued.
The current management, led by Chen, has been lagging behind the company's development plan and Gome is losing its leading market share to competitors, the statement added.
As for the proposal to appoint two new representatives, the statement said it is a reasonable request of the Founding Shareholders to be represented on the company's board.
Phone calls made to Gome have not been answered.
The power struggle has triggered heated discussions in China. While some experts justify Chen's taking over as a sign of progress in China's corporate system, most Internet users and some businessmen say Chen betrayed his boss to steal the company.
Internet users also worried that if Chen wins, his supporter, the US company Bain Capital, would eventually merge Gome, which is regarded by many as a national brand.
Internet users showed overwhelming support for Huang in surveys held by most of China's large portals.
A survey at qq.com, one of China's most popular portals, attracted over 1 million voters. More than 879,000 Internet users, or 77.24 percent of the total, supported Huang.