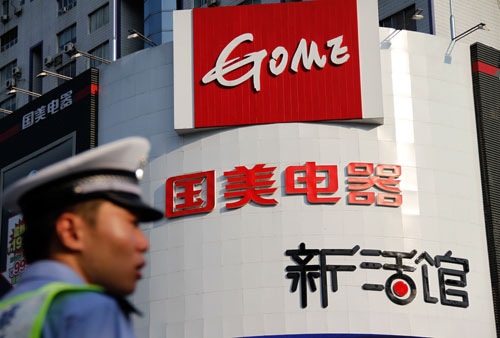 A view of the Gome outlet in Nanjing. [Photo/Provided to China Daily]
Power struggle ongoing as board tries to dilute billionaire's stake
BEIJING - Huang Guangyu, the founder of Gome Electrical Appliances Holding Ltd, lost his appeal against a 14-year sentence for bribery and insider trading on Monday, as the retail tycoon battles for control of the retail empire he founded.
The Beijing High People's Court upheld Huang's conviction for insider trading and bribery, as well as his 14-year prison term and a fine of 800 million yuan ($117.58 million), the prosecutor's office announced.
On Monday, the appeals court announced that it reduced the sentence of Huang's wife, Du Juan, to three years with a three-year reprieve and ordered her released.
It gave no explanation but said Du argued that she was only an accomplice, not the main violator.
She was convicted in May and sentenced to three-and-a half years for insider trading.
The latest conviction came amid the power struggle within the board of Gome Electrical Appliances Holdings Ltd as Huang is demanding to unseat Chairman Chen Xiao, saying that the company's performance had deteriorated under Chen's leadership.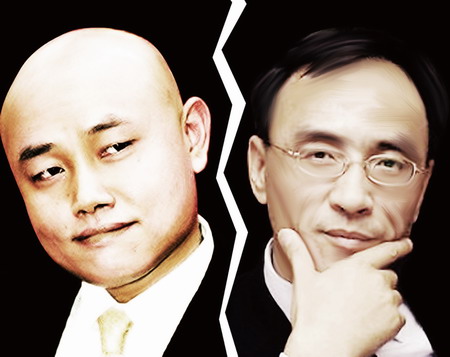 Gome founder Huang Guangyu is pressing for the removal of current chairman Chen Xiao at a special general meeting. [Provided to China Daily]
Meanwhile, Gome filed a writ of summons against Huang at Hong Kong's High Court for his alleged breach of fiduciary duties in early 2008 as a former board director.
A shareholders' meeting is scheduled on Sept 28 to resolve the dispute.
A source close to Huang told China Daily: "Du is not very likely to attend the special shareholder meeting because she is still under probation."
But he said the company will respect Du's personal decision.
The source and Gome's spokesperson both declined to comment on the influence of Du's release, as she will be able to directly manage Huang's fortune, a considerable advantage to force Chen to step down.
According to the latest shareholder report, Huang owns about 34 percent of Gome's shares, and remains the single largest shareholder in Gome.
Apart from Huang, institutional investors hold 45 percent of Gome's shares and the remaining 21 percent are with small investors.
Related readings:


 Battlelines drawn in Gome tussle


 Gome to vote on moves by Huang


 Gome rings in rosy H1 numbers


 Gome plans stock placement to dilute Huang's stake


 Power struggle weighs down Gome
Last week, Huang's family reportedly bought 120 million Gome shares to increase its stake to 34.78 percent from 33.98 percent, and was looking to continue to raise its stake.
The private equity firm Bain Capital LLC has decided to turn its HK$1.8 billion ($231.36 million) seven-year convertible bonds to equity shares, giving it a 9.8 percent stake in Gome.
At the same time, Gome officials are believed to have started road shows in Singapore and Hong Kong to lure potential investors to acquire as much as 20 percent of the company's shares, which would dilute Huang's holdings.
Should that materialize, Huang will have to spend another HK$2.2 billion to retain his stake.
The source close to Huang told China Daily that Huang is planning to buy 55 to 65 percent of these additional shares at a premium of about 5 percent higher than other investors.
Huang had threatened to cut contracts between the company and the hundreds of stores that the jailed tycoon still owns, if Chen, its current chairman, is not sacked.
Huang owns 381 Gome-managed stores while the chain has a total of about 1,141 outlets in China.
Severing the contracts would cost Gome about $34 million a year in management fees, although revenue from Huang's stores are not counted in the firm's annual sales.
Commenting on Huang's threat, a Gome spokesperson said, "It would hurt the interests of Gome's shareholders as the company will lose management fees."
"But in the long run, it is not a bad thing because those stores lack proper management and are always inefficient," he added.
Huang's rise was the classic tale of rags to riches amid China's rapid growth after the launch of reform and opening policies in the late 1970s.
By 2008, Huang ranked at the top of a list of China's wealthiest entrepreneurs compiled by Shanghai-based analyst Rupert Hoogewerf, with a net worth of $6.3 billion. His wealth has declined since he ran into legal troubles.
China Daily - Agencies