Founder's family hikes stake ahead of shareholder meet next month
BEIJING - The boardroom tussle at electronics retailer Gome Electrical Appliances Holdings Ltd intensified on Friday after the family of the detained founder Huang Guangyu decided to increase their stake in the company ahead of a shareholder meeting next month.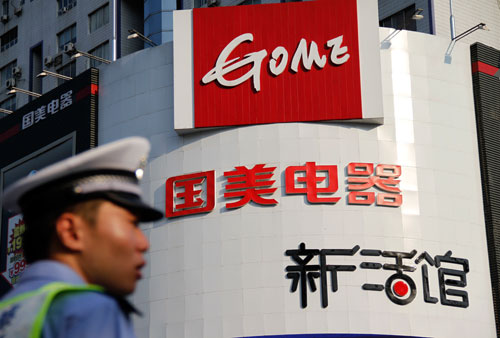 A view of the Gome outlet in Nanjing. [Photo/Provided to China Daily]
Sources told China Daily that Huang would increase his holdings in the company to 36 percent after he acquires another 2 percent shares from the market.
Huang, the former chairman of Gome, bought 120 million shares, or 0.8 percent, in the company at HK$2.42 (31 US cents) apiece to increase his stake to 34.78 percent.
Calculated by the company's average share price during the last 20 days, Huang may have to spend around HK$378 million to acquire the remaining 180 million shares required to boost his stake.
Gome's current management led by Chairman Chen Xiao and Huang have been mired in a bitter feud for control of the company for some months now.
Huang is expected to complete his stake purchase before Sept 28, when shareholders will decide whether to repose faith in Chen and the fate of the three Bain Capital directors on the Gome board.
A possible reason why Huang is increasing his stake also stems from the fact that Bain Capital will side with Chen in case of a voting.
Bain will hold a 9.8 percent stake in the company after it converts the options into stake before the meeting. That in turn will reduce Huang's stake in the company to 31 percent. However, the new share buys will still give him a 32.4 percent stake in the company.
"Huang intends to strengthen his hand ahead of the meeting and that also explains the recent stake increase moves," said sources.
"Huang's side has managed to get support from some retail industry peers and small investors. But much will also depend on how Chen's side moves in the next few days," the sources said.
Zhang Dazhong, the founder of Dazhong electronic appliances, a company acquired by Gome in 2007, is believed to have extended his support to Huang.
Investment bankers, however, are of the view that the real challenge for Huang will come when Gome decides to increase its capital through share sales.
Gome officials are believed to have started roadshows in Singapore and Hong Kong for selling as much as 20 percent of the company's shares.
Should that materialize, Huang will have to spend another HK$2.2 billion to retain his stake.
Though Chen has denied the share sale plan, he did indicate that the company was considering such moves at appropriate times.
Related readings:


 Gome to vote on moves by Huang


 Gome rings in rosy H1 numbers


 Gome plans stock placement to dilute Huang's stake


 Gome sues ex-chairman Huang Guangyu

The key to the whole Gome puzzle, however, remains with the institutional shareholders who control nearly 45 percent of the company.
"Getting their support is crucial to both sides," the sources said. According to data from Thomson Reuters, there are around 180 institutional investors in Gome.
Sources close to Huang said institutional investors are unhappy with Chen as the Bain Capital stake move will dilute their shareholding.
The institutions were also peeved with the fact that Bain could convert its bonds unconditionally at any point in time.
"This was a move designed to hurt the interests of other shareholders and is also counter to what Chen cited as the reason for bringing Bain on board," the sources said.
Chen said Gome had decided on Bain as it was the only institution that did not seek a stake dilution by the majority shareholder.