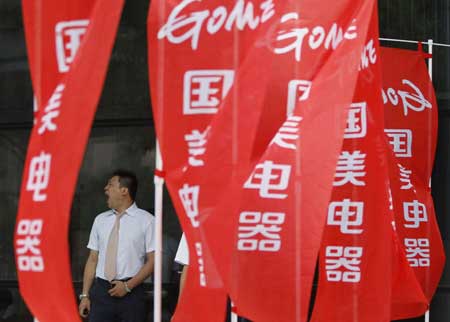 Banners outside a Gome store in Shanghai. Xu Xiaolin / for China Daily 

Rival camps up the ante ahead of crucial shareholders' meeting
Beijing - The founding shareholders of Gome Electrical Appliances Holding Ltd have sounded the battle bugle just ahead of the company's Sept 28 special general meeting, which is expected to decide the fate of China's second-biggest electronics retailer.
Huang Guangyu, the founder and largest shareholder of Gome, who has been sentenced to 14 years in jail for insider trading and bribery, issued a statement on Wednesday saying that the company has lagged behind major competitors in terms of store network, operational scale and profitability.
Huang, who holds 35.98 percent of Gome's shares at present, has urged other Gome shareholders to support his demands, which include the removal of company chairman Chen Xiao and three directors appointed by US private equity firm Bain Capital LLC.
Next week, shareholders are expected to vote on whether the three non-executive directors representing Bain Capital on Gome's board will remain. Huang and other shareholders acting in concert have promised to unveil specific measures to improve upon the company's five-year targets, including the improvement of its logistics and information technology systems, supply chain, online sales platforms and entry into key overseas markets.
The statement also called upon Gome to beef up its retail network in second- and third-tier cities and secure a leadership position for the company in major cities. Gome's stock closed at HK$2.34 (30 US cents), 0.43 percent lower than the previous trading day, before the statement was announced.
In August, Gome reported that its net profit had increased by 66 percent in the first half of 2010 to 962.3 million yuan ($153 million) compared to the same period last year. Its revenue touched 24.9 billion yuan during the same period, with a 22 percent year-on-year increase, the best ever since 2008, according to the company. Suning, the other major electronics retailer in China, reported a 53.3 percent year-on-year rise in net profit, to 2.6 billion yuan in the first half, while revenue went up by 31.9 percent year-on-year to 36.1 billion yuan.
Bain Capital has converted its 1.59 billion yuan bond holding in Gome Electrical Appliances Holdings Ltd to a 9.98 percent stake in the company, according to an exchange statement filed on Wednesday.
The private-equity firm bought its stake in China's second-biggest electronics retailer last June while founder Huang Guangyu was still under Chinese police investigation.
In the statement, the founding shareholders of Gome said: "We understand that Bain has given a commitment to convert the 2016 convertible bonds into ordinary shares. If this were to happen, Bain's interests would seem to be more aligned with that of all ordinary shareholders, although it will still be able to exercise a disproportionate influence on management given its representation on the board."
However, "the founding shareholders would welcome the opportunity to work with Bain, whom it sees as bringing to the company valuable expertise and experience as well as to continue to work with other stakeholders in Gome who are committed to taking Gome forward to the next stages of its development. The founding shareholders are committed to working together."
"It is meaningless to talk about ownership changes to a company as stake diversification in promising companies is inevitable under a globalized economy," Gu Zhengping, a lawyer at Zhong Lun Law Firm, said. "The true value of a company can be ascertained when it earns high profits for all its shareholders, creates job opportunities, and pays taxes to the government of the country where it is located," Gu added.