Former richest man gets 14 years in prison, appeal pending
Related readings:


 Gome to bring back Bain officials


 Gome expects little impact from founder's criminal trial


 Ex-SH police deputy chief disciplined in Gome chief probe


 Gome expects better full-year profit


 Gome buys back 1.33b yuan of 4.6b yuan bonds issued
A Beijing court Tuesday morning sentenced Huang Guangyu, former chairman of Gome Electrical Appliances Holdings, to 14 years in prison for illegal business dealings, insider trading and corporate bribery.

Huang, once China's richest person, was also fined 600 million yuan ($88 million), with another 200 million yuan worth of property being confiscated, the Xinhua News Agency said.Du Juan, Huang's wife, was sentenced to three-and-half years and fined 200 million yuan...[Full Story]

Officials involved in Huang Guangyu case
Legendary career of the former richest man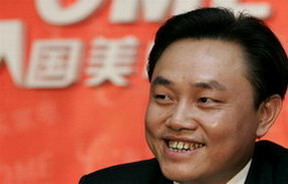 Huang Guangyu

May 18, 2010:
Huang is sentenced to 14 years in prison and fined 600 million yuan.
April 22, 2010:
Huang stands trial at the Beijing No 2 Intermediate People's Court.
Feb. 2009:
Huang is prosecuted for illegal business dealings, insider trading and bribery. At the end of 2009, Huang still holds roughly one third of Gome's total outstanding shares, worth $1.9 billion.
Jan 18, 2009:
Huang quits position as board member of Gome.
Nov. 2008: Huang is detained for insider trading.
2004-2008: Huang ranks top on Hurun's China Rich List in 2004, 2005 and 2008. In 2008, his assets reach 43 billion yuan.
July 1997: Serves as CEO of Pengrun Investment Group.
Jan 1987 - July 1997: Serves as general manager of Gome.
1991: Huang runs advertisements in Beijing Evening News, a marketing phenomenon rare at that time.
Jan 1, 1987: Gome, which specializes in home appliance business, is offi cially established.
1986: Huang and his brother rent a place named Gome in Qianmen of Beijing, where they first sell clothes, and later, imported electrical appliances.
1969: Huang Guangyu was born in Shantou city of Guangdong province.
Impact:
Warning to insider trading: Huang Guangyu's stiff punishment is a clear warning to all those indulging in insider trading - that taking undue advantage of regulatory loopholes will cost them dear. Policymakers must also perform a thorough regulatory overhaul to crack down on unlawful speculation and manipulation of the capital markets...[Full Story]
Setting up prosecution standards for insider trading:
China's Supreme People's Procuratorate and the Ministry of Public Security on Tuesday issued new rules to clarify prosecution standards for insider trading and the leaking of inside information...[Full Story]
Those collapsed business tycoons: Nearly 30 billionaires formerly on the list of China's richest people have been charged with bribery or are at the center of a police investigation, a new report shows...[Full Story]