Organic infant formula makers test new waters as sales soar in China
Organic infant formula sales continued to be the mainstay of high-end infant food product sales in China, as a growing number of parents are opting for safe and natural products in the country, experts said.
Buoyed by the rising demand, several multinational companies like Germany's Hibb, Switzerland's Nestle and its unit Wyeth are not only witnessing resurgent sales, but also promoting their products via new growth channels like e-commerce platforms.
German organic infant formula and baby products producer Hipp is looking to further expand its presence in the e-commerce market. The company, which witnessed annual growth of about 20 percent in China and is the largest organic food producer globally in terms of sales revenue, is set on becoming the top premium baby products brand in its second-largest market after Germany.
"We have seen a huge growth for our infant formula products. Infant formula designed for babies aged between 12 months to 36 months is the most popular product category," said Stephan Hipp, global managing director and the fourth generation heir of Hipp, a family firm with over 120 years of history.
"When it comes to organic infant formula, this is a big chance for us to grow. We will promote more organic products in the country and we are confident about the growth potential," he said.
Hipp said the organic farms of the company do not use chemical fertilizers and pesticides, and they artificially remove weeds and pests using the natural ecological chain.
Last year, the overall growth rate of the infant formula market in China was 10.8 percent year-on-year, while sales of organic infant formula products rose 46.8 percent year-on-year, according to Euromonitor International, a market research company.
On the other hand, Hipp has donated 10 million yuan ($1.4 million) this year to China Soong Ching Ling Foundation to help launch maternal and child care education classes nationwide and train more pediatricians in western China.
Meanwhile, Swiss food and drink provider Nestle, which launched its first organic full cream milk powder product under the Nido brand in China last year, is looking for further growth in the high-end organic dairy product market. The product was launched in China on a trial basis through cross-border e--commerce channels.
The Nido brand has been a member of the Nestle family with annual sales of over $1.04 billion. Since 1944, Nestle has been producing Nido milk powder in Switzerland.
According to data from Nielsen Consulting, 40 to 50 percent of Chinese consumers are willing to pay higher prices for natural, sustainable and organic products.
The latest organic full cream milk powder is also a positive response of Nestle to the changing demand of Chinese consumers, and is expected to provide an option of safe, high-quality organic milk powder to the public, said Roberto Reniero, head of Nestle's research and development unit in China.
Besides, Wyeth, the baby and infant formula unit of Nestle, has introduced Illuma 3 organic products for Chinese parents since 2017. Its research released in October shows that the sales of organic infant and maternity products grew by 33 percent year-on-year in China, creating a generation of "organic mothers".
US infant formula maker Mead-Johnson introduced its grass-fed Enfagrow to Chinese consumers this September. Grass-fed milk contributes to merely around 10 percent of the global milk pool, the company said. Grass-fed milk refers to the milk produced by cows that feed naturally in lush pastures and mainly feed on fresh leafy grass.
Unlike organic milk, grass-fed focuses on providing natural breeding environment for cows, allowing them to produce milk under natural living conditions.
In the United States, sales of grass-fed milk grew by 30 percent to 50 percent from 2012 to 2017, and sales volumes reached 2 million gallons in 2017, according to the US dairy industry data.
Contact the writers at zhuwenqian@chinadaily.com.cn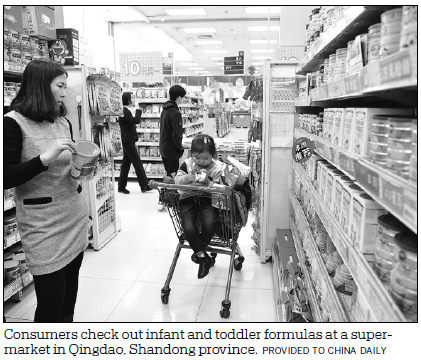 (China Daily Global 12/04/2019 page10)
Today's Top News
Editor's picks
Most Viewed