Infrastructure paves way for BRI in Latin America
China is helping build an ocean-to-ocean railway through Argentina to reduce regional transportation cost and expand trade
The demand of East Asia and Southeast Asia, especially China, for natural resources from Latin America will continue to grow. From 2021 to 2030, the average annual growth rate of China's import of agricultural products, minerals and crude oil from Latin America is projected to be 2.0 percent, 2.8 percent and 2.7 percent, respectively.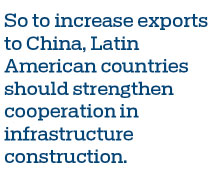 Infrastructure is a big part of this growth story. The construction of major infrastructure facilities in Latin America, such as the ocean-to-ocean railway, will not only reduce regional transportation cost and enlarge the scale of trade, but also promote the docking of markets and industries. According to the Latin America Development Bank, logistics costs in Latin American and Caribbean countries range from 18 percent to 35 percent of the final value of the products, compared with 8 percent in Organization for Economic Cooperation and Development countries.
However, if all countries in the LAC region improved their infrastructure to the average level of that in other middle-income countries, regional growth in Latin America could increase by up to 2 percent a year. Therefore, connectivity is one of the five sectoral pivots for the Community of Latin American and Caribbean States (CELAC).
So to increase exports to China, Latin American countries should strengthen cooperation in infrastructure construction. The First Ministerial Meeting of the China-CELAC Forum, held in Beijing in January 2015, approved the China-Latin American and Caribbean Countries Cooperation Plan (2015-19). Part IV(infrastructure and transportation) of the cooperation plan says China and Latin American countries would promote infrastructure development.
During his state visit to Peru in November 2016, Chinese President Xi Jinping stressed that the Belt and Road Initiative is an open plan and that China is looking forward to bringing it to Latin America.
On May 15, 2017, at the Belt and Road Forum for International Cooperation, Argentine President Mauricio Macri said that the possibility of South America converging with the Belt and Road Initiative "is an opportunity we do not want to miss". And while saying this, President Macri referred to President Xi's initiative to create "an architecture of open, inclusive and balanced global economic cooperation that benefits everyone and contributes to boost our own objectives of poverty reduction and creation of economic opportunities through the development of logistics, energy and productive infrastructure".
He recalled that when his government launched the "most ambitious" infrastructure plan in its history along with the Belgrano Plan to promote the social and economic development of 10 provinces in northern Argentina, the Belgrano railway line faced serious problems because of decades of disinvestment and neglect. There was an urgent need of financing to reactivate the railroad. Today, China's two most important investments in Latin America are in Argentina: the Belgrano Cargas Refurbishment Project (worth about $2.5 billion) and the Santa Cruz River Hydroelectrical Resources Exploitation Project (totaling $4.7 billion).
The two countries will share the $2.5 billion for the Belgrano project, with China providing 85 percent ($2.1 billion) and Argentina the rest. The procurement comprises 100 engines (narrow, medium and broad gauges); 3,500 new freight cars (for the three types of gauges); spare parts for 2,000 freight wagons; 2,500,000 concrete-made railway ties and 200,000 tons of rails.
This huge network covers 9,344 kilometers, goes through 70 percent of Argentina's territory and connects with five international crossing passes that link the country with Chile, Bolivia, Paraguay, Brazil and Uruguay. In particular, the C14 railway section that goes through the Salta-Socompa-Antofagasta pass could open up another access for Argentina to the Pacific Ocean across Chilean ports, which could boost its trade with Asian economies.
During his visit to China in May 2017, President Macri signed an agreement to extend credit for refurbishing the Belgrano Railroad's cargo branch. On top of the original loan of $2.1 billion, another $1.6 billion was added to advance the works. This demonstrates that irrespective of whether a center-left or center-right party is in power in Argentina, the construction of railway infrastructure will remain a top priority for the country.
One of the bottlenecks that deter economic growth in Latin America is its insufficient infrastructure. Therefore, investing in infrastructure in Latin America is central to Argentina increasingly becoming a major part of the cooperation between China and Latin America.
The Sino-Latin American general cooperation and the strategic spirit of the building of the Belt and Road Initiative have the same foundation, with the former a likely extension of the latter. In particular, the infrastructure construction has grown into a shared consensus.
Also, for the first time, an Asian power has the potential to leave a significant footprint in Latin America: if there is a new major infrastructure facility to be built in Latin America, it will be China rather than the US leading the way.
China is promoting cooperation in infrastructure construction, energy, manufacturing, market and other sectors. As a result, the construction of a Trans-Pacific Economic corridor linking Latin America and China could be a necessary extension of the Belt and Road Initiative.
The author is chair of the China Working Group of the Argentine Council for International Relations. The author contributed this article to China Watch, a think tank powered by China Daily. The views do not necessarily reflect those of China Daily.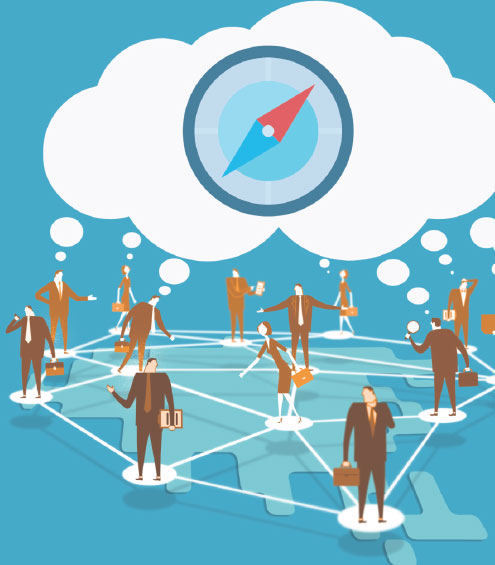 (China Daily 11/13/2019 page13)
Today's Top News
Editor's picks
Most Viewed