Pharma firms use expo to boost collaboration
Riding the wave of the country's shift from basic healthcare to innovative healthcare, global pharmaceutical businesses are using the platform of the ongoing China International Import Expo to upgrade collaboration with local governments to better serve the country's Healthy China 2030 Initiative.
Besides showcasing their most advanced innovative therapies - ranging from oncology and rare disease medication to personalized healthcare solutions - many enterprises are reaching new agreements with governments by bringing their latest therapies and technologies to meet patients' needs in the country, currently the world's second-largest pharmaceuticals market.
China's healthcare market is expected to reach 8 trillion yuan ($1.14 trillion) by 2020 and double the figure by 2030, according to the Healthy China 2030 blueprint.
Switzerland-based Roche signed a strategic collaboration with the Boao Lecheng International Medical Tourism Pilot Zone in Hainan province during the CIIE on Wednesday to introduce a series of innovative drugs, including the first novel proposed mechanism to treat influenza approved by the United States Food and Drug Administration in nearly two decades, in the zone.
"Roche always puts patients first and spares no effort to develop innovative drugs and allow patients to have access to them as early as possible. We hope to collaborate with the country's pilot policies and mechanisms, including such a medical tourism pilot zone, to allow some patients to access the new therapies - lifesavers in many cases - in advance," said Hong Chow, CEO of Roche Pharmaceuticals China.
The company also said that it anticipates one of its CIIE blockbuster exhibition products - an immunotherapy that successfully completed phase III global clinical trials in hepatic cellular cancer in late October and for which the company is making a new drug application in the United States, Europe and China simultaneously - to make its world debut in China.
"We hope that the new drug will be launched in China as half of the worldwide 750,000 HCC patients every year are in China, and most of them are in the late-stages when diagnosed and they survive an average of less than a year after diagnosis," Chow said.
AstraZeneca announced its plan to play up Shanghai as the British-Swedish pharmaceutical multinational's global research and development base to ultimately better serve unmet medical needs of patients in China and the outside world, and establish an artificial intelligence-powered China innovation center in the city during the expo on Wednesday, part of its upgraded strategic cooperation with the Shanghai municipal government.
The upgraded global R&D center will strengthen China's role in Astra-Zeneca's worldwide network for new drug R&D, promoting the incubation of more global and local new drugs in China for the world, and the AI innovation center will utilize the latest technologies to empower new healthcare services throughout the whole process from R&D, manufacturing, and operation to commercialization, the company said.
"As China rapidly emerges as a global scientific powerhouse and China's position in our global R&D network continuously improves, we aim to develop more local and global innovative drugs in China, and Shanghai is home to an increasing number of high-tech industries," said Pascal Soriot, chief executive officer of AstraZeneca.
Tapping into the potential of intelligent medical industry, the company announced to jointly build the Wuxi International Life Science Innovation Campus together with Wuxi city government and Wuxi high-tech zone in Jiangsu province, in September, and during the CIIE the company reached multiple agreements with cross-border partners, including enterprises from India and the United Kingdom, which it worked with in the campus to build an incubation platform for early R&D and the industrialization of research achievements.
Also on Wednesday, US-based pharmaceutical company Pfizer signed three cooperation agreements, including those with the China Alliance of Rare Diseases and Microsoft Research, an institute specializing in basic and applied research, aiming to elevate the country's disease diagnosis and treatment standards in various disease areas.
"The collaboration with CARD is aimed at standardizing the medical treatment that rare disease patients can access in different regions and a better accessibility of drugs to ultimately improve their quality of life," said Wu Kun, Pfizer China Biopharma country lead.
The cooperation with the institute will produce an AI-powered system to elevate the diagnosis and treatment levels of infectious diseases and promote the reasonable use of antibacterial agents, he explained.
In October, the National Health Commission announced that the five-year survival rate among cancer patients had risen from 30.9 percent to 40.5 percent over the past decade.
Several multinational pharmaceutical enterprises said that they had benefitted from the country's streamlined innovative drug approval procedure and better drug accessibility by promoting more medicines to be included in the National Reimbursement Drug List in the past years, and they were proud to have contributed to that improvement.
zhouwenting@chinadaily.com.cn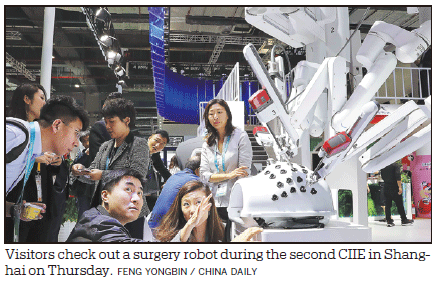 (China Daily Global 11/08/2019 page8)
Today's Top News
Editor's picks
Most Viewed