A bosom friend afar brings a distant land near
Belt and Road Initiative offers brighter prospects for Sino-Greek cooperation
Over the past seven decades, China has not only witnessed leapfrog development, but also greatly changed the world. The difference China has made to the world can particularly be seen in Greece, which is on the southernmost part of the Balkan Peninsula. Neither diplomats from China nor ordinary Greeks can miss the bond of friendship and cooperation that is increasingly bringing China and the rest of the world closer there.
As two of the world's most ancient civilizations, China and Greece have a long-standing relationship that goes back to more than 2,000 years, to the time the two sides started trading in goods through the ancient Silk Road.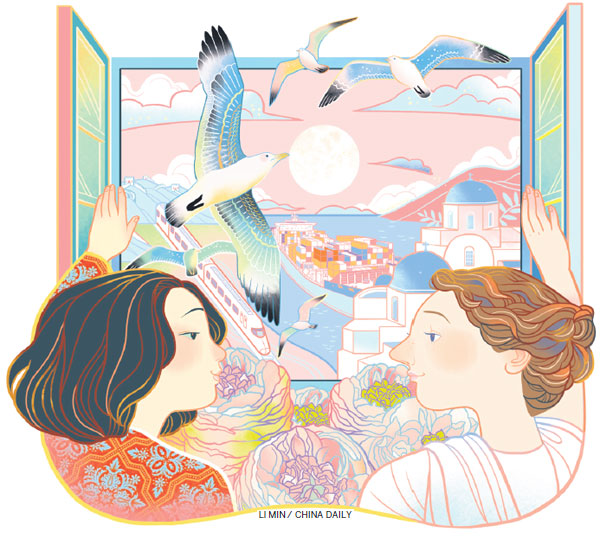 Since the establishment of diplomatic ties in 1972, bilateral ties have braved odds and seen rapid improvement. Now, with increased mutual trust, upgraded cooperation and expanded cultural exchanges, China-Greece relations are a fine example of peaceful coexistence and mutually beneficial cooperation.
That they are age old civilizations and share similar experiences over the past two centuries has made the Chinese and Greeks natural friends in good times and bad. When Chinese workers were trapped in Libya during the Libyan civil war in 2011, Greece assisted in the safe evacuation of 13,185 Chinese workers. Greece has also helped evacuate Chinese nationals from other warridden areas in 1997, 2006 and 2014. And China extended a helping hand to the debt-ridden Greece during the European sovereign debt crisis. It is such help during difficult times that has injected everlasting impetus into their friendship.
China and Greece established the Comprehensive Strategic Partnership in 2006. Today, the Belt and Road Initiative, which carries the ancient Silk Road spirit, is bringing the two countries even closer. Greece has actively supported and participated in the initiative. It is also the first developed European country to sign a memorandum of understanding with China on advancing the initiative. And in April, Greece became a new member of the China-Central and Eastern European Countries Cooperation, a platform established in 2012 by China and the CEECs.
"So much I've tried
I've never found a port
To captivate my heart
As Piraeus does ... "
Such soulful expression comes from Children of Piraeus, a popular folk song in Greece. The ancient port, which has a special place in every Greek's heart, has witnessed winds of change over the past thousands of years and become a strong symbol of win-win cooperation between China and Greece under the Belt and Road Initiative.
Today, the port, run jointly by Chinese and Greek businesses, has become one of the fastest developing ports in the world. It handled more than 4.91 million 20-foot equivalent units (TEUs) of cargo in 2018; as a result, its global ranking surged from 93rd in 2010 to 32nd last year. It was ranked the sixth-largest port in Europe and the second-largest in the Mediterranean region last year, and is expected to become the largest in the region this year. By directly creating more than 3,000 jobs and indirectly over 10,000 jobs, it has considerably contributed to Greece's emerging from the debt crisis and making an economic recovery.
The China-Europe Land-Sea Express Line, which starts from the port of Piraeus and reaches inland Eastern Europe, has become a new channel for transporting goods between the East and the West, significantly shortening the transportation time of goods between China and Europe. A total of 50,000 TEUs of goods were transported through the route in 2018, up 27 percent year-on-year.
Now that Greece has exited the European Union bailout program and its economy is showing promising signs of growth, there will surely be greater opportunities for the bilateral cooperation. In 2018, the two sides' bilateral trade volume increased by 36.3 percent. Using platforms such as the China International Import Expo, China-CEEC Expo and 21st Century Maritime Silk Road International Expo, more and more premium wines, cheese, olive oil and fruits from Greece are entering the Chinese market. As such, mutually beneficial cooperation is bound to produce more fruitful results.
Promoting people-to-people exchanges is another highlight of the joint construction of the Belt and Road. China and Greece have made historical contributions to the development of human civilization. Over the past few years, an array of important events and cooperation mechanisms - such as the China-Greece Cultural Exchanges and Cultural Industry Cooperation Year, Ancient Civilizations Forum, Marathon Forum and Chinese-Hellenic Forum on Higher Education Cooperation - have brought bilateral cultural exchanges and cooperation to a higher level.
The two most ancient civilizations are strengthening dialogue across time and space. In May, at the invitation of Chinese President Xi Jinping, Greek President Prokopis Pavlopoulos paid a state visit to China and attended the Conference on Dialogue of Asian Civilizations in Beijing. The leaders of the two countries advocated exchanges and mutual learning among civilizations and harmonious coexistence of different civilizations.
The Chinese and Greek peoples, with similar historical experiences, are both working hard for the historic mission of national rejuvenation, while also promoting world peace, development and progress.
Ancient Greek poet Homer once said: "Two friends, two bodies with one soul." Similarly, Wang Bo, a poet from China's Tang Dynasty (618-907), said in his eternal poem: "A bosom friend afar brings a distant land near." China and Greece, having been close friends and partners for over 2,000 years, are joining hands to build a brighter future along the Belt and Road.
The author is China's ambassador to Greece. The author contributed this article to China Watch, a think tank powered by China Daily. The views do not necessarily reflect those of China Daily.
(China Daily Global 11/08/2019 page13)
Today's Top News
Editor's picks
Most Viewed