Modernist muses
Maestro Yu Long, founder of the Beijing Music Festival, is on a mission to showcase the talents of the next generation of Chinese composers.
Over the past two decades, the annual Beijing Music Festival has served as an arts feast for audiences in the capital, but also been at the forefront of promoting Chinese composers.
However, for maestro Yu Long, the founder of the festival, he still feels compelled to introduce more emerging talent to classical music lovers.
"When we talk about Chinese composers, it seems that names like Chen Qigang, Ye Xiaogang and Tan Dun, share something in common. They started their careers in the 1980s and become internationally renowned during the 1990s. Their musical works are still being performed worldwide, and are often described as 'voices from China'," says Yu, chairman of the artistic committee of the music festival launched in 1998, where he served as its artistic director until 2018. "We have performed their works many times and I couldn't help wondering 'What about the younger generation of Chinese composers?'"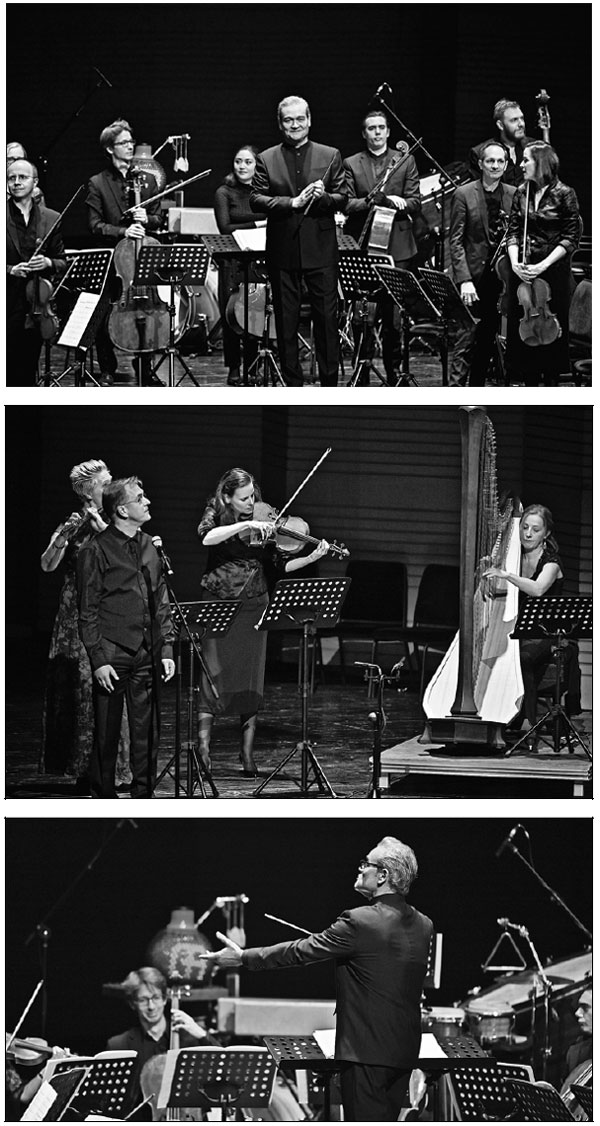 Titled Thriving Artistry of Contemporary Music, A Celebration of Chinese & Western New Compositions, the concert was performed on Oct 25 by the Mahler Chamber Orchestra under the baton of conductor Vicente Alberola. Photos Provided to China Daily
During the 22nd Beijing Music Festival, which ran from Oct 4 to 28 and featured 22 performances, audiences were introduced to two younger Chinese composers debuting their work in the capital.
One of them was Shanghai-born, New York-based composer Du Yun, whose opera Angel's Bone was staged on Oct 18 and 19 at the Poly Theater.
The opera, which premiered in January 2016 in New York, tells the story of two angels who land on Earth. After being discovered by a financially-troubled couple, the angels are forced into slavery to make money for them.
Combining vocal and instrumental elements with a wide range of musical styles, the opera took the composer seven years to finish. In 2017, Du won the Pulitzer Prize for Music for Angel's Bone, making her only the second Chinese composer to win the prestigious prize after Zhou Long in 2011 for his Beijing Music Festival-commissioned opera, Madame White Snake.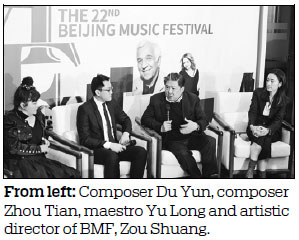 The second composer making their debut at the Beijing festival was Zhou Tian, who was nominated for his work Concerto for Orchestra in the best classical contemporary composition category at the 60th Grammy Awards, the first Chinese composer to do so in that category.
On Oct 25, Zhou Tian's musical pieces, Rhyme for Cello Solo, and Reading an Anthology of Chinese Poems, for narrator, flute, viola and harp, were performed by the Mahler Chamber Orchestra under the baton of conductor Vicente Alberola. Du's work, A Cockroach's Tarantella, was also staged during the concert.
Titled Thriving Artistry of Contemporary Music, A Celebration of Chinese & Western New Compositions, the concert was a celebration of modern music showcasing the work of the next generation of domestic and overseas composers.
Veteran Chinese composer Chen Qigang's piece, L'Eloignement, and Dutch composer Michel van der Aa's experimental piece, Hysteresis, were also on the program list.
"We want to introduce the outstanding achievements of the new generation of Chinese musicians to domestic audiences. That's why we have Du Yun and Zhou Tian this year," Yu says. "They are bold, open and deeply grounded in the entire spectrum of Chinese heritage, such as folk music and philosophical and spiritual ideals."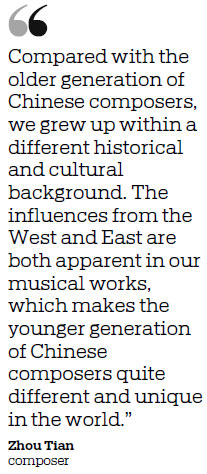 "The audience in the world of the arts is ready, and as a composer, what I need to do is write music," says Du, 40, who began studying piano from the age of 4 and graduated from Shanghai Conservatory of Music with a major in composition before moving to the United States. She graduated from the Oberlin Conservatory of Music with a Bachelor's of Music degree in composition and received her PhD in music composition from Harvard University. "I have been writing music since I was 11 years old and have never stopped. It's important to me to engage people in a dialogue with music. Even if I won a Pulitzer Prize, it wouldn't change me."
For Zhou, Concerto for Orchestra, his 35-minute piece commissioned by the Cincinnati Symphony in 2016 developed from a 15-minute piece he wrote in 2013. But before he was offered the opportunity, Zhou, like Du, kept on composing.
"As a composer, I spend a lot of time alone and try to write one piece, which usually takes months to finish. I imagine the whole orchestra in my head and the entire process is a lonely one. I don't write music for money or awards. It's just my way of communicating with people," says the 38-year-old in Beijing. Born in Hangzhou, Zhejiang province, Zhou graduated from the Shanghai Conservatory of Music with a major in composition in 2001 before training at Philadelphia's Curtis Institute of Music, New York's Juilliard School and the University of Southern California.
"Compared with the older generation of Chinese composers, we grew up within a different historical and cultural background. The influences from the West and East are both apparent in our musical works, which makes the younger generation of Chinese composers quite different and unique in the world," Zhou says.
As Yu continues to urge more institutions and foundations to commission younger Chinese composers and offer them wider opportunities, the maestro also notes that musical content lies at the core of any work - and he wants more young composers to show off their creativity.
"A lot of people say there aren't many opportunities for composers. But right now is a great time, in a way, because you can write whatever you want since the audience is so open-minded," Yu says.
chennan@chinadaily.com.cn
(China Daily Global 11/06/2019 page15)
Today's Top News
Editor's picks
Most Viewed