China high on investments amid hurdles
Country emerges as second-largest FDI destination despite trading challenges
Amid weak global foreign investment, Chinese companies have become increasingly influential to emerge as the second-largest source of outbound investment, with the country also becoming the second-largest destination for foreign direct investment, according to latest economic analyses.
Outbound investment in sectors such as manufacturing, computer services and software is strong, while investment in countries along the China-proposed Belt and Road Initiative has achieved "remarkable results", the Center for China and Globalization, a major think tank, reported in its newly released analysis of Chinese enterprises.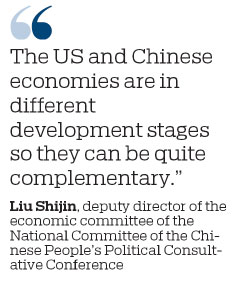 The quantum of foreign investment in China has also increased steadily, becoming richer and more diversified, to play a positive role in China's economic growth, trade, tax revenue, employment and technological innovation, according to the center's report, which also involved the Chengdu-based Institute of Development Studies at Southwestern University of Finance and Economics.
The report on the globalization of Chinese enterprises comes amid a "complicated international situation", including the current Sino-US trade tensions, with many Western developed countries tightening their foreign investment review, the center reported.
At an international forum co-organized by the think tank in Beijing during the weekend, business leaders, leading scholars and other luminaries from the public and private sector also discussed the wide-ranging issues related to Chinese inbound and outbound investment, focusing on ways and areas for global businesses to better face the challenges.
Joerg Wuttke, president of the European Union Chamber of Commerce in China, said while there have been "very good, in particular private and mostly small, business ventures in Europe" that exhibit "really entrepreneurial decision-making", there have also been "very challenging "investments by State-owned enterprises in Europe in terms of management and expertise.
Still, amid the global economic situation, Europe, as the top market for China, remains the obvious choice for Chinese investment, Wuttke said.
"We have a deep relationship ...European customers are very happy with Chinese products. We have high technology which is very interesting for Chinese investors and we are an incredibly open economy," he said.
Finding ways to deal with trade tensions between China and the United States, with prevailing concerns about a "decoupling" of the two largest economies and any global repercussions, also took center stage at a plenary session of the forum.
Merle Hinrich, founder and chairman of the Hinrich Foundation, a global trade research and education group, said that "mutually beneficial trade is absolutely critical ... we must reduce this mutual fear and focus on engagement at all levels, government and of course the private sector".
Liu Shijin, deputy director of the economic committee of the National Committee of the Chinese People's Political Consultative Conference, the country's top political advisory body, said while China may be experiencing a slowing of its growth compared with the rapid development of recent decades, it is in fact amid an economic transformation and does not face problems "that are absolutely impossible to address".
"The US and Chinese economies are in different development stages so they can be quite complementary. So I still firmly believe that it is impossible to 'decouple' them," said Liu, who is also an advisor to the think tank and a former deputy director of the State Council Development Research Center.
Tim Stratford, chairman of the American Chamber of Commerce in China, said the main issues in the current US-China trade negotiations can be seen in major approaches that include fulfilling commitments to further open up the Chinese economy, adjustments to better balance the business environment, including that of the internet sector, and dealing with problems that may arise because of systemic differences.
"There are some people who are looking at the relationship in kind of deterministic terms, saying 'we're doomed to conflict, we're doomed to decouple' or what not," Stratford said.
"I am not in that camp, I think that there are a lot of smart people of goodwill in both countries that have the capability in coming up with creative solutions. But I think it's going to take some time... there's a lot of work that remains to be done."
In its report, the Center for China and Globalization said that, despite technology and investment restrictions put on China by the US Trump administration, the complementary economic aspects of "the two great nations will continue to anchor the trade and investment relationship on track for cooperation".
"Chinese businesses need to be persistent and good at investment in the US. The two governments should maintain dialogue and consultation and Chinese businesses should orient themselves on greenfield, grassroots investments based on local needs. Over the long term, 'Invest USA' will continue to present a vast opportunity."
Contact the writers at alexishooi@chinadaily.com.cn
(China Daily Global 11/05/2019 page3)
Today's Top News
Editor's picks
Most Viewed