Climate change action multiplied by the power of three
China, the US and Japan, which head the carbon dioxide emissions list, should forge a community to tackle the problem
Greenhouse gases are, as scientific research shows, the main culprits for global warming and worldwide climate change, and fossil fuels such as coal, oil and gas the major source of carbon dioxide and other greenhouse gases.
On May 3, carbon dioxide levels at the Mauna Loa Observatory in Hawaii hit a record 415 parts per million (ppm), the highest in more than 800,000 years. There is no time for humans to dispute climate change.
China, the United States and Japan rank the highest, second highest and fifth highest, respectively, in the world, vis-a-vis CO2 emissions. Their combined emissions account for 45 percent of the world's total. They are also the world's top three economies, with combined GDP accounting for 40 percent of the world total.
But compared to the US and China, Japan is very efficient when it comes to saving energy. If China and the US were to replicate Japan's efficiency, their combined energy consumption and CO2 emission levels could dip by over 50 percent, respectively. China, the US and Japan should join hands to tackle climate change.
Scientifically, there are three ways of reducing greenhouse gas emissions.
The first is "no-regrets" actions such as afforestation and energy conservation, even if global warming is uncorrelated with CO2 emission.
The second one is "least regrets" actions, mainly development of new energy sources such as wind, solar and biomass energy.
Compared with traditional fossil fuel energy, developing new energy costs more and its development and exploitation comes with certain risks. But humans will have to develop new energy in order to optimize the energy mix and ensure sustainable energy supply.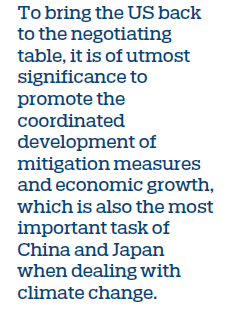 The third one is a specialized solution, involving the capture and storage of CO2 emitted by human beings. It is especially suited for tackling climate change, but is only a temporary solution, being no good for long-term societal development.
Most of the aforementioned actions aim at creating a low-carbon, sustainable and vigorous society, instead of merely tackling climate change. But if the three countries could cooperate in the areas of energy technology, energy mix and industrial structure, it would kill two birds with one stone. Such tripartite cooperation could significantly reduce CO2 emissions; improve the energy mix, energy sustainability and industrial structure while enhancing energy efficiency, reducing acid rain and improving human livelihoods. Even without global warming, this is the ideal situation that human society pursues.
One thing worth mentioning is that even though the US has withdrawn from the Kyoto Protocol and the Paris Agreement, we should see the country's two-sidedness in this regard.
Addressing climate change involves two possible approaches: reducing and stabilizing the levels of heat-trapping greenhouse gases in the atmosphere (mitigation) and/or adapting to the climate change already in the pipeline (adaptation). Although the US acts passively on mitigation measures such as cutting CO2 emissions, it attaches great significance to the research and development of adaptation-related technologies, with enormous capital and talent input.
This duality is also manifested by the different approaches taken by the US federal government and state governments on mitigation policies. While the federal government has walked away from the Kyoto Protocol and the Paris Agreement, some states, such as California and New Mexico, are proactively taking emission-cutting measures and making commitments in this regard.
Therefore, to bring the US back to the negotiating table, it is of utmost significance to promote the coordinated development of mitigation measures and economic growth, which is also the most important task of China and Japan when dealing with climate change.
In a nutshell, China, Japan and the US should establish a community to tackle climate change via bilateral, multilateral and third-party cooperation on green financing, technology transfer, capability improvement and emissions trading.
Such a community can be framed by four dimensions. First, the timeline. There is need to formulate a detailed emissions reduction schedule from now to 2050, in accordance with the principle of common but differentiated responsibilities.
Second, the geographic element, which means low-carbon local development should be realized in both urban and rural areas and in both developed and less developed countries.
Third, there needs to be policy coordination between environmental protection and economic growth, as well as local issues and global ones. Last but not the least is the outcome dimension - win-win results that should be realized not only in countries, but also in terms of the environment, economy, cost and efficiency, and the policies of various sectors.
Although climate change has different impacts on different countries, no country can walk away from this battle unscathed. In spite of political, economic and trade conflicts, China, the US and Japan should forge a community of a shared future in the process of coping with climate change, given the shared benefits, responsibilities and risks.
The author is a professor at the College of Policy Science at Ritsumeikan University, and the director of the Research Institute of Global 3E in Japan. The author contributed this article to China Watch, a think tank powered by China Daily. The views do not necessarily reflect those of China Daily.
(China Daily Global 10/15/2019 page13)
Today's Top News
Editor's picks
Most Viewed