Huawei forges ahead with global commercialization of 5G network
Chinese tech giant Huawei Technologies is pushing ahead with the commercialization of 5G technology, with over 50 contracts signed and 200,000 5G base stations shipped worldwide, a company executive said.
5G, fifth-generation wireless technology, allows users to surf the internet and download data at superfast speeds.
"1G and 2G technology shortened the distance between people by voice and short message. 3G and 4G enriched interpersonal interaction through mobile internet and video. And 5G will bring us to an intelligent world where everything is interconnected," said Peng Honghua, chief marketing officer of wireless business of Huawei, at the Huawei Asia-Pacific Innovation Day held in Chengdu, Sichuan province, in September.
"5G provides the ultimate experience for customers, driving mobile broadband to a new high ground of prosperity. Furthermore, it will promote digitalization and improve efficiency in more industries," he added.

From left: A woman tries on an 8K ultra-high definition virtual reality headset using 5G technology at Huawei's booth at the first China-ASEAN AI Summit in the Guangxi Zhuang autonomous region in September. Provided to China Daily; Participants visit Huawei's booth at the 2019 World Artificial Intelligence Conference in Shanghai in August. Fang Zhe / Xinhua; Customers test the features on the Huawei Mate 20 X, the company's first 5G mobile phone released in August. Wei Liang / China News Service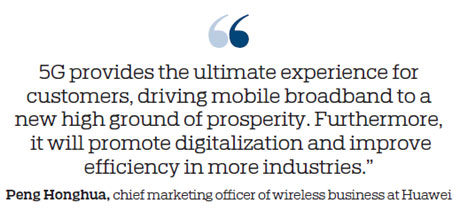 For example, equipped with Huawei's 5G CPE Pro mobile router, broadcasters can transmit realtime video data to television headquarters using smaller and more versatile camera equipment, which can significantly reduce labor time and cost, and improve the viewing experience.
With the establishment of related standards, completion of the industrial chain and the improvement of communication infrastructure, 5G is becoming more commercialized.
According to a report by the Global Mobile Suppliers Association in August, 56 telecoms operators in 32 countries have applied 5G technology in their networks. It's estimated that over 50 countries and regions will release 5G-related frequency spectrum by 2019; about 100 different kinds of 5G terminals have been released into market worldwide, the report said.
The Asia-Pacific region has been a pioneer in the commercialization of 5G. South Korea, for example, was the first country in the world to put 5G into massive commercial application. The country now has over 2 million 5G users as of early April. And China, according to Peng, will be the largest 5G market in the world.
"The story is the same as that in the 4G era," he said. "China has 4.37 million 4G base stations and 1.2 billion users. Since the 5G license was officially launched in June, the three major telecom operators have deployed 5G in over 50 cities in 30 provinces."
By July, as much as 38,000 5G base stations had been put into use. The number is expected to reach 130,000 by the end of 2019, industrial data showed.
Peng said Huawei would continuously innovate with an open mind to provide advanced 5G products and services to create greater social and economic value.
Innovative method
Peng said the key to accelerating the commercialization of 5G is providing rapid coverage of 5G with high cost effectiveness, and Huawei is doing that in three ways.
One is Massive MIMO, a key pre-5G technology that helps improve the coverage of Wi-Fi networks by boosting the efficiency of current telecom equipment. Huawei sells over 90 percent of Massive MIMO in the global market.
The company uses artificial intelligence to adjust network parameters in accordance with different scenarios. According to its third stage test of 5G network performance, the peak download speed can reach 14.58 gigabits per second, 100 times more than 4G, Peng said.
The difficulty in finding the right locations and the high cost of construction are common challenges for establishing 5G base stations, but Huawei put forward an idea to simplify the process of installation. Its hardware devices Easy Macro and Book RRU can be installed on poles along roads, near tall buildings, in residential communities and tourist attractions to achieve better 5G network coverage. China now has over 12 million such poles available for installation, data from the company showed.
The last is the Huawei 5G digital indoor system, or DIS, which can achieve deep indoor 5G coverage, while providing better experiences for users. The DIS has been used in many indoor spaces, such as the Shanghai Hongqiao Railway Station, Chengdu subway, the Lujiazui financial hub in Shanghai and Guangzhou Baiyun International Airport.
During the Asia-Pacific Innovation Day, Huawei released an all-around 5G network coverage solution together with the Sichuan branch of China Unicom. Huawei has helped deploy 5G in multiple areas of Chengdu, capital of Sichuan province, such as in local shopping mall Sino-Ocean Taikoo Li Chengdu, Tianfu Software Park, the giant panda base, subway line 10 and attractions like the Dujiangyan Irrigation System.
R&D in focus
Despite all the restrictions it faces from the United States, Huawei is still a pioneer in the 5G era. Ren Zhengfei, founder and CEO of Huawei, told international media that most of its most advanced devices don't have US parts. By installing self-made parts, the efficiency of its products increased by 30 percent.
This year, Huawei plans to manufacture 600,000 5G base stations, rising to 1.5 million in 2020, Ren added. "The demand has already exceeded the supply."
Peng said Huawei started researching 5G in 2009, when 4G was just commercialized. Now, the company has put $4 billion in investment into the research and development of 5G.
In 2012, it developed a technical test prototype. In 2017, it developed a system test prototype. Since 2018, Huawei has released a series of 5G commercial products, including the world's first chipset for 5G base stations, Tiangang and Balong 5,000, Huawei's first 7-nanometer multi-code 5G chipset.
"Our innovation in key 5G-related technologies, including chips, material, algorithm, antenna and thermal dissipation, has laid the foundation for us to provide simplified 5G network coverage services and better-than-expected experiences," he added.
Huawei took part in the global standard setting of 5G in its early stages. The company has contributed over 20 percent of proposals to the 3rd Generation Partnership Project, or 3GPP, a global organization supervising cellular standards, ranking first in the world, the company said.
(China Daily Global 10/15/2019 page9)
Today's Top News
Editor's picks
Most Viewed