Alibaba-linked Ant Forest wins top UN green award
Ant Forest, a Chinese green initiative, has won the United Nations' highest environmental honor.
Picked for the 2019 Champions of the Earth award on Thursday in the Inspiration and Action category, Ant Forest is motivating half a billion people to protect the environment by turning their green deeds into an afforestation campaign, the award says.
"It's very innovative," said UN Environment Programme Executive Director Inger Andersen.
"It's big. It has managed to mobilize millions of people to get an understanding of the environment and what they can do by contributing a small amount of resources," she said.
Launched by Ant Financial Service Group, an affiliate of the Chinese internet giant Alibaba, Ant Forest promotes greener lifestyles by inspiring users to reduce carbon emissions in their daily routines and better protect the environment.
Users are encouraged to record their low-carbon footprint through daily actions, such as taking public transportation or paying utility bills online. For each move, they receive "green energy" points.
When they accumulate a certain number of points, an actual tree is planted. Users can view images of their trees in real time via satellite.
"Ant Forest reflects our belief that technology can and should be harnessed for social good," said Eric Jing, chairman and chief executive officer of Ant Financial.
Andersen said: "What we like is to have people connected with the environment.
"We live more and more in urban settings. We see less and less of the environment and what our own action is doing to the environment. So having people engaged in a personal way is very powerful."
Xu Di, general manager of the Ant Forest initiative, said: "Efforts to go green should not be limited to responses to appeals from the UN or governments and scientists, but rather something that engages everyone in a bottom-up approach.
"Only in this way can we see an inclusive green world coming," said Xu, who accepted the award along with Shen Junliang, who represented users of the app.
Since its launch in August 2016, Ant Forest and its nongovernmental organization partners have planted around 122 million trees in some of China's driest areas, including in arid regions in Inner Mongolia, Gansu, Qinghai and Shanxi.
The trees cover an area of 112,000 hectares, making the project China's largest private-sector tree-planting initiative.
Jing said that due to the rising popularity of the program, the company might need to speed up and plant 100 million trees each year.
"The company is also committed to upgrading the program and expanding its impact to other areas", including in the fight against poverty, in overseas markets, and with small businesses, said Jing.
China's contributions
Ant Forest's initiative is part of China's overall contributions to protect the environment.
Afforestation measures launched in China have increased the country's forest stock by 4.56 billion cubic meters from 2005. Since 2000, China has contributed to a quarter of the world's newly forested land, according to Chinese State Councilor and Foreign Minister Wang Yi, who delivered a speech during the UN Climate Action Summit last week.
"I am very pleased with the kind of progress we are seeing in China and in many other countries," said Andersen.
This is the third consecutive year that a Chinese entity has won the UN's top environmental award, which since 2005 has been recognizing outstanding leaders from government, civil society and the private sector that are helping the environment.
In 2018, the Zhejiang Green Rural Revival Program won in the Inspiration and Action category for its work to clean up polluted waterways and regenerate degraded land.
Two years ago, the Saihanba Afforestation Community was recognized in the same category for transforming degraded land on the southern edge of the Inner Mongolia autonomous region into a lush paradise.
nancykong@chinadailyusa.com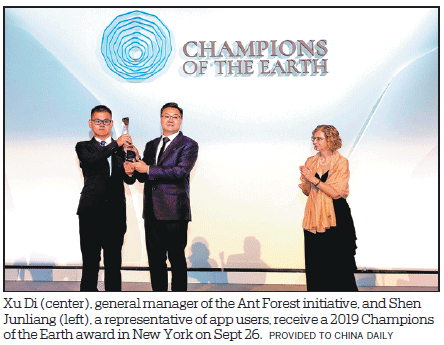 (China Daily Global 10/02/2019 page11)
Today's Top News
Editor's picks
Most Viewed