A toy story in Chinese culture
Branding and original design are prerequisites for Chinese toy manufacturers to add Chinese cultural elements to toys, writes Liu Jianna
Even after two months, Wang Zhenhua is furious with the tour guide at Hemudu Neolithic cultural site in Zhejiang province for opening her remarks on the ancient Chinese mortise-and-tenon joint (sun mao) culture by asking the 30-odd about-12-year-old visitors whether they have played with Lego building toys.
"The mortise-and-tenon joints that Lego uses are primitive. They are ... much coarser and soulless compared with the ones unearthed in Hemudu," he says. "It's a pity that young people today know so little about Chinese sun mao culture."
Partly driven by a longing to help spread sun mao culture, an architectural technique known for its nail-less joints, Wang, a 61-year-old intangible cultural heritage inheritor in Shanghai's Minhang district, is committed to making toys that will help Chinese children embrace the wisdom and exquisiteness of the culture.
Daredevils lead the way
Wang's lament over the lack of toys reflecting Chinese culture does not come out of thin air. China is the world's biggest toy producer and exporter - and the second-largest toy consumer, after the United States.
Yet Chinese toy makers, despite being good at bulk production, lag far behind the world's leading toy makers such as Mattel, Hasbro and Bandai in design, research and development. In the top-end of the toy market, few Chinese brands have been able to carve a niche for themselves.
"When buying ten-cent toys, I would not buy labels. But when picking up expensive and sophisticated toys, I tend to go for foreign brands since they seem more reliable given their decades-old history," said Jiang Fei, a mother of two.
Apart from being poor at branding and design, many Chinese toy companies also find themselves caught in price competition and lag behind in intellectual property protection awareness. For example, in late April, police busted the Shenzhen-based Longjun Toy Factory for counterfeiting Lego products in a scandal involving more than 200 million yuan ($28 million).
But changes are underway. Some Chinese toy makers, after realizing the disadvantages of being low-profit and unsustainable manufacturers for the lack of original design, have aspired to climb up the toy industry's value chain. Alpha Group, a leading domestic animation and toy producer, is one such company. Kingson Cai, general manager of Alpha Group's Global Product Center, said: "If the company had not chosen to go global and build its own brand in the international market more than 10 years ago, the room for its growth would have been much smaller, because as China's demographic dividend wanes and the labor and raw material costs surge, the drain on toy makers is becoming increasingly serious."
"Now, Alpha group owns a number of patents in animation, as represented by Xiyangyang (Pleasant Goat and Big Big Wolf) and Super Wings, which have boosted its toy sales. The company is one of the few Chinese brands that have been recognized by the international toy industry," Cai said.
A promising market waiting to be tapped
Given that China has more than 235 million children aged below 14 years and the two-child policy is expected to help encourage more childbirths, China has to not only prompt domestic toy companies to expedite industrial upgrading, but also attract more investment from overseas.
Lego, for one, is upping the ante and half of its 160 newly added stores will be located in China, increasing the total number of its stores in the country to about 140 by the end of this year. Which to a large extent is prompted by its robust double-digit growth in the Chinese market amid relatively lackluster global sales.
Original equipment and original design manufacturing enterprises in the toy industry that rely on exports have begun to feel the pinch more strongly. According to Guangdong Toy Association, exports of toys registered a year-on-year growth of just 4.5 percent last year, compared with 31.2 percent in 2017.
Royalsound, a Chinese musical instrument and toy maker based in Zhejiang province, supplies toys to Lidl, a major German retailer that has strict quality criteria for toys, because of its manufacturing prowess and sound product quality. Yet it has seen no expansion since 2010 as the competition in the toy-making sector has been intensifying and the global toy market is losing steam.
"Since the margin in toy manufacturing is further narrowing, we have to strengthen the R&D of new products and put more efforts into self-branding to add more value to our toys," said Luo Youhang, board chairman of Royalsound. At the moment, the company is focusing on developing and promoting its own brands Musicube and Royalsound.
Last year, the Chinese toy market remains relatively vibrant and lucrative amid contracting sales in countries such as the United States, the United Kingdom and France. China raked in 70.48 billion yuan in retail sales in 2018, up 9 percent. Better still, 65.6 percent of Chinese consumers, according to China Toy and Juvenile Products Association, plan to increase their spending even as NPD Group, a global information company, said global toy sales declined by 2 percent last year.
However, in spite of a growth of 8.2 percent, Chinese parents on average spend only 299.5 yuan on a child aged between 0 and 14 - a mere fraction of the average 3,000 yuan in countries such as the UK and the US.
Stirrings to make Chinese toys
The tremendous box office success of Chinese animation films highlighting Chinese culture including Ne Zha and Monkey King: Hero is Back in recent years has encouraged toy makers to experiment with toys by adding Chinese cultural elements to them.
"As China's soft power increases and the international community becomes more receptive to Chinese culture, domestic companies enjoy home advantages in developing toys representing Chinese culture," Cai said. "Alpha Group has made efforts to promote Chinese culture by incorporating Chinese elements into its animated cartoons. Which in turn could boost the development and sale of toys featuring Chinese cultural elements," he said.
Li Zhuoming, chairman of Guangdong Toy Association, too, deems it essential for toy makers to design toys that blend in Chinese cultural elements because "the story and unique culture behind a toy could help attract more customers". Citing the example of Guangdong Kurhn Toys, which has drawn inspiration from traditional Chinese culture to develop a series of dolls that have extensive Chinese traits, including facial features and dress, he said: "These high-end dolls sell pretty well in department stores in Shanghai and Nanjing and are especially popular among foreigners."
A search for toys with Chinese characteristics on JD.com, a major Chinese e-commerce platform, throws up about 24,000 results while Lego fetches more than 25,000 results, suggesting the long road ahead for Chinese toy makers.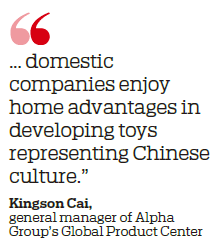 Domestic toy makers could and should dig into the rich Chinese culture and make use of traditional patterns or concepts in their toys, as well as project traditional stories, culture and spirit, said Zhang Yiwu, a professor of Chinese cultural studies at Peking University.
Looking ahead, Cai said the rise of large e-commerce platforms including Alibaba, JD.com and Meituan, the booming internet economy, along with China's rapid development of cutting-edge technologies such as 5G and artificial intelligence, might help Chinese toy makers to catch up with, even overtake, the leading foreign brands.
Dreaming of a Chinese toy kingdom
Indeed, some well-made and creative Chinese toys have been rated highly and well received not only at home but also in overseas markets. For instance, wireless remote-controlled cars made by Rastar Group, a toy company based in Guangdong province, ranked fourth in the Top Ten Toy Sales for Christmas 2018 list released by Detsky Mir, Russia's largest toy retailer. Besides, Shenzhen Bell Creative Science and Education won the startup award for its Mabot, the world's first plug-n-play robotic toy, at the Nuremberg Toy Fair in Germany in January this year.
Speaking of toys with Chinese elements, some interviewees brushed aside the issue as non-important while others expressed preference for Chinese-style toys. Ren Xiaoyu, the mother of a two-and-a-half-year-old, said that any toy is fine as long as his son likes it and whether it contains Chinese elements is not a necessity for her when buying a toy.
Niu Meiqi, a 26-year-old toy collector, has a different view. "Once I bought a decoration toy modeled after Guan Yu, a famous general during the late Eastern Han Dynasty (AD 25-220), which is close to my heart. I look forward to seeing more such toys that reflect Chinese traditions and culture ... The problem now is that many domestic toy makers ignore quality while blindly chasing a bigger share of the market and larger profits."
Cai, too, cautioned against the obsession with adding Chinese cultural elements to toys, irrespective of market demands, because toys are principally playthings that help children exercise their brains, and should be safe for children to play with.
Nonetheless, Wang, a "newcomer" to the largely fragmented Chinese toy market, hopes one day the building sets he designs will fully reflect the wisdom and beauty of ancient Chinese architecture and be as popular as Lego among Chinese children.
Contact the writer at liujianna@chinadaily.com.cn
Children play with a toy train at the 10th China Kids Fun Expo in Beijing on July 12. More than 210 brands from home and abroad exhibited their toys at the expo that was held on July 11-14. Zou Hong / China Daily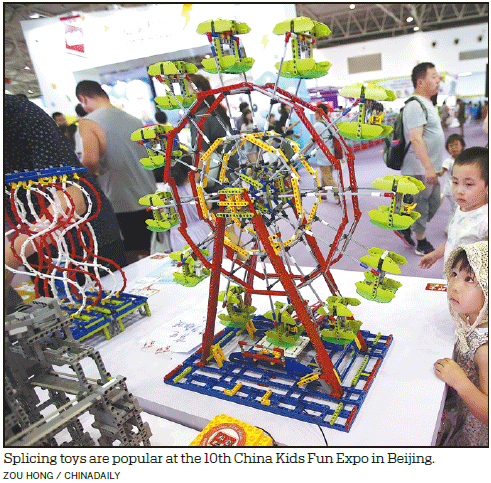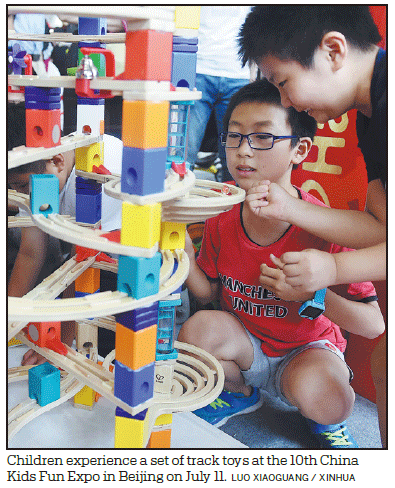 (China Daily Global 10/01/2019 page14)
Today's Top News
Editor's picks
Most Viewed