Madagascar epitome of China's foreign aid
Beijing is African nation's largest trading partner, largest source of import and fourth largest export destination for years
Earlier this year, a second batch of drilling projects supported by China was officially started in the most arid and water-scarce area in southern Madagascar. After Madagascar President Andry Rajoelina arrived at the groundbreaking ceremony, the roar of a machine preceded the flow of clear underground water out of a pipeline. The project has played an important role in solving acute water problems faced by the locals.
Madagascar is the fourth largest island in the world and the largest in Africa. It is endowed with unique natural conditions, fertile land, a warm climate and abundant resources. It has many unique animal and plant resources and natural landscapes. It is also a young country, with young people making up two-thirds of its population. The country's economy is based on agriculture.
To make up for its economic development lag, Madagascar has in recent years strengthened infrastructure, such as transportation and electric power, and actively developed agricultural and fishery products processing industries, textiles and tourism. The Madagascar government has proposed the Madagascar Emergence Initiative, according top priority to safety and development. Its overall development potential looks promising.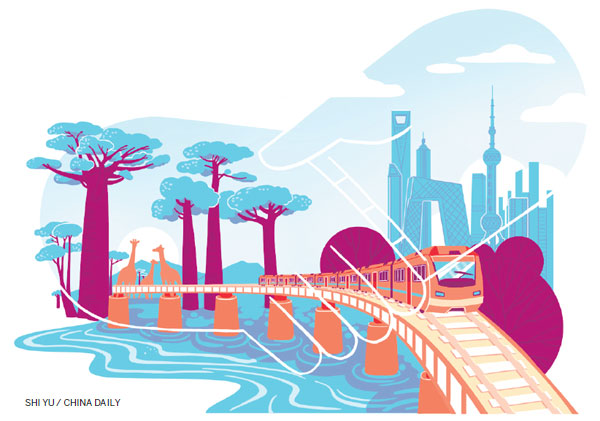 Ever since China and Madagascar officially established diplomatic ties in 1972, they have maintained friendly, mutually beneficial cooperation in health, education, culture, sports and other fields. This has helped the countries become friends, good partners and brothers.
China and Madagascar established a comprehensive partnership in 2017. Madagascar was also among the first group of African countries that signed a memorandum of understanding on the Belt and Road Initiative with China.
Economically, cooperation between China and Madagascar has continued to expand. China has been Madagascar's largest trading partner, largest source of imports and the fourth largest export destination for years. In 2018, the trade volume between China and Madagascar reached $1.21 billion, growing 100 times since the establishment of diplomatic ties.
China-aided roads, stadium, conference center, hospitals, schools and other infrastructure has brought good economic and social benefits. Many of them have become local landmarks. China's hybrid rice and other technologies have blossomed in Madagascar, providing a new choice for the local people to achieve food self-sufficiency. Besides, China's investment in Madagascar has been increasing, and the localization rate of Chinese-funded enterprises has crossed 90 percent, creating many employment opportunities for the local people.
In terms of healthcare, cooperation between China and Madagascar has enjoyed people's support. Since the establishment of diplomatic ties, China has sent 22 batches of more than 600 medical team members to Madagascar. The medical teams have overcome hardship to save lives and received praise from the local people.
In 2017, a large-scale plague broke out in Madagascar. The Chinese government provided emergency medical supplies and sent disease control experts. Besides, China launched a charity eye clinics project in Madagascar to provide free surgical treatment for cataract patients. When long-term blind patients recovered their sight, they excitedly shouted "thanks to Chinese doctors".
In terms of culture and education, exchanges between the two countries have deepened. China's Confucius Institute has been established and runs well at the University of Antananarivo and Toamasina University, two of the largest in Madagascar.
Chinese language education has been included in Madagascar's higher education system. To meet the demand for professional talent in Madagascar, China has invited Madagascan experts every year to participate in various technical trainings in industry, agriculture, economy, trade, environmental protection, health, news, sports, and etc China has also provided scholarships to Madagascan students to study in China.
Cultural exchanges are also increasing. Chinese and Madagascan artists have exchanged visits. Chinese books, too, have been officially unveiled at the National Library of Madagascar. Such interactions promote understanding and friendship between the two peoples.
China-Africa and China-Madagascar cooperation reflects the general trend and people's intentions. If there are any advantages, it can be summarized as follows:
First, the advantage of popular support. China shares the same painful history of colonization and historical mission of poverty alleviation as Madagascar and other African countries. Such similarities have made the Chinese and African people understand and support each other. Books such as Xi Jinping: The Governance of China and Up and Out of Poverty are welcomed in Madagascar. Some local friends are amazed by China's huge economic growth that has lifted more than 700 million people out of poverty. They hope to learn from China's experience and achieve rapid development in Africa.
Second, the advantage of policy. At the 2018 Beijing Summit of Forum on China-Africa Cooperation, President Xi Jinping proposed to establish a China-Africa community with a shared future, which was highly praised by African countries. China has always been a sincere friend to Africa, often speaking for it internationally.
Third is the advantage of cooperation. China has insisted on integrating its foreign cooperation projects with Madagascar's development strategy, to put the best resources in the most needed place.
China pays attention to not only providing aid, but also technical training that can generate Madagascar's growth. It has given selfless assistance to Madagascar, providing human and material resources during serious natural disasters. "Chinese speed", "Chinese effectiveness" and "Chinese quality" are well-known phrases used by Madagascan people.
Fourth is the advantage of human resources. A group of Chinese foreign aid workers have been active in Madagascar for years, regardless of the difficult working and living conditions. Volunteers teaching Chinese at the Confucius Institute have built a deep friendship with local students. In the southernmost part of Madagascar, the poorest part, Chinese foreign aid doctors work overtime to relieve the suffering of local patients. These foreign aid personnel are the best spokespersons for China.
Looking forward, China-Madagascar friendly cooperation has broad prospects.
This year marks the 70th anniversary of the founding of the People's Republic of China and the 47th anniversary of the establishment of diplomatic ties between China and Madagascar. China is willing to actively implement the principle of sincerity, real results, amity and good faith and the principle of pursuing the greater good and shared interests proposed by President Xi to take Sino-Madagascan comprehensive partnership to a new level.
The author is Chinese ambassador to Madagascar. The author contributed this article to China Watch, a think tank powered by China Daily.The views do not necessarily reflect those of China Daily.
(China Daily Global 09/27/2019 page13)
Today's Top News
Editor's picks
Most Viewed