Hither & thither, the majesty of a zither
An old Chinese instrument is making its presence felt in many places and is winning hearts
Sit down and listen to her for just a few minutes, and the sweet sound of this lady of uncertain provenance may well strike your heartstrings.
In ancient Persia they knew her as santur, among modern-day English speakers she is dulcimer - from the Latin for sweet melody - and when she reached China she became yangqin.
The English name's etymology accurately reflects the timbre of the dulcimer, its two hammers striking the strings on its trapezoidal board.

At the third International Dulcimer Music Festival in Beijing recently the audience was treated to the uncommon presence of more than 30 yangqin on the same stage being played by musicians from around the world.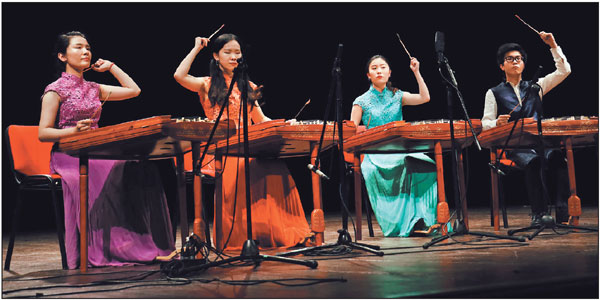 The third International Dulcimer Music Festival in Beijing marked a departure, being the first time the event had been held outside the United States. Photos Provided to China Daily
Dulcimer players can conjure diverse moods, hence the instrument's frequent appearances in film scores, from portraying scenes of everyday life to creating a sense of mystery in epic fantasies. The instrument's exact origin remains an enigma and can only be roughly traced back to somewhere in the Middle East thousands of years ago. It is believed to have come to China from the Persian Empire through the Silk Road about 400 years ago, in the late Ming Dynasty (1368-1644).
In China it was localized and named yangqin, which meant foreign instrument, and gradually took a central role in Chinese folk ensembles, similar to that of the piano in an orchestra. As with pianos, usually only one yangqin is required in a concert, but at the third International Dulcimer Music Festival in Beijing recently the audience was treated to the uncommon presence of more than 30 yangqin on the same stage being played by musicians from around the world.
Introducing the yangqin's charms to the world is something that Liu Yuening, a professor and doctoral supervisor at the Central Conservatory of Music in Beijing and artistic director of this year's music festival, has made her mission for more than 30 years. Looking back, she says, pursuing that task seems to have been her destiny.
Liu's own introduction to the instrument when she was 9 came as the result of happenstance, a friend of the family being an avid player. All these later Liu sees the yangqin as being well suited to the zeitgeist, a Chinese traditional instrument with foreign origins making its presence felt in an era of globalization.
"The yangqin is so much more than simply a Chinese traditional musical instrument. It has this universal quality and can have a really profound impact in the modern era."
Liu sees herself as one of the first beneficiaries of China's reform and opening-up. She was enrolled in the Central Conservatory of Music Middle School immediately after changes in education in 1977.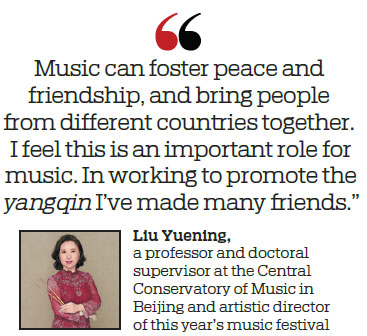 She and a few classmates were thus given special attention, even having the chance to perform in the Great Hall of the People in Beijing and in the documentary Chunlei (Spring Bud) as a representative of young yangqin learners when she was 12.
After completing her undergraduate studies at the conservatory she stayed to teach and research, aiming to promote Chinese music to the world.
She has done research at academies overseas, including as a visiting scholar at the Liszt Ferenc Academy of Music in the Hungarian capital, Budapest, and as a Fulbright scholar at the University of Michigan in Ann Arbor.
She has also helped to give Chinese yangqin artists a bigger stage, taking them on overseas tours, last year leading a delegation of musicians to Iran, including the Jasmine Ensemble she established in 2008, to swap ideas with Iranian santur performers, and in July she accompanied yangqin performers to Italy, where they staged concerts at Teatro Verdi in Florence and elsewhere in the country.
"Music can foster peace and friendship, and bring people from different countries together," Liu says. "I feel this is an important role for music. In working to promote the yangqin I've made many friends."
The International Dulcimer Music Festival in Beijing recently marked a departure, being the first time the event has been held outside the United States, the first two editions being held at the Eastman School of Music in New York last year and in February. The Beijing venue that accommodated world dulcimer ensembles for this year's event provided traditional Chinese yangqin masters with the ideal setting to exchange ideas with their overseas counterparts.
One of the locals was Fu Bing, 74, who managed to communicate with foreign musicians using his limited English, hand gestures and music, and was able to record it all for posterity with a smartphone at the end of a selfie stick. Fu, a key figure in the Sichuan school of yangqin, first picked up the instrument when he was about 9, and for more than half a century has had an agenda similar to that of Liu, working to preserve the history and culture of this form of yangqin music.
His early learning was from a blind yangqin master, Lei Ziyun. In fact, Fu says, at the time most of the folk musicians in Sichuan province were visually impaired.
In order to support themselves, the musicians usually needed to master several folk music instruments and sing while playing, which became a characteristic unique to the Sichuan school.
When he was 20 he joined the Folk Art Troupe of Chengdu. Though he had two performances every day, he kept practicing yangqin whenever he could, often late into the night, covering the instrument with a piece of cloth so as not to disturb his neighbors.
Being keenly aware of the importance of preserving history, he began running around Chengdu interviewing local folk performers, first making notes and later using a recorder when he was studying musical composition at the Sichuan Conservatory of Music.
"In 1976 I bought a cassette recorder that cost me 800 yuan ($113). It took me about five years to save for that recorder, because at the time I earned only about 50 yuan a month."
In 1988 he finally completed his oral history project - a term he says he was not even aware of at the time. On 278 cassettes he recorded the voices of 40 or so blind folk musicians, all of whom have since died.
He attended the dulcimer festival in Beijing hoping to find somebody to digitalize the audio and text material, an urgent task, he says.
"Knowledge doesn't belong to one person; it belongs to mankind. We must preserve it and share the resources we have so we can pass them down to ensuing generations."
In 2012 in conjunction with the Royal Danish Academy of Music, the Central Conservatory of Music established the world's first Music Confucius Institute in Copenhagen.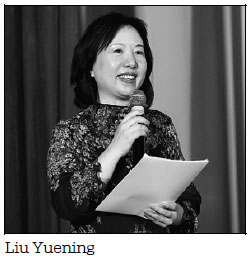 Mi Xuanye, a young but experienced teacher at the Music Confucius Institute, has been working with the conservatory in overseas cultural exchanges and yangqin education since she studied for a master's degree at the conservatory between 2014 and 2016.
Overseas, musicians work with local schools in offering students Chinese music appreciation courses and basic training in folk instruments. In those courses she has found the enthusiasm of some foreign students for Chinese dulcimers inspirational.
One of the most impressive students, she says, was an Iranian boy studying saxophone professionally at a local music high school. After an introductory course at the high school he contacted Mi saying he was keen to study yangqin. Even though it was toward the end of the semester she decided to take him in and taught him for a month.
The boy exceeded her expectations and quickly mastered the basic skills. Even though he had no yangqin of his own, he asked Mi to help him book practice rooms, and he would practice for five hours straight each time.
Moved by students like him, Mi says yangqin music, with its pleasant sound, cultural background and the instrument's resemblance to other countries' folk instruments, can attract people from outside China to learn about Chinese folk music.
"The most important thing is that the yangqin represents Chinese folk culture with all its refinement. The music itself is attractive enough, but we need to do more to let people know about it."
For every performance, Mi and her colleagues prepare a repertoire of well-known Chinese pieces, both traditional and contemporary, usually folk music pieces with catchy melodies.
They also work with local musicians and play a few local songs with Chinese folk instruments so audiences can gain a holistic understanding of Chinese music.
Apart from teaching in schools, the musicians have also worked with nursing homes in Denmark, experimenting with Chinese folk music as therapy to help treat Alzheimer's disease.
After receiving training from Alzheimer's disease experts, the Chinese musicians used folk instruments to perform classic Danish tunes that patients might have been familiar with from their childhood. Apart from yangqin, the musicians used a few other folk instruments such as the guqin and the pipa, both of which are plucked string instruments.
"During performances, we would observe their reactions to the music and make adjustments accordingly," Mi says.
"Often after a half-hour session some of the people would be crying. In one case a man kept asking us all sorts of questions, and the carers told us that before we came he said barely a word."
chengyuezhu@chinadaily.com.cn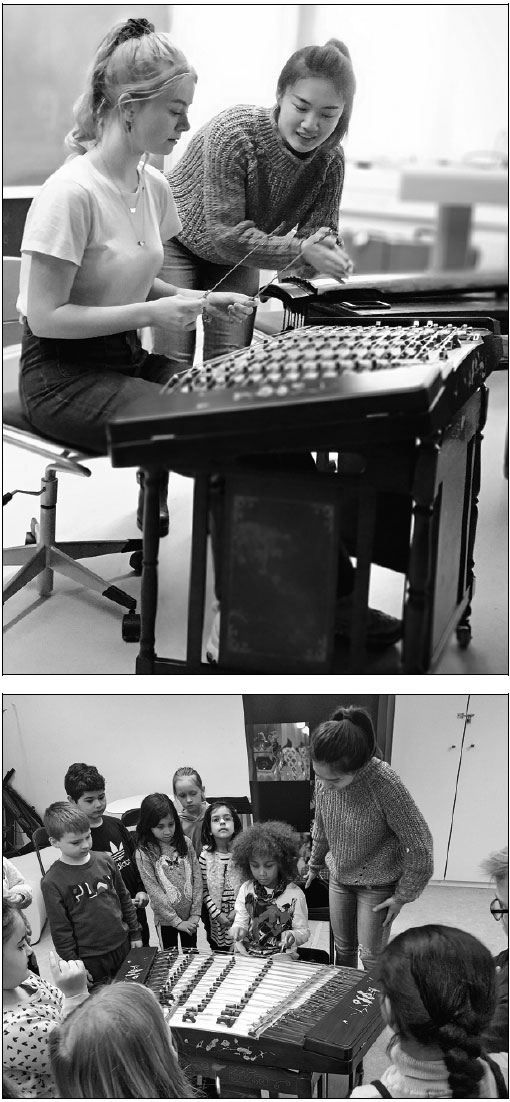 In 2012 in conjunction with the Royal Danish Academy of Music, the Central Conservatory of Music established the world's first Music Confucius Institute in Copenhagen. Photos Provided to China Daily
(China Daily Global 09/25/2019 page15)
Today's Top News
Editor's picks
Most Viewed