Decades of growth spur rise in overseas travel
In the past 20-plus years, China has become the world's leading source of international tourists. Cheng Si reports.
Editor's note: To celebrate the 70th anniversary of the founding of the People's Republic of China, we are publishing a series of stories reflecting changes and developments in fields such as law, education, transportation and the environment. This is the fourth in the series.
Outbound tourism is no longer a privilege enjoyed only by people on business trips or political visits.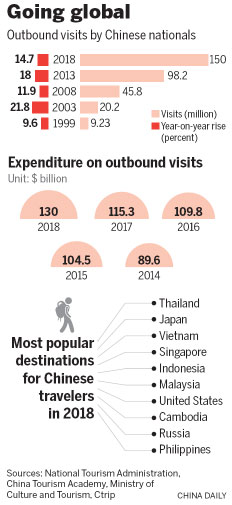 Now, it is a commonplace activity for most Chinese, as a result of the nation's economic growth, the relaxation of visa policies and people's growing desire to travel.
In 2017, Chinese nationals made 143 million outbound trips, while in 1995 the figure was 5 million, and the average annual rise over the period was 17 percent, according to a report published by the National Bureau of Statistics last month.
It said that in 2013, the number of outbound Chinese travelers hit the top spot globally for the first time, and has stayed there ever since.
Moreover, the amount spent by Chinese travelers at overseas destinations has soared in the past two decades.
Limited opportunity
From 1978 to the late 1980s, the first decade of the Reform and Opening-up Policy, overseas tourism was in its infancy in China, according to Zou Qingling, director of outbound tourism at Lvmama, an online travel agency headquartered in Shanghai.
"Back then, the majority of outbound journeys were business trips or government visits. People who wanted to make personal visits overseas had to apply for single-trip passes, while the destinations were limited to Hong Kong and Macao," she said.
From 1983, travelers from the Chinese mainland were allowed to make individual trips to the cities.
She added that outbound tourist products became more accessible to the average person in the early 1990s, thanks to the easing of the passport policy.
"The destinations then were mainly countries and regions nearby, such as Thailand, Malaysia and Singapore," she said.
"However, there was still a shortage of agencies qualified to offer outbound travel services. For example, there were only five in Shanghai. It was a good start, though."
Dai Bin, president of the China Tourism Academy, said the average citizen had little interest in outbound tourism in the early 1990s because of limited vacation time, low incomes and a lack of travel services.
"At the time, we were the ones who offered travel services to inbound tourists rather than enjoying those services ourselves," he said.
Gao Zhiquan, a former tour guide for China CYTS Tours and the company's vice-president since 2008, is impressed by the huge changes the country's tourism sector - especially outbound - has undergone in the past 20-plus years.
"I served as a tour guide for foreign guests in 1990, after I graduated from Pyongyang University of Construction and Building Materials in the Democratic People's Republic of Korea," he said.
"A tour guide who could speak a foreign language was quite a rarity back then.
"In the 1990s, tourism facilities in China lagged behind those in other countries, and we tour guides experienced things that would be inconceivable to the younger generation," he said.
"For example, we couldn't be sure if our flight would leave until the actual day we departed."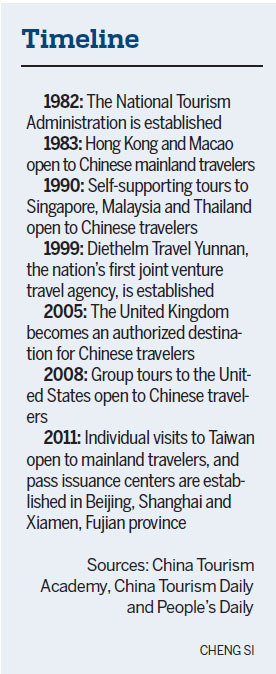 According to Zou, from Lvmama, the nation's outbound tourism sector experienced high-speed development from the late 1990s to 2005.
"Take Shanghai as an example - the number of agencies qualified to arrange outbound travel services rose to 32 from a mere five in the early 1990s," she said.
"The prime time arrived in 2006. The most remarkable thing was that ocean cruises hit the domestic market in July 2006. It was a sign that travelers had started seeking leisure in their outbound visits."
Continued growth
According to the China Tourism Academy, the nation's outbound tourism sector continues to grow. Last year, Chinese travelers made 150 million visits overseas, a rise of 14.7 percent from 2017.
Sun Jie, CEO of Ctrip, an online travel provider based in Shanghai, said: "When Ctrip was founded 20 years ago, only 10.5 million outbound trips were made by Chinese tourists annually. Today, the number has risen to 150 million, and it is still growing."
Now, whether travelers are looking for the cheapest airfares or the most luxurious resorts, they are spoiled for choice when booking transportation and accommodations, she added.
The rapid development of outbound tourism has also changed people's preferences when it comes to destinations and travel experience.
Sun said the developments have been obvious. "They (travelers) are looking beyond price, and searching for quality tours. They're less interested in traditional itineraries and more concerned about discovering diverse and novel travel experiences," she noted.
"Hundreds of millions of outbound Chinese tourists have started to see the world, but the next generation is already exploring locations off the beaten track, broadening their horizons to less-traveled regions of the world, creating job opportunities in directly-related industries such as hospitality, aviation, retail and catering, as well as indirect jobs."
Changing attitudes
Xu Xiaolei, chief brand officer at China CYTS Tours, has also noticed a number of changes.
"I think the biggest change is people's attitudes toward traveling abroad. In the past, our customers used to explore their overseas destination with great care because everything was new to them," he said.
"However, travelers nowadays, especially younger ones, are more confident, because traveling overseas is no longer newfangled, but a regular leisure activity," he added.
"The fundamental reason for the ever-booming outbound tourism sector lies in rising incomes and people's growing desire for travel. Also, the improved vacation system gives them enough time for leisure and travel."
Dai, from the China Tourism Academy, said he remains optimistic about the development of the nation's outbound tourism market.
"Though outbound visits reached 150 million last year, only 120 million people have passports, accounting for just 8 percent of the population, which indicates that there is a large market that has yet to be fully developed," he said.
"We will see continuous growth in the coming 10 years."
Sun said outbound tourism is already moving beyond competition on prices and a focus on a handful of well-known tourist hubs.
She estimated that up to 100 million new jobs will be created globally by the travel industry over the next decade, and China alone will account for 41 percent of them.
Zou, from Lvmama, said the improved paid vacation system is also helping to boost China's overseas tourism.
"Usually, people need at least five days to take an overseas trip. The paid vacation system gives them more flexibility to travel, while bringing the minimum economic loss," she said.
"In the decades since the start of reform and opening-up, China's economy has grown rapidly, while people's appreciation of culture and etiquette remain relatively backward, compared with our economic development.
"Some uncivilized behavior, such as spitting and taking photos at religious sites, still exists. Thankfully, the government and travel agencies are making efforts to help improve the situation."
Xu, from China CYTS Tours, said the market will have a promising future as long as travel agencies continue to offer quality services.
"The steadily growing economy will bring more benefits to people, and that will stimulate their desire for consumption and leisure -for example, in fields such as overseas travel," he said.
Contact the writer at chengsi@chinadaily.com.cn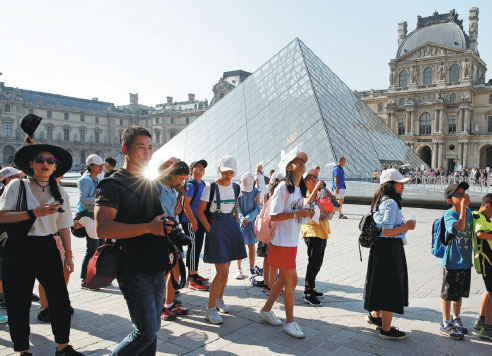 Chinese tourists visit the Pyramid outside the Louvre Museum in Paris, France, last year.Philippe Wojazer / Reuters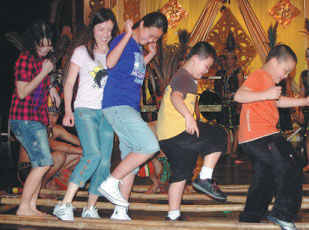 Visitors from Guangdong province perform a traditional Malaysian dance in Kuala Lumpur, the capital, during Spring Festival, 2007.Xiong Ping/xinhua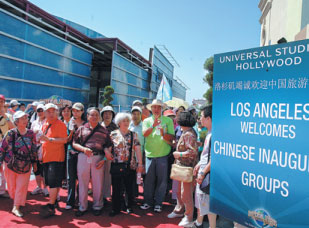 Inaugural groups from Beijing arrive at Los Angeles in 2008, the first year Chinese tour groups visited the United States.Cao Weiguo/xinhua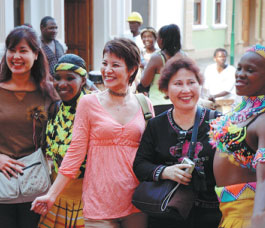 Visitors from China pose with women wearing local costume at a scenic spot in Johannesburg, South Africa, in 2006.Chen Ming/xinhua
(China Daily Global 09/20/2019 page5)
Today's Top News
Editor's picks
Most Viewed