Where there are teachers, there is hope
TUESDAY WAS THE 35TH TEACHERS' DAY FOR CHINA. The authorities should pay special attention to teachers in rural areas and take measures to increase their salaries, comments China Daily writer Zhang Zhouxiang:
Teachers in rural areas deserve special attention because they live and work in difficult conditions compared with their urban counterparts.
According to surveys and investigations conducted by Xinhua News Agency, even in 2015 some of the rural primary schools didn't have electricity or tap water. Worse, teachers in rural areas usually get lower pay than their urban counterparts, as teachers' salaries are partly related to local financial conditions. Also, training opportunities for them are few and promotions rare.
No wonder many college graduates don't want to take up such a job. A Xinhua survey held in August showed only 38 percent of the college students were willing to become a rural teacher after graduation. As a result, many rural areas face a shortage of teachers. In the same Xinhua survey, 75.6 percent of the respondents said their hometowns and the villages nearby face this problem.
Yet the quality of education in rural areas needs to be improved. Data from the Ministry of Education show there are 7 million "left-behind children" in the countryside. Without receiving quality education, such children cannot get a good job, which will further widen the urban-rural gap in the overall development.
The key to solving this problem lies in strengthening rural education.
In order to do that, more favorable policies should be introduced including subsidies to raise the salaries of rural teachers and allocating more funds to build or refurbish rural schools. Such measures will encourage college graduates to work as teachers in rural areas.
Where there are teachers, there is hope. Let us hope teachers in rural areas will get the special attention and higher pay they deserve.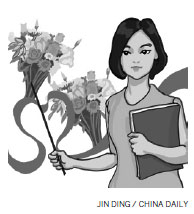 (China Daily Global 09/11/2019 page11)
Today's Top News
Editor's picks
Most Viewed