Long-distance relationship
There isn't a mountain high enough or a valley deep enough to stop two cross-country runners who found love on the race circuit, Yang Feiyue reports.
Chinese runners are making their presence increasingly felt on the global cross-country racing scene. While winning medals has become commonplace for these intrepid athletes, some have even managed to bag, arguably, the biggest prize of all while loading up the trophy cabinet - true love.
Yao Miao approached Qi Min to offer him a drink of water during a race, which Qi gladly accepted, relieving his physical dehydration. Meeting Yao, however, ended up quenching a deeper, more spiritual thirst.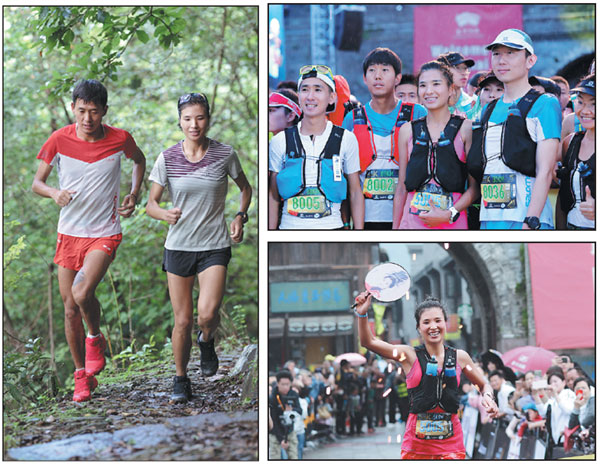 Clockwise from above: Qi Min (left) and Yao Miao train for a cross-country run in Ninghai, Zhejiang province, in July. Yao (front middle) with Qi (second from left) celebrate with other runners after finishing a cross-country race of Ultimate Tsaigu Trail held in Taizhou, Zhejiang, in April. Yao hits the finish line to snatch the female runners' championship at the race in Taizhou in April. Photos Provided to China Daily
Qi was running at full speed, competing in a mountain race in Guizhou province in 2016.
"She (Yao) was pretty and I couldn't forget her from that moment," says the 31-year-old from Yunnan province.
More importantly, Qi saw the kindness in Yao, who didn't forget to offer aid to strangers, while pursuing her own prize in the race - which she went on to win.
A love of running ensured that their two hearts began beating as one and, from that moment on, they have supported and cheered each other on in their respective running careers.
"It feels very warm, and I have her on my mind whenever the two of us are in a race," Qi says.
For Yao, being with Qi made her training more fun. They would give each other constructive advice and spur each other on.
At the moment, the couple is busy preparing for the upcoming Ultra-Trail du Mont-Blanc in Chamonix, France.
"Training together has been more productive, which has made me more determined to go further in my running career," Yao says.
With boy band looks and an athletic body, Qi beat runners from home and abroad to win the men's championship in the 46 kilometers category at the 2017 Yading Skyrun, the first World Series Skyrunning event held in China.
The race took runners from the Shangri-La town in Daocheng, Sichuan province, at an altitude of 2,900 meters, over mountainous routes around the sacred Chenresig holy peak in Yading at nearly 4,700 meters, before finishing near a temple at roughly 4,000 meters above sea level.
This challenge, however, seemed to agree with Qi, who was born in a cold, high-altitude village.
"When I was young, I had to walk long distances through rugged mountain roads with my father," Qi says.
The father and son would leave home early to collect fresh produce, such as mushrooms and herbs, and then trek to the city to sell them. It was usually dark when they returned home on foot.
"Walking or running among the mountains was a daily routine to me," he recalls.
This tough, early life has given Qi a flair for sports.
He finished a 3,000-meter race in 9 minutes and 40 seconds in the fourth grade in school. The performance would have put him in the top three of many college sport meetings later.
On a summer vacation, after Qi finished primary school, he took 4 minutes and 5 seconds to finish running 1,500 meters, which was 10 seconds quicker than many adult athletes.
The performance attracted the attention of coaches of the Hubei provincial track and field team, where Qi began to receive professional running training from the age of 13.
"My trainer was very experienced and strict, and he protected me very well," Qi says.
"I never suffered a single injury over the next 11 years, and the special conditioning of my ankles, knees and waist has kept paying dividends to this day."
However, Qi got tired of running, with its tough training schedule, and he didn't want to run at all by the time he retired from the provincial track and field team in 2015.
For a 27-year-old who's been living at the training base since his teenage years, Qi was at a loss as to how to make a living in the real world when the sole source of his income was gone.
Phoenix's nirvana
To make ends meet, there was nothing he could do but resume running - it was the only thing he was good at. So, Qi began running marathons for prize money.
Years of training enabled Qi to sweep the board at the 2016 Changsha half-marathon in Hunan province, and again at an international marathon in Qingyuan, Guangdong province.
Yet, Qi's heart wasn't really in it.
"I didn't train very hard for the races, not to mention for recovery," Qi says.
"I drank basically every day and rested on a quite erratic basis."
Going through many marathons, running along the cemented roads of the concrete jungle, Qi often felt the urge to just stop, even in the middle of a race when he was leading the way.
This halfhearted approach and money-driven state ended when Qi took part in his first cross-country race in Guizhou.
"I threw my hat in the ring because I saw that it offered to cover the transportation fees," Qi says.
However, his inexperience of cross-country running manifested itself after about 20 km when Qi suffered a muscle spasm. He dragged his feet through a 50 km race, because it was the only way he could get his travel costs paid, but the failure benefited him in a way far more significant than financial reward. It stirred his competitive spirit once more and prompted him to work on being able to successfully negotiate cross-country running competitions.
Happily, he found, the more he went cross-country running, the more he enjoyed it - as if he was returning to his roots.
"I feel that cross-country running is a culture and an art, and it's close to my heart," Qi says. "I grew up in the mountains, and cross-country brought me back to them. They are the environment that I'm familiar with."
Qi then stunned the cross-country circuit by winning the Yading Skyrun, a 100 km mountain race in Chongqing city's Wulong district in 2017 and the Vibram Hong Kong 100 km Ultra Trail Race in 2018.
From then on, he no longer ran just for money.
"I then went to races in places with beautiful scenery and surrounding that tugged on my heartstrings," Qi says.
Yao shares a similar background as Qi. The 24-year-old came from a poor family and had to commute 6 km between her home and school.
The experience gave her a good physical foundation and saw her selected by a local sport school in the 9th grade of her last year in middle school, when she started her running career.
Yao didn't start off as a hardworking athlete and didn't stand out in all of her races until, in 2014, she made it to the third place at the Haikou Marathon, and won her first prize money, a check for 5,000 yuan ($698). The event encouraged her to keep pushing herself further in training.
Running together
Yao has run at least 50 km a day since 2016, which has helped her to unlock her running potential. Carrying all before her, she won almost all of the cross-country competitions she entered in 2017, as well as the 2018 Ultra-Trail World Tour.
The upcoming Ultra-Trail du Mont-Blanc in France features numerous high altitude passages, more than 2,500 meters in some cases, amid difficult environmental conditions, including nighttime stages, wind, rain and, potentially, snow. It is a cross-country runner's dream, with a route along mountain ridges, through villages, palm plantations, deep wadis and narrow gorges.
An increasing number of Chinese runners have entered the race in recent years, and they have become the second biggest force, right up there with the top-tier European runners.
Competitors need a very good training, specially-adapted equipment and strong personal fortitude, and the pair have been training in France since early August.
"We spend all our time training, except for the necessary rest," Yao says.
Last year, the couple entered the race's 101 km category.
Yao stood out in the women's group, becoming the first Chinese woman to ever win the race.
This year, the two are challenging themselves against the toughest category - the 170 km race.
"Although I didn't get the result I wanted last year, I am deeply drawn to the cross-country culture of the race, so I signed up again this year," Qi says.
For both, the race will be the longest of all their previous runs, and they are fully prepared.
"The first goal is simply to finish," Qi says.
Contact the writer at yangfeiyue@chinadaily.com.cn
(China Daily Global 09/11/2019 page15)
Today's Top News
Editor's picks
Most Viewed