BMW Brilliance giving back to society and leading by example
BMW Brilliance Automotive released its 2018 sustainability report in Shenyang, Liaoning province, on Monday, which highlighted the automaker's achievements in quality products and services, and contribution to society and sustainable development.
It is the sixth annual sustainability report released by the joint venture between the German automaker BMW and Chinese company Brilliance Auto.
According to the latest report, BMW Brilliance cut its corporate average fuel consumption to 5.84 liters per 100 kilometers in 2018.This is down 5.3 percent from the previous year, giving it the leading position among joint venture automakers in China.
"At BMW Brilliance, we know that sustainable development is the only way for a successful future. Sustainability is a cornerstone of our corporate strategy. As a premium mobility product and service provider, we consider ourselves to be a vital part of China's sustainable development and fully committed to contributing to it with a clear strategy and concrete actions," said Johann Wieland, president and CEO of BMW Brilliance Automotive at the release of the report.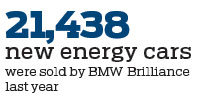 The BMW Brilliance Sustainability Report 2018 revealed that the company's average fleet carbon dioxide emissions fell to 139 grams per kilometer, down by 5.4 percent from 146.9 g/km last year.
The reduction in fuel consumption and emissions is not just due to the automaker's technology and innovation but growth in its production of new energy vehicles.
In 2018, BMW Brilliance sold 21,438 new energy cars - nine times that of 2017.
Having launched five new energy vehicles in five years, BMW Brilliance is to produce its full-electric BMW iX3 model in China and export it globally from 2020.
Meanwhile, BMW Brilliance is improving its charging facilities and services, offering support to electric mobility. By the end of 2018, BMW's charging network had expanded to more than 150 cities in China, with more than 80,000 charging points.
In addition, by improving its own renewable power generation capacity and purchasing wind power, 43 percent of its overall power supply comes from renewable resources. This is expected to increase to 90 percent in 2019.
BMW Brilliance is also a role model of intelligent manufacturing in China.
With the establishment of its new Tiexi plant and the upgrading of the Dadong plant, BMW Brilliance will realize even more flexible production. The automaker will build electric vehicles, plug-in hybrid electric vehicles and fuel vehicles on the same production line.
BMW Brilliance also engages its suppliers to perform responsible and sustainable production.
By enhancing its risk management and quality control of the supply chain, the automaker aims to realize sustainable development and achieve win-win cooperation with its suppliers.
At BMW Brilliance, sustainability does not only mean reducing the environmental effect. BMW Brilliance has three core sustainability principles: People, Planet and Prosperity, according to Wieland. "For us, it is essential that we are making a positive impact in all these areas. BMW Brilliance is a big contributor to the economic revitalization of Northeast China, but also to the revitalization when it comes to sustainability and social responsibility."
In 2018, 88 of our local content suppliers were located in Liaoning province. Many are now at a world-class level, with some even supplying BMW Group plants in other countries.
"When I say world-class level, I mean they are also meeting our social and sustainability requirements," Wieland said.
As an advocate and practitioner of strategic corporate social responsibility, BMW is committed to creating shared values and applying its long-term commitment to Chinese society with action.
In 2018, BMW Children's Traffic Safety Education program came to some 200 schools with its launch of the BMW Children's Traffic Safety Ambassador program.
The first BMW JOY Home Football Tournament Summer Camp was held in 2018. It invited 100 pupils and 20 physical education teachers from across China to Shenyang to have "joyful football" skills training and compete for the championship in the city.
In 2018, products of the Yushu Impression series created through BMW China Culture Journey by social enterprise Shokay were successfully sold online through BMW's official stores on Tmall and JD.com, building a bridge between artisans and modern consumers. This enables artisans to develop customer-oriented thinking and connect to the high-end market, and bring intangible cultural heritage to the public through modern designs, attracting more people to experience the cultural heritage.
"We believe that a business can only be successful if it creates a sustainable future, if it makes a positive impact on the world. Our actions are committed to supporting the sustainable development of Chinese society," Wieland noted.
zhangdandan@chinadaily.com.cn

From left: BMW Brilliance firmly commits to the sustainable development in China. Agile and flexible production enable both traditional combustion vehicles and new energy vehicles to be built on the same production line. Photos provided to China Daily
(China Daily Global 09/11/2019 page8)
Today's Top News
Editor's picks
Most Viewed