Vassalization of UK pending
PM's push for a no-deal goes against will of Parliament and would put Britain in thrall to US
It's apparent that since Boris Johnson became Prime Minister that a "no-deal" is very much his preferred option.
Although the current Conservative Party leader assured party colleagues and the British public of his ambitions to leave the European Union in a friendly and mature manner during his leadership race, the message from No 10 on a "no-deal" Brexit has been a "do or die" promise to take the United Kingdom out of the EU by Oct 31.
With both the UK and EU refusing to back down on the Northern Ireland backstop agreement, neither consumers, businesses nor public institutions can be assured that a "no deal" scenario has been ruled out, as Parliament decided.
What a "no deal" means is that there will be no remaining agreements between Britain and the EU on how to manage customs, trade, travel or citizens' rights. It also means that the transition period - designed to give businesses and organizations additional time to respond to the changes - would no longer be the case.
In more detail, a "no deal" outcome would create a situation where the UK would revert to WTO rules on trade, where it would have to face the EU's external tariffs. This state of affairs could result in a situation where the price of imported goods in British shops is much higher, warn UK retailers.
Trading on WTO terms would also mean border checks for goods, which could cause bottlenecks at ports, such as Dover. In fact, the central challenge over "no-deal" continues to lie with the implications for logistics and supply chains across the Dover-Calais strait.
Furthermore, "no deal" would also mean the UK service industry would lose its guaranteed access to the EU single market, which would affect banking, legal and entertainment sectors, among others.
In fact, most economists and business groups believe "no deal" would lead to economic harm, and the Office for Budget Responsibility - which provides independent analysis of the UK's public finances - believes a no-deal Brexit would lead to a UK recession.
According to a new study by University College London, a "no deal" Brexit would dramatically disrupt the free flow of data between Europe and Britain, leaving companies across the finance, hospitality, manufacturing and technology sectors facing "immense" extra costs.
What is also worth mentioning is the fact that a "no deal" scenario poses a serious threat to the Union, bearing in mind that Scotland didn't vote for Brexit in the first place, and both Scotland and Northern Ireland feel their national interests are better served within the EU framework.
Technically, in order to avoid a dangerous uncertainty associated with a "no deal" scenario, the UK government must pass a Brexit divorce plan into law, obtain another extension from the EU, or simply cancel Brexit.
The fact is that a majority of MPs are against quitting the bloc without an agreement, and a cross-party group of politicians have reportedly started legal action aimed at preventing Prime Minister Boris Johnson from shutting down Parliament to force through a no-deal Brexit.
In order to make this happen, MPs have to agree on the constructive action that would be needed to stop it.
As a Clifford Chance briefing titled The UK Parliament can (probably) block a no-deal Brexit published on Aug 13 suggests: "If a majority to prevent no-deal emerged in Parliament, there appear to be mechanisms that would allow them to achieve that objective."
Moreover, the briefing examines how the Fixed-term Parliaments Act 2011 works, discusses how an alternative government may be formed following a vote of no confidence, and considers other ways Parliament could legislate to avoid a no-deal.
Despite the blind optimism of Boris Johnson and his fellow hard Brexiteers on Britain's ability to become a self-sufficient and credible global player, "it's worth making the point that trade deals are about agreements with states. If the UK left without a deal, showing it was unable to have constructive conversations with close trading partners [the EU], it would not be a great incentive for third parties," says Simon Usherwood, a reader in politics at the University of Surrey.
Just as Winston Churchill was eager to choose Franklin Roosevelt over Charles de Gaulle, Johnson seems to be playing on a similar populist sentiment, choosing the US leader's America over Europe.
Nevertheless, as French President Emmanuel Macron rightly said: "Can the cost for Britain of a hard Brexit - because Britain will be the main victim - be offset by the United States of America? No. And even if it were a strategic choice it would be at the cost of a historic vassalization of Britain."
The author is a founder and principal consultant at AK Consulting based in London. He is former chairman of the International Affairs Committee at the Bow Group, the oldest conservative think tank in the UK. The author contributed this article to China Watch, a think tank powered by China Daily. The views do not necessarily reflect those of China Daily.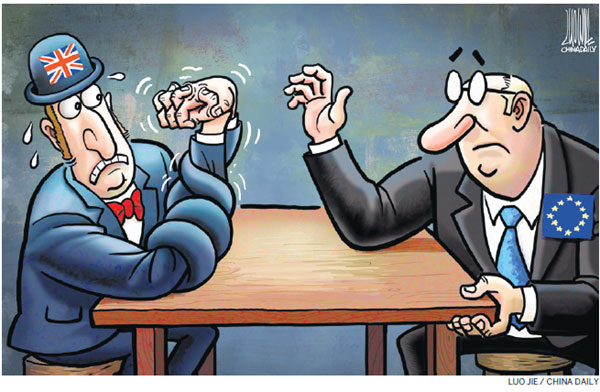 (China Daily Global 09/03/2019 page13)
Today's Top News
Editor's picks
Most Viewed