Patient capital in impatient times
Posturing for long-term advantages is the need of the hour, and it should not be mistaken for complacency, passivity or inaction
Financial markets are often the central nervous system of modern economy. They process information, transmit signals and coordinate economic actions that are crucial in the allocation of resources over time. By transforming savings into investment, they shape the accumulation of capital that is essential to the society's future prosperity.
The problem of our time, however, is that global financial markets seem to have become increasingly impatient and shortsighted. Facilitated by the explosive growth of electronic trading, the relentless chase for quick profits in an ultra-low interest rate environment may have compressed the attention span and decision-making time frame of investors and executives in charge of allocating capital.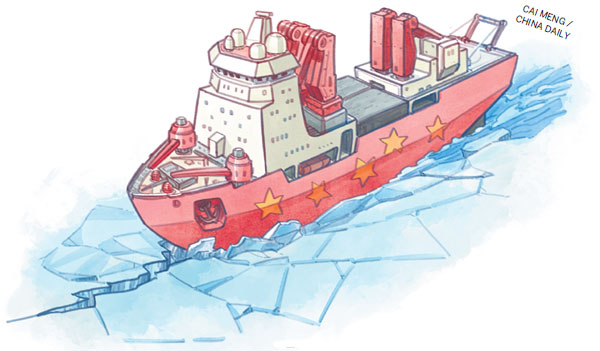 Instead of positioning for the long-term advantages, there is a strong tendency for capital flows nowadays to respond too heavily to near-term outcomes, often measured by annual, quarterly or even daily figures. This has profound implications for developing countries such as China that need more "patient capital" to support their national economic development.
Amid trade tensions with the United States, the Chinese economy has been facing external headwinds, with its GDP growth softened to 6.2 percent in the second quarter. Renminbi exchange rate also fell past 7 yuan per US dollar this August for the first time since 2008. It triggered some jitters in global financial markets, which speculated on whether China might see a new wave of capital outflows coming.
Such a short-term perspective can be misleading if one is trying to understand what's really going on in China. Part of the growth slowdown results from the proactive strategic choices of China's reformers to mitigate domestic financial sector fragilities and reduce inefficient investment projects financed by debts. It shows China's resolve to endure short-term "transitional pains" to build greater long-term advantages by shifting toward higher-quality growth.
The recent exchange rate fluctuation also reflects China's long-term reform commitment to enhance exchange rate flexibility and the role of market pricing mechanism. As emphasized by Yi Gang, the governor of the People's Bank of China, China would not use the renminbi exchange rate as a tool to deal with external disturbances such as trade tensions.
The Chinese economy has three fundamental advantages that underpin the resilience of its asset markets and generate plenty of opportunities for patient capital to create sustainable, long-term value.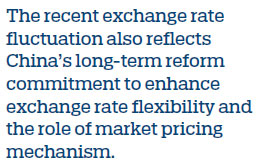 First, the huge size of China's domestic market creates vast space for the deepening division of labor and specialization to achieve economies of scale. As the world's second largest economy, the growth of China's GDP at around 6 percent now is roughly equivalent to growth at 12 percent 12 years ago in terms of the incremental expansion of its market size. A large, continuously growing domestic market can profoundly enhance the productivity of capital as the fixed costs of new investment can be amortized more easily. It will also enable the Chinese economy to achieve relatively low external dependence over time.
Second, China's high saving rate provides a solid foundation for sustained capital accumulation. Over the past decade, China's national savings rate has been consistently above 45 percent and will most likely remain much higher than the world's average in the future. With high domestic savings, China does not need to depend on the more volatile foreign capital inflows to finance domestic investment. With foreign debt-to-GDP ratio well below 15 percent, China is much more immune from the sudden shocks of short-term capital outflows than developing countries reliant on foreign borrowing.
Third, China still has substantial "latecomer advantage" when it comes to catching up with the global technology frontier, with considerable space to learn from the mature technologies and experiences of developed economies. According to the International Monetary Fund, China's industrial productivity has converged from 15 percent of the frontier at the end of the 1990s to about 35 percent now. With a more advanced industrial structure than its income level would indicate, China still has ample room for catch-up growth by further industrial upgrading.
Furthermore, given China's cultural tradition of emphasizing on education and new drives promoting indigenous innovation with rapidly rising research and development expenditure, there are profound opportunities in the Chinese market for innovators and patient investors to achieve "leap-frog "development.
A patient posture enlightened by long-term thinking, however, should not be mistaken for complacency, passivity and inaction. Instead, it requires strategic planning and timely action to effectively identify opportunities as well as utilize and nurture the long-term advantages with adaptive reforms.
To encourage patient capital, China needs to further strengthen the protection of property rights and build a more efficient business environment. Policymakers also need to strike a finer balance and delineate clearer boundaries between the state capital necessary for providing public goods and supporting the nation's long-term development strategies, and private capital that is typically more efficient and agile, as well as foreign capital which plays important roles in integrating China with the global economy, but is often more footloose.
There is a robust Asian culture for leaders to think in decades and generations rather than quarters and years. China's Confucianism and Taoism philosophies both value the calm leadership that appreciates and facilitates the society's long-term evolutionary trends, with the ability to discern distant consequences of current actions and accumulate strength by self-cultivation throughout the cycles of ups and downs. Leaders are encouraged and trained to shift their thinking away from what is happening and visible at present to what is yet to emerge and be seen.
In a global market environment plagued by impatience and myopia, it's psychologically difficult to avoid being fixated on instant gratification and distracted by short-term noises. By going against the herd, investors, entrepreneurs and policymakers will all benefit enormously from maintaining strategic discipline and taking a long view on the opportunities in China.
The author is an assistant professor at the Centre for China Studies and Faculty of Social Science at the Chinese University of Hong Kong and an assistant professor (by courtesy) at CUHK's Lau Chor Tak Institute of Global Economics and Finance. The author contributed this article to China Watch, a think tank powered by China Daily. The views do not necessarily reflect those of China Daily.
(China Daily Global 08/28/2019 page13)
Today's Top News
Editor's picks
Most Viewed