Extradition deals with Sri Lanka, Vietnam ratified
China has expanded international legal cooperation by approving new extradition treaties with two countries on Monday to jointly fight transnational crimes.
The extradition treaties - with Sri Lanka and Vietnam - were both ratified at the closing meeting of a five-day bimonthly session of the Standing Committee of the National People's Congress, the top legislature.
Under Chinese law, a treaty takes effect only after it is reviewed and adopted by the country's top legislators.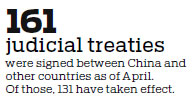 The treaties unveiled on Monday clarify extradition-related content, such as what crimes can trigger extradition and what materials need to be prepared while applying for one.
The signing of the treaties is aimed at combating transnational crimes through more effective legal cooperation, said Le Yucheng, vice-minister of foreign affairs, as he explained the two treaties to the top legislature on Thursday.
China began working on extradition treaties with Sri Lanka in September 2014 and Vietnam in October 2013. The treaty with Vietnam was reached in 2015, while the one with Sri Lanka was done a year later.
"We have had more exchanges in recent years with Sri Lanka in several industries, such as in trade, culture and defense, and we have also become closer with Vietnam in personnel and trade sectors in recent years, which made our needs for legal cooperation gradually greater," he said.
He added that joining forces with Vietnam to fight transnational crimes has proved successful in some individual cases.
In April, another two treaties - one with Barbados regarding judicial assistance on criminal cases and the other with Azerbaijan about transferring prisoners - were also passed by the top legislature.
A statement released by the Ministry of Foreign Affairs in April showed that China has signed 161 judicial treaties with 77 countries, including for extradition, judicial assistance and asset return and sharing. Of those, 131 have taken effect, it said.
The judicial treaties also provide a stronger legal basis for China in its anti-corruption fight to pursue fugitives and recover stolen assets around the world, it added.
The Communist Party of China Central Commission for Discipline Inspection, the country's top anti-graft watchdog, said 5,974 suspected fugitives and 59 of the top 100 wanted fugitives were returned to China from 2014 to June of this year.
caoyin@chinadaily.com.cn
(China Daily Global 08/27/2019 page4)
Today's Top News
Editor's picks
Most Viewed