A man of culinary import
There were no barriers to the ambitions of a duo of Shenzhen restaurateurs, who flew in a US superstar chef with a consuming passion for fusion to helm their Napa-Cantonese startup, Li Yingxue reports.
Three-Michelin-starred American chef Christopher Kostow didn't quite know what to expect from his first visit to Shenzhen, Guangdong province, last July.
The southern Chinese tech hub, which is home to innovation giants like Tencent, Huawei and DJI, was a much greener city than he had imagined.
"It's incredibly clean and orderly, with a big focus on sustainability," the 43-year-old chef says.
He was invited there to take the helm of a new restaurant that aims to stand out as a beacon of excellence in South China's culinary landscape. After sampling authentic Cantonese cuisine, he was soon impressed by the variety and freshness of the local ingredients, and promptly agreed.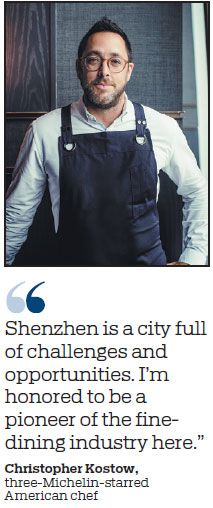 After more than a year of preparation and some $7 million in investment, on Aug 10 Shenzhen welcomed its first restaurant, Ensue, fronted by the recipient of the culinary world's highest honor. Representing the next step in Kostow's culinary evolution, Ensue combines California's farm-to-table culture and techniques with Cantonese tastes and ingredients.
According to Kostow, the name was chosen since the word "ensue" implies constant motion, continuation and striving for results.
"Shenzhen is a city full of challenges and opportunities. I'm honored to be a pioneer of the fine-dining industry here - the opportunity to share my cooking philosophy and provide a unique dining experience is humbling," says Kostow.
Kostow's philosophy of cooking is product-driven - his aim is simply to let the ingredients shine.
As one of the world's elite chefs, who has maintained three Michelin stars for over nine years, Kostow's outlook developed at Hamilton College in New York before he moved to the kitchen in 1999.
Born and raised in Chicago, Illinois, Kostow trained across Europe and North America. Kostow was awarded two Michelin stars while heading up his first kitchen at Chez TJ in San Francisco.
He earned his third star in 2011 at The Restaurant at Meadowood in Napa Valley, California, becoming one of the youngest US-born chefs to earn the culinary world's highest accolade.
The Restaurant at Meadowood has held onto its three Michelin stars every year since 2011. Kostow was also named Best Chef: West by the prestigious James Beard Foundation and has appeared on numerous occasions on top television programs.
His first book, A New Napa Cuisine, was named Book of the Year in 2015 by the International Association of Culinary Professionals.
Ensue represents Kostow's first foray into Asia. And through this new venture, its founders, Li Taohui and He Yulin, aspire to elevate the dining scene in Shenzhen and turn their home city into a world-class culinary destination.
"As I was growing up in Shenzhen, I always dreamed of creating a fine-dining restaurant here. With Kostow's philosophical way of thinking, his understanding of our local ingredients, the sophisticated layering structure of his dishes and his respect for Chinese culture, I truly believe Ensue can become a top-tier restaurant globally," says Li.
As people become wealthier and more overseas students choose to return, He believes that Shenzhen has the potential to embrace more high-end restaurants to offer diners the opportunity to develop their culinary tastes.
Having already opened Cantonese and Japanese fine-dining restaurants in Shenzhen, the duo felt the city was lacking in a comparable high-end Western eatery.
Since 2017, Li and He have been meeting with dozens of Michelin-starred chefs around the world. But it was only when they met Kostow in Napa last January that the duo realized they had found the ideal chef for their restaurant.
He was impressed by Kostow's modesty and willingness to take time to learn about a different food culture, despite being a world-renowned chef.
Li and He invited Kostow to visit Shenzhen in July 2018. They showed him around the city to taste the local food and explore the local markets.
"Kostow wanted to try everything in the market - some of the vegetables are similar to the ones in the United States but with totally different shapes and flavors. He'd never seen ingredients like bitter gourd or luffa," He recalls.
When Kostow was back in the US, he read the books about Cantonese cuisine sent to him by the duo to help him prepare the menu. "It is very important to understand the Cantonese palate," says Kostow.
In Napa, Kostow grows most of the ingredients in his own garden. In Shenzhen, besides imported beef and truffles, he only uses local ingredients. He aims to cooperate with local farms in the future.
"The products here are great. And, more importantly, they are sustainable," says Kostow.
Kostow led his team to design the menu for Ensue at Napa, and when they arrived in Shenzhen last month, they adjusted the menu according to the available local ingredients.
"I did a lot of tastings to get feedback to make sure we're speaking to the local audience," says Kostow.
He likes to hear about people's perceptions of cuisine. For example, while turbot is considered a luxurious item in the West, it's commonplace in Shenzhen.
"Coming to China is interesting - and to a city that has all sort of potential in terms of number of the people, its affluence, proximity to Hong Kong and its role in tech world. And yet, there was nothing here (a few decades ago), so it seemed like an interesting idea," says Kostow.
Ensue is located on the 40th floor of the Futian Shangri-La Hotel, which is 14 minutes away from West Kowloon in Hong Kong by high-speed train. The venue was designed by architect Chris Shao and his Chris Shao Studios in New York. It combines elements of Chinese luxury with the natural beauty of Napa Valley.
The restaurant currently serves a five-or nine-course set dinner five nights a week and represents Kostow's understanding of the Cantonese palate.
The dinner starts with raw white clams, fermented daikon rice and leek oil. The clams from the South China Sea are freshly shucked and cleaned, while the daikon is lacto-fermented in a way similar to Chinese pickled vegetables, before it's juiced, frozen and shaved into the rice.
Water-turtle soup steeped with aromatics from the Chinese pantry is another highlight of the dinner. It's served in a terrine molded by a turtle shell with Australian winter truffles, baby pearl onions and allium flowers.
"I've never used turtle to cook before," says Kostow.
Local turbot steamed with red lilies and organic vegetables is one of Kostow's responses to Cantonese preferences, and the steaming technique has inspired him to take it back to his restaurant in Napa.
Kostow has said that northern Californian cooking is about "using the best products you can source locally and showcasing them as best you can. It really is that simple."
He finds it interesting that Cantonese cuisine has a lot in common with Californian cooking.
"Cantonese cuisine is very fresh, light, subtle and is very similar to cooking in California, which I didn't expect," he says.
Kostow knows that aromas play an important part in Cantonese cuisine, as do spices - and, sometimes, their absence.
"I'm not cooking Cantonese cuisine. I can only cook in a style that shows an understanding of the Cantonese palate," says Kostow.
Contact the writer at liyingxue@chinadaily.com.cn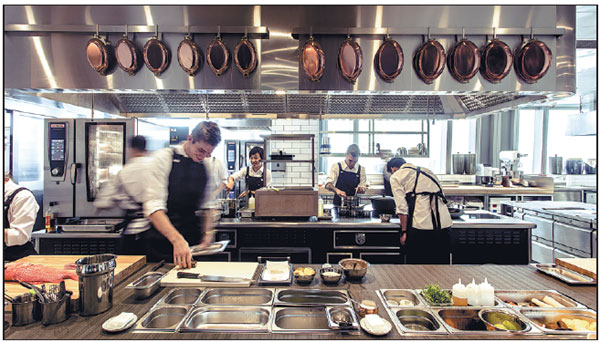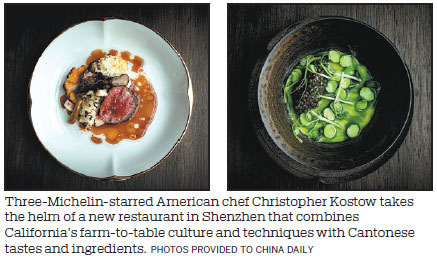 (China Daily Global 08/16/2019 page16)
Today's Top News
Editor's picks
Most Viewed