Telling tales via word of mouth
A growing number of fans are listening as audio plays and books give voice to our imagination, Wang Ru reports.
Listening allows the imagination to run wild which is why audio books and shows have sprinted into popularity recently. The spoken word is both able to soothe and inspire.
In another age, almost prehistoric in our days of smartphones and instant communication, people would say that you got a better picture on the radio than from the TV.As the old saying goes, what you see is what you get but what you hear is a never-ending feast.
The Sound harks back to those days. The reality show, broadcast on Hunan Satellite TV since 2018, has brought voice actors to the spotlight, charming audiences with the sheer magic of the spoken word.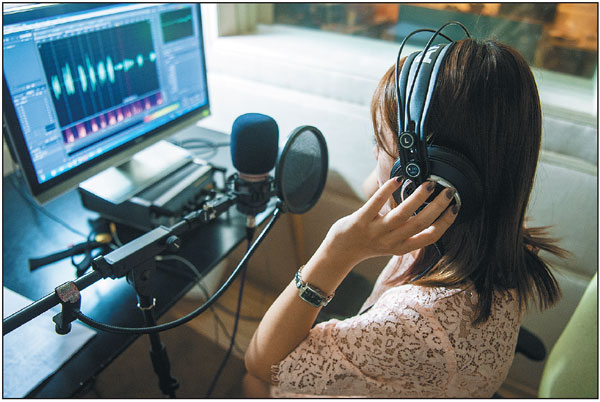 A female character voice, or CV, enthusiast, Ge Yuying, performs in a quiet studio in Beijing. More young people are listening to online audio dramas created by their peers. Photos Provided to China Daily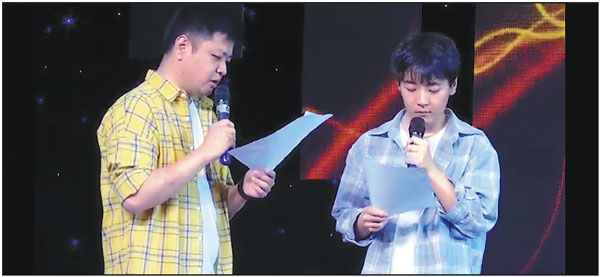 Xie Tiantian (left), initiator of Voice Bear Studio, performs with another voice actor, nicknamed Fengxiu, during an animation exposition event held in Wuhan in May.
Surprisingly, considering the appeal of electronic images for the younger generation, listening to audio dramas is a popular pastime for many college students. It could be that after long and arduous hours studying, they need to switch off their minds and relax.
Li Jiani, 25, agrees as she recalls her limited leisure time on campus as an undergraduate student in Chongqing years ago.
"After studying long into the night, I would often lie on the bed, and open an app on the smartphone to savor an audio drama," she says.
"With my eyes shut, the sounds elicited vivid scenes in my brain. It was really relaxing and exciting!"
For those who appreciate the art of sound, audio drama has a unique appeal. Performers use their voices to lead listeners on a journey of the imagination.
The gadgets we use today to listen may have evolved from the clunky radios of yesteryear, when the first nationwide radio drama was broadcast in the 1950s, but the appeal remains. During its 1980s prime before the internet and other technologies took over, 500 new radio dramas were broadcast every year, created by voice actors on China National Radio and local radio stations.
Online audio dramas are once again gaining increasing popularity among younger generations of Chinese.
Li is obviously one of them. She used to love reading online novels, but soon noticed many of her favorite novels had been adapted into audio dramas. Hearing them opened a new world.
She began to follow the performers whose voices and ways of acting were as distinct as anything seen on stage or film. Li was not alone. Many other listeners discovered the power of voice. They even found listening was a better way than reading to enjoy stories.
"I can listen to a novel-adapted audio drama many times, but don't want to read a novel for a second time," says Ding Zimin, 24, an avid listener who works in Shanghai.
"Listening makes it easier for you to imagine the scenes and immerse yourself in the stories.
"Some sentences read in a book may impress you, but if you hear them being said in an audio play, you feel electrified."
Emerging, hot idols
The production of an audio drama, like any mass art form, involves teamwork, but the performers, to use an idiom from the visual discipline, take center stage. It is their voices that form the all-important connection between listeners and dramas.
The term CV, or character voice, was used in Japan to point out which voice performer plays the role of a particular character. It is now used in Chinese online drama circles to refer to voice performers.
Voice performer Zhu Cheng, 28, once thought that only professionals could work in the sector, but his friends told him he had good voice and encouraged him to take part in his first audio drama in 2014.
"I discovered that I could create different characters with my voice," Zhu says. "I could embody the life and destiny of different people."
He uses the pseudonym Chaoroujun (Mr Fried Meat) online and started to voice audio dramas in his free time.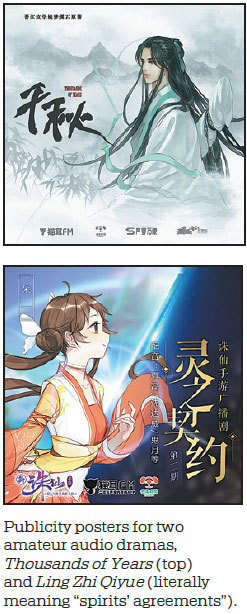 He has voiced more than 100 audio dramas. One of the most popular is Only He Knows. It has been listened to for over 2 million times on Ximalaya FM, a Chinese audio content platform.
"I 'voice' in my spare time on the weekends," Zhu says.
"It's like my hobby."
On stage an actor has to appeal to an audience through body movement, appearance and vocal performance. Obviously, in audio works, the voice is paramount. Body movements are still important to help the actor get into character. Many try but few succeed. One is Li Yang, 27, who is widely-known, not by name, but by sound, in the field.
Li Yang has 1.39 million followers on Sina Weibo with his online name Yangzai (Lamb).
He has been "voicing" for about seven years, has several hundred works under his belt and has carried off a number of impressive roles in audio dramas.
Some famous voices only provide work online and refuse to say anything about their offline life. Li Yang is an exception. He often interacts with his fans through live video streaming and offline activities.
"I love voicing, and my fans have been a great support for me," says Li Yang.
Undergraduate student Zhou Ping, 20, started to voice a couple of years ago when she was enthralled by cartoons. She practiced by imitating leading voice actors.
Zhou and her friend Xiang Shanshan, 20, established a group called Wangtianya (literally "seeing over the horizon") to make audio dramas. Xiang says most members of their group are fresh to this circle, and she wants to provide a platform for them to realize their potential and display their capabilities.
Platforms of versatility
With the large and ever-growing number of audio drama enthusiasts, many groups have been founded. A group is made up of various talent, including planners, directors, playwrights, post-production specialists, voice actors and designers, and they can produce audio dramas by themselves.
A typical scenario might play out like this: A planner who likes an online novel will contact the author to ask for copyright and permission to make a nonprofit audio drama. The planner will then find a playwright to write a script, a director and suitable voice actors.
Guided by the director, the actors will voice their roles separately at home, then post-production specialists will combine all the recorded audio materials, and add sound effects and background music to complete the creation of an audio drama. To promote it, publicity posters are designed.
Li Yang is a member of Echo of Wings, a group established in 2005.He says he joined the group to "meet more people who share my hobby, gain a sense of belonging, and get more dubbing opportunities".
Besides online groups, campus societies also attract enthusiasts. For instance, Zero CV Club was established at the Central South University in 2013 as a campus-based dubbing group, with members performing in audio dramas, games and so on.
Jiang Ruohua, 26, a member of the club when he was a student there, has many fond memories. "I met many friends at the club, even my girlfriend, who is now my fiancee."
The growth that pays
Like any sector starting off, there were hits and misses.
Originally, CVs dubbed and associations volunteered to make audio dramas out of pure interest for the medium, and audiences could listen to their work for free.
However, sometimes problems arise. For instance, some dramas may end up aborted without an ending, and the quality is not always consistent.
A turning point came in August 2017, when Chinese audio content platform MissEvan promoted the first season of a paid-for audio drama called Shapolang (Kill the Wolf) which went viral instantly. The second and third seasons followed. The three seasons combined were listened to more than 40 million times. The first season cost 19.9 yuan ($2.8) to listen to, the second 29.9 yuan and 39.9 yuan for the third.
According to Chen Huiyu, operations manager of Chinese audio content platform Dragonfly FM, they buy the copyright to make audio dramas from online literature platforms and other sources, or they just cooperate with online literature platforms and share the profits. Either way, once they get the copyright, they will ask production groups to get involved.
"We set the price of audio dramas according to the number of episodes they contain. Normally one episode costs less than 2 yuan," says Chen.
Listener Xu Jiajia, 22, thinks the price is a bit high for students, but she will spend the money if the dramas are "worthwhile".
As with all art forms, copyright is an issue. The emergence of paid-for audio dramas has affected the market and many nonprofit associations find that they struggle to get copyright to make free dramas.
Zhu, who dubs as a hobby, hopes paid-for and free audio dramas can coexist, though he understands the market will gradually edge out free audio dramas. "I'm afraid it will leave some passionate enthusiasts outside the circle," he says.
Voice actor Li Yang also hopes free audio dramas can still exist, but he admits "paid-for dramas won't be aborted halfway without finishing, and the quality tends to be better than free ones".
Systematic training
According to professional voice actor Zhao Ling who has been in nearly 100 traditional audio dramas, a key difference between professionals and amateurs is that traditional voice actors congregate in a studio, whereas online CVs tend to record separately at home.
Zhao, a master of fine arts who became an actor of Zongzheng drama troupe while in the army at age 18, recalls the time when he started out as a professional voice actor in 1995. "Excellent professionals in the field all gathered in a studio. We worked 12 hours a day, and stayed there most days of a year, communicating with the senior artists, learning from them and seeing how they worked.
"That was really beneficial to a novice like me."
Sadly, this approach has almost disappeared.
Now voice actors no longer need to stay together in a studio for an extended period. They can record individually in one studio at different times of the day.
"The new model is time-saving for veteran voice actors, but it's a lost opportunity for newcomers to learn from others," says Zhao.
Zhao teaches many online CVs and finds them lacking basic training.
"Practicing in incorrect ways may hurt their throat, so I suggest they receive professional guidance before starting work."
Moreover, he says, the dubbing skills are only a small part of a qualified voice actor's treasure trove, which can include tonal differences, body movement to "get into character" and the ability to act.
For example, once he guided actors to voice an audio drama that was set in ancient China, but he found the young actors couldn't play the roles of ancient Chinese properly, since they had little idea of the body movements or the physical side of their characters. He made them learn how to stand and move to improve their performance.
Xie Tiantian, the initiator of Voice Bear Studio, believes that the sector will flourish.
"As time goes on, more and more quality work will grow like green shoots of spring."
Contact the writer at wangru1@chinadaily.com.cn
(China Daily Global 08/14/2019 page14)
Today's Top News
Editor's picks
Most Viewed