Competition highlights Covestro's commitment to environment, innovation
Global polymers and plastics manufacturer Covestro reaffirmed its commitment to sustainable urban development by hosting the "Future Cities Competition: Shanghai 2019" from Aug 5 to 9. The competition was held together with Tongji University, one of the company's long-term partners in China.
The five-day competition took place at Covestro's Asia Pacific Innovation Center in Shanghai and required students from different colleges at Tongji University, including the College of Environmental Science and Engineering and the School of Mechanical Engineering, to form six teams. Each team was tasked with building a prototype of a future city by utilizing Covestro materials and applying the internet of things to future homes.
In the first two days, students took walking tours to different areas in Shanghai, including the city's urban planning exhibition hall and fresh food markets, to search for the major challenges in urbanization and which stakeholders are affected by those challenges. The arrangements inspired students on micro and macro levels, the company said.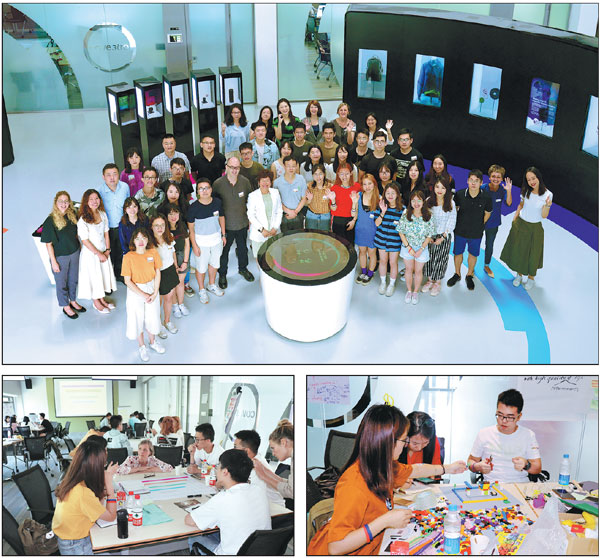 Top: Covestro China's management, professors from Tongji University and students pose for a group photo on Aug 5. Above Left: A sustainability expert (center) exchanges opinions with students. Above right: Students use blocks to build their future cities. Photos Provided to China Daily
Professors from Tongji University also delivered speeches on global environmental protection to give students more clues.
Holly Lei, president of Covestro China, said about 68 percent of the global population will live in cities by 2050, putting tremendous pressure on the environment and accelerating consumption of resources. The progress of urbanization will push researchers to find more innovative solutions to solve coming challenges.
"Covestro's polymers allow people to build more comfortable, recyclable and resilient future cities," Lei said. "We hope students' creativity and curiosity can help us identify new trends in future cities and achieve sustainable development."
Future Cities Competition is part of Covestro's Future Cities global initiative, and Shanghai was chosen for the debut of the contest. The innovation ideas contributed through the competition will be used to inspire upcoming events in other regions, Lei added.
"I have better understanding on major environmental challenges in cities through a series of learning activities and competitions," said Zhang Huirong, a student from the College of Environmental Science and Engineering at Tongji University, who was also the team leader of the winning group.
"I hope our ideas can support future cities' development in real practices."
Zhang's team developed an "intelligent city farm" featuring less transportation and packaging processes through the application of automated farming methods.
The winning team will be invited to attend K 2019, one of the world's largest plastics and rubber trade fairs in Dusseldorf, Germany, in October. They will also visit Covestro's headquarters in Leverkusen. Winners may also receive job offers from Covestro.
"The competition allowed students of different subjects to work together to solve urban problems," said Wang Hongtao, an associate professor and the dean assistant at the College of Environmental Science and Engineering of Tongji University. "I hope students also learn to consider problems from their peers' point of view when contributing ideas."
Michael Schmidt, head of innovation at Covestro Asia Pacific and dean of the Covestro-Tongji Innovation Academy, said Covestro has worked with Tongji University for almost a decade to train young talent to explore innovative and sustainable material solutions.
"Through this competition, we look forward to gaining new insights as we accelerate toward tomorrow's smart living," Schmidt said.
"I saw incredible engagement from Chinese students during the week," said Angelina Prokofyeva, head of sustainability at Covestro China. "They innovatively developed their own prototypes of future cities and their ideas also inspired me a lot as to how future cities can be built with our sustainable material solutions."
Materials manufacturer Covestro is investing in innovative sustainable solutions for developing future cities. The company said it is doing its best to drive a new type of urban development that is powered by renewable energy, circular economies, and mutually beneficial relationships between cities and their environments.
Currently, the main segments Covestro serves are the automotive, construction, wood processing and furniture, and electrical and electronics industries. Other sectors include sports and leisure, cosmetics, health and the chemical industry.
tangzhihao@chinadaily.com.cn
(China Daily Global 08/14/2019 page9)
Today's Top News
Editor's picks
Most Viewed