Government urged to help train more mental health professionals
Expert says China will need 40,000 more psychiatrists and 430,000 more psychological counselors in the coming years. Wang Keju reports
Liu Xinrui, a middle school student in Shijiazhuang, capital of the northern province of Hebei, was having difficulty breathing and occasionally she felt nauseous. The symptoms arose as Liu prepared for numerous extracurricular classes arranged by her parents.
The anxious 14-year-old asked her mother to take her to one of the city's best-ranked hospitals so she could consult a psychiatrist. To her dismay, she found that there were very few trained personnel available.
Liu's dilemma is not unusual in China, where millions live with untreated mental illnesses and psychiatric disorders as a result of inadequate mental healthcare services.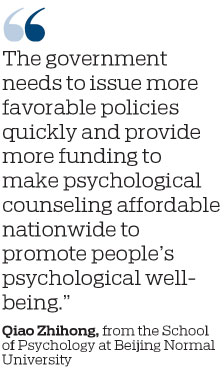 According to a blue book report published by the Institute of Psychology at the Chinese Academy of Sciences in February, 11 to 15 percent of people in the country have mild to moderate mental health issues, while 2 to 3 percent have moderate to severe conditions.
Yu Xin, a psychiatry professor at Peking University Sixth Hospital, said the number of people in the capital diagnosed with clinical depression is rising. He sees about 20 patients during each half-day shift, twice as many as five years ago.
"With the country's rapid economic development and dramatic changes in social structure, this grim result can be attributed to a culture of overwork, fast-paced living, anxiety about success and low social awareness," Yu said.
Furthermore, the effect of the former family planning policy, which restricted most couples to one child, means a large number of younger people are enduring loneliness and the pressure of their parent's expectations in terms of such things as education and work on their own, he added.
Shortage of services
That makes the shortage of trained mental health professionals more acute. Statistics released by the Chinese Medical Association show that last year there were only 2.19 psychiatrists and 5.51 registered psychiatric nurses for every 100,000 people in China, compared with 13.06 psychiatrists and 23.49 registered nurses for the same number in the United States.
Liu was feeling resentful and anxious about her parents' decision to arrange a "new semester" that would occupy the entire monthlong summer holiday without consulting her. Her symptoms - difficulty in breathing and nausea - became more acute as the time for the classes drew closer.
She insisted on seeing a psychiatrist in the hope that the doctor would understand and provide a diagnosis that would spare her from the unwanted classes.
However, her mother wanted the doctor to get Liu back on a normal track and cure her unwillingness to attend the classes.
Liu spoke with two psychiatrists: one attributed her depression and anxiety to lack of exercise and outdoor activity, while the other recommended that she stay at Hebei General Hospital for a short while, as he felt she was too young to take antidepressants.
The doctors were vague about whether she should still attend the classes, so Liu and her mother returned home without a solution to their problem.
"This is not the psychological counseling I have seen in movies and TV series. The psychiatrists seemed in a rush, and because they couldn't offer drugs, they just offered commonsense suggestions that even my grandpa could give. I didn't see how it was any different from consulting an ordinary physician," Liu said.
Chen Zhiyan, a professor at the Institute of Psychology at CAS, said the lack of psychiatrists means it's not possible to obtain in-depth counseling at hospitals. Therefore, psychiatrists mainly treat mental health problems via a physiological approach, such as prescribing medication.
"Psychiatrists are able to work with patients to ensure that the doses are correct and there are no adverse reactions to other drugs they might be taking. However, it requires more than that to address mental health issues. It takes months or even years of ongoing efforts to figure out the root cause of a problem and offer a solution. Instead, psychological consultation should better meet the needs of the people concerning mental health, and improve their condition," she said.
Despite the strong demand for psychological consultations, the blue paper also noted that 74 percent of those surveyed did not have convenient access to such services in their daily lives.
Lengthy procedures
Li Xiao has worked for a real estate company in Beijing since graduating last year from Sun Yatsen University in Guangzhou, capital of South China's Guangdong province. However, since the initial excitement wore off, he has had a hard time surviving in the capital. When he decided to arrange a consultation, he found the difficulty of securing the services of a good counselor was as disappointing as big city life.
At first, he consulted a psychiatrist at a hospital near his home in Chaoyang district. To ensure he got an appointment, he had to set an alarm and arrive at the hospital early in the morning two weeks in advance. However, when they finally met, it took the doctor less than 20 minutes to conclude the session and give Li a prescription for sleeping pills.
Frustrated with the time-consuming appointment process and the doctor's apparent lack of interest, Li turned to mobile apps that offered mental healthcare services at prices ranging from 200 to 1,200 yuan ($29 to $175).
"I saw a psychological counselor who charged 300 yuan an hour, but he could not really relate to my problem," Li said.
As a result, he tried making appointments to consult more-expensive counselors and get better treatment. To his surprise, most of them were already fully booked for the whole of the coming month, and his only option was a few counselors who charged 700 yuan an hour.
"When searching for more information about them, one of the counselors I had my eye on became unavailable. Without a second thought, I made a reservation with another counselor to ensure my hesitation didn't lead to me being put on a waiting list," he said.
According to a report by the China Association of Higher Education, the number of people holding a national psychological counselor's certificate rocketed from 160,000 in 2009 to an estimated 1 million in 2017.
However, more than 90 percent of licensed psychological counselors do not practice professionally, because they only took the course as a subsidiary to their major at college and never intended using the qualification.
Fewer than 40,000 certificate holders provide psychological counseling services on either a full-or part-time basis, the report said. Moreover, the Ministry of Human Resources and Social Security stopped issuing the certificate in 2017, although no reason was given.
Demand rising
Sun Tingran, who provides psychological counseling on a therapeutic app called Jiandanxinli (known as "Easy Mind" in English), has more than 3,000 hours of clinical work experience. That means her services are in high demand, despite her fee of 1,000 yuan per hour.
"I have eight hours of counseling every weekday. If I have one hour of spare time, it's my lucky day because then I get a break. That's why I tell every patient to choose their appointment time very carefully - the tight schedule doesn't allow me to make any changes," she said.
"Counseling is exhausting work because it's extremely demanding mentally. That's why I don't provide therapy at night or at weekends."
Ma Xin, chairman of the Chinese Association for Mental Health, said the government has greatly increased investment in mental healthcare over the past decade. However, that alone has not been enough to address China's vast mental health needs.
"The fast-growing demand for mental healthcare services, and evidence from developed countries, suggests China will need 40,000 more psychiatrists and 430,000 more psychological counselors in the coming years," he said.
In addition to inadequate resources, high fees are also pushing people away from healing their mental wounds.
Although the therapy undertaken by Li, the homesick graduate, went much better than expected, a new problem arose - the cost of the counseling sessions.
"Psychological counseling is not a one-time cure-all. I need to go every week, and spending 2,800 yuan every month on counseling is a big thing for an office rookie like me," he said, adding that his salary is just 10,000 yuan a month.
According to a report on China's mental healthcare industry by Jiandanxinli and Peking University, most people consider an average 300 to 700 yuan for a single session of one-on-one counseling to be extremely expensive.
Qiao Zhihong, from the School of Psychology at Beijing Normal University, said psychological counselors undergo stringent training and spend a long time in counseling practice before they see patients. That has resulted in a scarcity of properly trained counselors and means services and treatment are very costly.
New policies required
In 2016, 34 communities in Beijing's Haidian district included psychological counseling in the local medical insurance system as a pilot program, stipulating that it should cost no more than 60 yuan an hour.
Meanwhile, last year, Shenzhen, Guangdong province, followed Haidian's example. However, those moves were far from enough.
"The government needs to issue more favorable policies quickly and provide more funding to make psychological counseling affordable nationwide to promote people's psychological well-being," Qiao said, adding that mental healthcare providers should work with private insurers to create policies that would cover the cost of such counseling.
Li has been consulting a psychological counselor for more than a month, and with the counselor's guidance, he is meeting more alumni from his old college and spending time with them in Beijing at weekends. He plans to spend one more month in the capital and then reassess his feelings.
"I hope I will feel much better then. If not, I will probably quit my job and go back to Guangdong, where I can save more money for dim sum," he said with a sardonic laugh.
Contact the writer at wangkeju@chinadaily.com.cn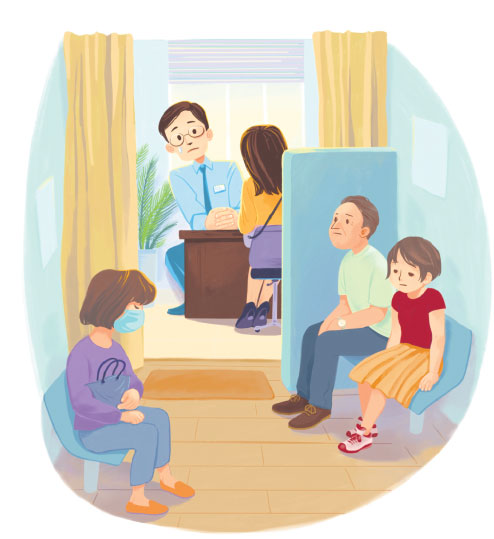 (China Daily Global 08/01/2019 page5)
Today's Top News
Editor's picks
Most Viewed