SICHUAN SHINES BRIGHT AS TOURISM INDUSTRY GROWS
Southwest China's Sichuan province, a longtime tourism hot spot, has continued in its growth to become a world-class destination, according to the latest figures released by the local authority.
Official data from Sichuan province show that the province welcomed some 3.7 million overseas visitors in 2018, increasing 10 percent year-on-year. The average amount spent by overseas tourists in Sichuan was $193.82 per day last year.
In 2018, tourists from Asian countries accounted for 28.3 percent of Sichuan's total, making up the largest part. The number of tourists from European countries ranked second at 863,900.
Officials from the Sichuan Provincial Department of Culture and Tourism said that innovative and practical promotional activities are a key factor in growing Sichuan's tourism industry.
The province has also expanded its international flight network, boosting Sichuan's presence in the global tourism market.
Sichuan, which is also known as Tianfu Zhiguo, literally meaning the land of abundance in Mandarin, is home to five UNESCO World Heritage sites. They are Jiuzhaigou Valley, Huanglong Valley, Emei Mountain-Leshan Giant Buddha, Qingcheng Mountain-Dujiangyan Irrigation System and Sichuan Giant Panda Sanctuaries.
Jiuzhaigou Valley, opened to tourists in 1984, was closed following a magnitude 7 earthquake in August 2017 and partially reopened this year.
At a news conference held earlier in June, Peng Qinghua, Party secretary of Sichuan, said the province is on track to grow into a major tourism destination in China thanks to its rich resources.
In upcoming years, Sichuan's major tourism offerings will include 10 areas such as Sichuan's capital city Chengdu, the greater Emei Mountains area, the greater Jiuzhaigou, National Highway 318 and 317, which link Sichuan and the Tibet autonomous region, greater Shangri-La-Gongga Mountains area, greater Shangri-La-Yading, Jialing River area and Qinba Mountains area.
According to the Sichuan government, Chengdu will strive to build 70 national 4A-rated or above sightseeing sites to serve people's demand for shopping, leisure and cultural experiences in 2020. A series of promotion events will be carried out in 30 cities around the world, and Chengdu will also host communication and exchange events such as a giant panda-themed tourism festival and a Sino-European tourism forum.
The greater Emei Mountains area will include the cities of Leshan, Meishan and Ya'an. Leshan, located at the junction of the Minjiang River, Qingyi River and Dadu River, is home to the Emei Mountain and the Leshan Giant Buddha. In the first quarter of 2019, more than 15 million people traveled to the city, bringing in 21.58 billion yuan ($3.14 billion) tourism income.
Meishan is where poet Su Dongpo and his family lived in the Song Dynasty (960-1279). The region has established a strong reputation for its rapid growing bamboo industry.
Ya'an is believed to be the first stop on the ancient Tea-Horse Road that linked Sichuan and Tibet. It is also a major habitat for wild giant pandas in the province. Sichuan will further embrace the two major attractions and develop industrial chains to expand offerings to visitors.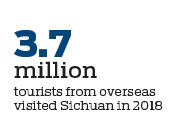 The National Highway 318, also known as the south route of the Sichuan-Tibet Highway, is one of the most beautiful roads in the world, suitable for road trips. Tourists can appreciate the diverse natural landscapes from snowy mountains to grasslands. Sichuan plans to develop heritage parks and ecological and cultural tourism zones along the road.
Gongga Mountain, in the greater Shangri-La-Gongga Mountains area, is the tallest peak in Sichuan with a height of 7,500 meters. It is known as the "King of Mountains in Sichuan". The peak is surrounded by 145 snow-covered mountains and 10 plateau lakes, making the entire Gongga Mountains area a magnet for mountain climbers.
The Yading sightseeing site is formed by three snow-covered holy mountains named Xiannairi, Yangmaiyong and Xianuoduoji and nearby streams, lakes and grasslands. It is known as "the last Shangri-La" and "the last pure land on the blue planet". Sichuan plans to develop Yading into a national 5A-rated tourism site and launch international flights so more people can appreciate its beauty.
Sichuan"s Qinba Mountains area will become a prime location for skiing with 10 ski-centered tourism resorts. The area is also home to Guangwushan-Nuoshuihe Geopark, which has become a world-class geopark recognized by UNESCO in 2018.
Tourism industry development plans have also been set for regions along the Jialing River, Panxi area, and cities along the Yangtze River in the southern part of Sichuan, according to the Sichuan authorities.
Apart from the 10 destinations, Sichuan will also build a demonstration zone to strengthen protection and research at the Sanxingdui Ruins, which reveals the origins of Chinese civilization were diverse, dispelling theories that the Yellow River was its sole starting point.
Sichuan will also open a Long March-themed cultural park to promote the hard-working spirit of the Red Army, as well as a corridor to demonstrate the cultures of Tibetan, Qiang and Yi ethnic groups.
Giant-panda-centered cultural and tourism weeks will be held in at least two countries and regions to further promote Sichuan's tourism.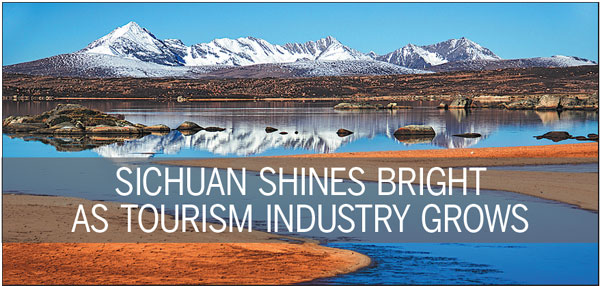 Yading in Sichuan is famous for its snow-capped mountains and nearby streams and lakes. Provided to China Daily

Left: Taoping Qiang village in Sichuan province, home of members of the Qiang ethnic group, is known for its ancient stone architecture. Ren Tao / For China Daily Right: Hailuo Valley in Sichuan province is an ideal destination to escape the heat in summer. Provided to China Daily
(China Daily Global 07/26/2019 page7)
Today's Top News
Editor's picks
Most Viewed