Indonesia banks on BRI to boost bird's nest trade
Buoyed by the rising trade opportunities created by the Belt and Road Initiative, Indonesia is looking to export 150 metric tons of bird's nest to China every year, a top official said.
Enggartiasto Lukita, trade minister of Indonesia, said China is one of the major destinations for Indonesian bird's nest. The two countries' bird's nest trade dates back to the 17th century.
"Thanks to the Belt and Road Initiative, the bird's nest trade between China and Indonesia has become more vibrant," said Lukita.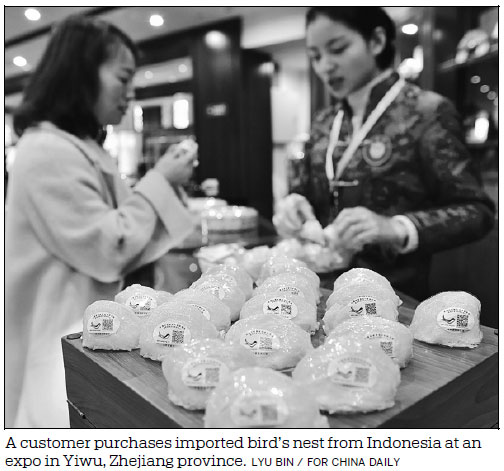 Statistics from the Indonesia Customs showed that from January to July, Indonesia exported bird's nest worth $140 million to China, up 39.03 percent on an annualized basis. Last year, exports amounted to $273 million, up 54 percent year-on-year.
"Up to 70 percent of our sales were to the Chinese market, and even in the United States, which is another major export destination, the consumers are mostly Chinese," said an employee from an Indonesian bird's nest exporter.
Li Yan, a post-80s dance instructor in Beijing, often buys bird's nest from Indonesia through daigou, or overseas shopping representatives. "Indonesian bird's nest are valued for their exceptional quality. I buy dry bird's nest, which is usually sold at 20 yuan ($2.9) per gram, and cook it myself. I have maintained this habit for several years."
Djauhari Oratmangun, Indonesia's ambassador to China, said during the 2019 Bird's Nest Industry Conference, which was jointly held by the Edible Bird's Nest Market Committee of China Agricultural Wholesale Markets Association and the Chinese Academy of Inspection and Quarantine, that China and Indonesia can work together in many aspects, and the trade of bird's nest is one such field.
He said that Indonesia has the fourth-longest coastline in the world, and the country has long been a hub for maritime transportation. "Indonesia's transportation advantage corresponds to China's proposal of the 21st Century Maritime Silk Road."
According to him, as the world's largest bird's nest producing country, Indonesia produces around 75 percent of the world's bird's nest, and 71 percent of China's imported bird's nest are from Indonesia.
However, many obstacles lie in the trading of bird's nest between China and Indonesia. According to Lukita, currently, the customs inspection and quarantine clearance for bird's nest from Indonesia to China is around four weeks, and the 16 percent value-added tax is another barrier.
Wang Zhenrong, an official from the Bureau of Import and Export Food Safety under the General Administration of Customs, said that to ensure the safety of imported bird's nest, there are a series of requirements in terms of food safety and inspection and quarantine. "Information such as where the birds that offer the bird's nest come from, what type of birds they are, and even their color needs to be available in the records."
Lukita noted that the Indonesian government is actively talking to their counterparts in China to boost bird's nest trade between the two countries.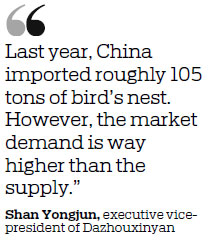 "In the current global trade environment, China and Indonesia need to be more closely linked to each other," said Lukita.
Fang Aiqing, deputy director of the Economic Affairs Committee of the 13th Chinese People's Political Consultative Conference National Committee, said that "trade diversity is vital to China. Last year, trade between China and the US reached $630 billion, while that between China and the ASEAN countries surpassed $500 billion. In the first half of this year, trade between China and economies along the BRI grew at the fastest pace".
In October 2018, the Edible Bird's Nest Market Committee held a bird's nest cooking competition in Jakarta, Indonesia, to facilitate the trade of bird's nest between China and Indonesia and boost the healthy and diversified development of the bird's nest industry.
"The competition facilitates the trade of bird's nest along the Belt and Road Initiative. In the future, we will hold more competitions along the BRI," said Ma Zengjun, chairman of the Edible Bird's Nest Market Committee.
Shan Yongjun, executive vice-president of Dazhouxinyan, a major bird's nest processing enterprise in China, said that "last year, China imported roughly 105 tons of bird's nest. However, the market demand is way higher than the supply."
"We hope the approval process can be shortened. Bird's nest supplying countries, including Indonesia, Malaysia and Thailand, have relatively weak industrial foundations. As a processing enterprise, we use our research and development ability and advanced technologies to add value to bird's nest, making it more absorbent and more tasty," Shan said.
According to Gu Shaoping, deputy division chief of the China National Administration for Certification and Accreditation, the government is stepping up efforts to create a favorable environment for bird's nest trade.
"We are accelerating the approval process of bird's nest manufacturing enterprises, and meanwhile creating a fair environment for market entities to compete," Gu said.
Data from the Edible Bird's Nest Market Committee showed that in the first half of 2019, China imported a total of 69.5 tons of bird's nest, among which 39.8 tons, or 57 percent, were from Indonesia. The import of bird's nest surged by 32 percent year-on-year.
zhengyiran@chinadaily.com.cn
(China Daily Global 07/26/2019 page11)
Today's Top News
Editor's picks
Most Viewed