California's homeless crisis worsens
Local govts spend millions annually, but housing costs remain an obstacle
During her 10-minute walk from her home to the subway station, Sophia Zhang, a resident of San Francisco, said she saw homeless people lying on the street every day. Occasionally, she saw some injecting themselves with a needle or shouting at passersby.
San Franciscans have found themselves increasingly frustrated by the swelling population living on the street. Pictures of homeless camps and human feces on the street can be sent to SF311 Mobile, an app for reporting quality-of-life issues.
Although the city has cracked down on homeless encampments since Mayor London Breed was elected in July 2018, Zhang said the situation hasn't improved significantly.
Breed, in her budget proposal unveiled last month, increased spending on homeless and mental health services, street cleanliness and affordable housing.
The city has recently voted to implement a mental health conservatorship law, which will expand the city's ability to treat people suffering from mental illness and alcohol abuse.
Despite those efforts and the millions of dollars that San Francisco spends to care for homeless people every year, the city and county of San Francisco now count more than 8,000 homeless people, up 17 percent from 2017, according to the biennial homeless count conducted on one January night this year.
Nearby Alameda and Santa Clara counties counted more than 8,000 and 9,700 homeless, respectively, during the overnight tally, an increase of 43 percent and 31 percent over two years ago.
Most California cities also found increases in the numbers of those with mental or physical impairments who had been homeless for more than a year.
Officials and activists alike blame the high cost of living and housing shortages for making the problem worse.
On Tuesday, Google CEO Sundar Pichai said that the Mountain View-based company will build up to 20,000 homes at all income levels in the Bay Area over the next 10 years.
"First, over the next 10 years, we'll repurpose at least $750 million of Google's land, most of which is currently zoned for office or commercial space, as residential housing," Pichai wrote in a company blog post.
He also said Google would start a $250 million investment fund to provide incentives to developers to build at least 5,000 affordable housing units in a decade.
"We have the largest unsheltered population on the West Coast, fewer proportionally number of shelter beds, and a massive number of people trying to get shelter - that's what creates the problem," said Jennifer Friedenback, executive director the of San Francisco Coalition on Homelessness, in a recent interview with the Los Angeles-based nonprofit organization Invisible People.
She said "skyrocketing" rents are "outrageous" and "prohibitive", leaving more people displaced from housing and making it harder to get off the streets.
Her organization led a campaign for a homeless tax proposition in San Francisco, which would raise about $300 million annually and was approved by voters in November. But it has since become subject to litigation.
In affluent regions of the San Francisco Bay Area and Los Angeles, wages among lower-income people haven't kept up with rising living costs.
Los Angeles and San Francisco were named the 10th and 25th most-expensive cities in the world, according to The Economist's 2019 Worldwide Cost of Living Survey.
In San Francisco, the median price of a two-bedroom home is $1.3 million, and families of four earning $117,400 a year or less are considered low income in the Bay Area, according to data of online real estate company Zillow and the US Department of Housing and Urban Development.
Los Angeles also is affected by a widening income disparity between rich and poor. The region ranks seventh in income inequality out of the largest 150 US metro regions, according to a report by the University of Southern California's Program for Environmental and Regional Equality.
"At this point of unprecedented wealth in the county of Los Angeles, we are equally confronted with unprecedented poverty manifesting itself in the form of homelessness," Los Angeles County Supervisor Mark Ridley-Thomas told the Los Angeles Times.
Los Angeles has long identified its homelessness problem, and in 2015, the city declared a state of emergency. A bond measure was passed in 2016 to free up to $1.2 billion for assistance services and shelter construction. Another local sales-tax measure was passed in 2017 to add $355 million each year to combat homelessness for 10 years.
Still, the number of homeless persistently rises. In the city of Los Angeles, there has been a 16 percent increase in the homeless population since last year.
Critics have targeted Los Angeles Mayor Eric Garcetti for removal from office over his handling of the homelessness issue. In an open letter to residents on June 12, Garcetti said he took "full responsibility" for "our response to this crisis".
California had about 130,000 homeless people as of 2018, according to the US Interagency Council on Homelessness. The number is second-highest in state history, after the Great San Francisco Earthquake in 1906, which left more than 200,000 people homeless.
"Affordability is the issue in the state of California. Housing is the biggest issue in relation to affordability," California Governor Gavin Newsom told reporters following the release of the homeless count last month in San Francisco.
In a revised state budget last month, Newsom increased the state's support of addressing homelessness by $1 billion, including allocation of $650 million to local governments for homeless emergency aid.
Aside from funding, local governments also have encountered community pushback in their effort to produce low-income and market rate housing.
While recognizing the "extremely" serious problem of housing and homelessness, 74 percent of the residents in the Bay Area expressed resistance to new development, according to a survey of the Silicon Valley Leadership Group in February.
Controversies often erupt over where to build homeless shelters in the region. San Francisco plans to build a 200-bed shelter on the waterfront Embarcadero, an area that popular with tourists. But nearby residents are fighting the city's proposal.
In city of San Jose, center of the Silicon Valley, Mayor Sam Liccardo proposed two small-home villages consisting of around 80 short-term units for the homeless. His project also met with fierce opposition from neighbors who worried about crime, traffic and property values. The project was approved, and residents are expected to move in this month.
liazhu@chinadailyusa.com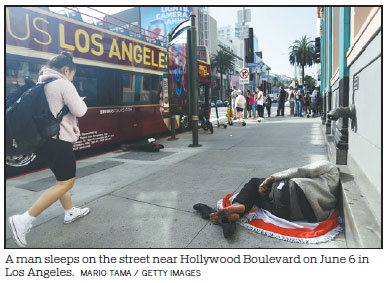 (China Daily Global 06/25/2019 page6)
Today's Top News
Editor's picks
Most Viewed