World waking up to Yunnan coffee
The months of May to June are usually a busy time for Timothy Heinze. The CEO of the Chinabased Yunnan Coffee Traders has to ship out orders for Yunnan coffee beans around this time - the first quarter's harvest season - from the southwestern Chinese province.
Heinze, who has been working in the Chinese coffee industry for nearly a decade, also welcomes this busy season if only to see how the world is waking up to Yunnan coffee.
Yunnan is China's largest coffee growing province, accounting for over 90 percent of the total output.
"More Yunnan coffee is being served in cafes. They're promoting it as a single-origin coffee grown in Yunnan," Heinze said.
For Heinze, it is about time that the little-known Yunnan coffee gets its share in the global specialty coffee market. This, at a time when China is being hailed at the world's fastest-growing market for specialty coffee.
Growing affluence and a young market attuned to Western trends have created a café culture in what was once a predominantly tea-drinking country. The Seattle-based coffee chain Starbucks has over 3,000 outlets across China. Other international and homegrown cafes are following Starbucks, hoping to cash in on the lucrative cafe market.
Market research firm Mintel estimates retail coffee sales have reached nearly 65 billion yuan ($9.41 billion) in 2018, while the average annual sales growth in the next five years has been pegged at 6 percent.
China's growing cafe scene has drawn attention to its little known coffee farms.
Yunnan has long been known for growing high-quality black tea. But in the past few years, traders, roasters, cafe owners and connoisseurs are discovering that Yunnan is also a source of Arabica beans noted for its sweet flavor.
"If China can make the best tea in the world, why can't China make the best coffee in the world?" Samuel Gurel, co-founder and CEO of the US-based Torch Coffee Co, said.
Gurel's company exports specialty Yunnan coffee and operates a renowned training center in the Yunnan's city of Pu'er. He says demand for Yunnan coffee has been growing over the past few years.
Heinze of Yunnan Coffee Traders said he first exported specialty Yunnan coffee in 2014 to an Australian cafe. His business has since grown, having supplied to specialty coffee shops in China and overseas.
He said there are now roasters and cafe owners who are keen to buy small volumes of high-quality coffee grown in Yunnan, finally giving Yunnan coffee the respect and attention that it deserves.
This is because while China has been exporting coffee since the 1990s, most of it ended up being used in instant coffee or espresso blends. Heinze recalled that when he attended several coffee tasting events in the past, participants were surprised to learn that China grows coffee.
China is known for its tea plantations and tea-drinking ceremonies. But very few are aware that the country has been producing coffee ever since French missionaries brought the first coffee sapling from Vietnam to Yunnan's Binchuan county in 1902.
It was during the early years of reform and opening-up that China started large-scale production and exported coffee.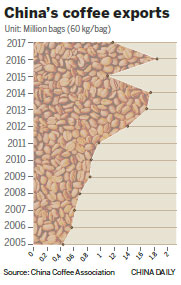 In 1988, the Yunnan government embarked on a United Nations Development Program project with Nestle, the world's largest food and beverage company, and the World Bank to expand coffee production. The UNDP project cemented Yunnan's position as China's largest coffee growing province.
From 58,000 bags in 1995, China's annual coffee exports have jumped to over 1.8 million bags in 2016, according to the China Coffee Association. Each bag contains 60 kilograms of coffee. Roughly half of these exports went to Europe. The US and Malaysia are also key markets for Chinese coffee.
Despite its growing popularity in the global market, Yunnan coffee is still facing some challenges.
Heinze said farmers need more direct access to coffee companies to give them a better idea of what the market wants.
Gurel of Torch Coffee said securing a more stable price for coffee will provide better income for farmers and sustain the industry.
That is still a bit of a challenge for now as Gurel notes that most Chinese coffee drinkers, fascinated by imported products, are consuming specialty coffee beans from Africa and South America.
"If you want Yunnan coffee to be successful, Chinese people have to start drinking Yunnan coffee," he said.
prime@chinadailyapac.com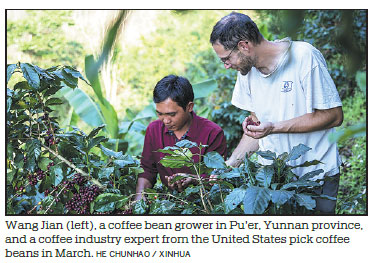 (China Daily Global 06/17/2019 page3)
Today's Top News
Editor's picks
Most Viewed