What do we want technology to do for us?
We urgently need a conversation about the role of innovation in relation to what kind of society we want
With the accelerated uptake of new innovations all around us, the opportunities and challenges they present are enormous. We are facing technologies and innovations that can disrupt the very fabric of society, from AI and genome editing to brain-computer interfaces (BCI) and nanotechnology. All of these technologies are very powerful on their own, but when they converge and are combined with new business models significant disruptions on a global scale will happen.
Many companies, policymakers and journalists oscillate between hope and despair in relation to the new generation of technologies. It is easy to feel confused as different experts seem convinced that these technologies will either solve all our problems, or be the end of our civilization. The truth is however that they can be pretty much what we want them to be. They are tools, powerful tools, but still only tools.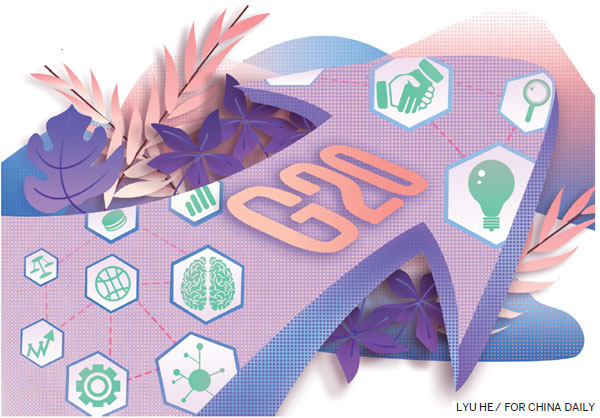 There will be unforeseen consequences and complexities that will make it hard to guide technology exactly in the direction we want it to go, but nonetheless people are choosing how to implement the technologies and the frameworks that will guide innovation. The challenge is that innovation driven development in the first decades of the 21st century will take place in a historically-unique situation.
For more than 300,000 years human innovation has mainly focused on developing technology to enhance and extend our bodies to make us stronger, faster and more efficient with the help of machines and tools. The reason for this has been the urge to survive, to reduce material scarcity. We needed "more", more food, more shelter, more medicines, and so on. We created tools like GDP to measure progress based on "more", and we became used to viewing growth as something generally positive.
This focus on "more" has resulted in unprecedented material progress. Humans on average live longer, are healthier, and have access to better food, medicine and shelter. We can and should celibate this progress. Few of us would like to live in a time when we do not know if we will be able to have enough to eat next day, or whether a simple infection will kill you. But, as with all things in nature, unlimited growth is neither possible nor desirable, in our own bodies unlimited growth is called cancer.
When it comes to everything from food to medicine, we have arrived at a point where we need to move beyond more and ask deeper questions, and in no other field this is more true than innovation.
As we are closing in on, or in many cases have already passed, the point when we do not need or can have "more", there is a need to direct our innovation skills to the structures guiding innovation. Inclusion is one of the most discussed challenges of the rapid innovation-driven development. With AI and robotics in particular we can create a future that will not require many humans to produce the material goods we need. In a similar way many of the services that humans provide today AI and connectivity will be able to do better, faster and cheaper. The inclusion challenge is often framed around unemployment, but it is much more than this.
It is a question of what role people will have in society. A universal basic income or similar measure will ensure that people do not starve to death, but it will not make sure that people have something meaningful to do. Instead of framing the question of inclusion as a question of income, or right to work, we need to ask how we guide innovation in a way where everyone has the opportunity to make an important contribution to society.
And with technologies that are not just about making us stronger and faster, but also smarter, it becomes important for everyone to be able to discuss what kind of values these technologies are based on. Who has the right to data about us and who has the right to filter and guide what information we can access are core questions that must be discussed.
We need a conversation about the role of innovation in relation to what kind of society we want.
It is not an exaggeration to say that much of the innovation is providing trivial or even meaningless contributions to society. If you open the app store on your smartphones and compare that to the most important challenges facing humanity it is hard to see much overlap.
A discussion of what sort of society companies are creating and how governments use technology is urgent.
Last, but by no means least, we must redefine our relationship with nature. Currently we are destroying the very fabric of life that we all depend on, and to a large extent we do this with innovations aimed at delivering us more of stuff we don't need or really want. Instead of a reactive or negative approach where we try to put a price on nature, or find boundaries for how much we can destroy, we should explore the opportunities for positive visions.
The Half Earth proposal - that half of the Earth's land should be designated a human-free natural reserve to preserve biodiversity - could help us broaden our ethical horizon and move away from a simple anthropocentric perspective to a future where innovation is guided by structures where nature also has an intrinsic value.
The upcoming G20 Osaka Summit where innovation is a key theme provides a great opportunity for leading stakeholders to take the next step for innovation driven development. It is time for governments, companies, universities and others to start discussing what sort of society we want our innovations to help create.
The author is a senior adviser at Research Institutes of Sweden, a senior associate at Chinese Academy of Social Sciences, and a fellow at the Research Center of Journalism and Social Development at Renmin University. The author contributed this article to China Watch, a think tank powered by China Daily. The views do not necessarily reflect those of China Daily.
(China Daily Global 05/30/2019 page13)
Today's Top News
Editor's picks
Most Viewed