China makes big strides in efforts to halt ivory trade
By Yang Wanli in Beijing and Lucie Morangi in Nairobi | China Daily Global | Updated: 2019-05-22 08:30




A major crackdown on ivory smuggling, in which China seized 2,748 elephant tusks weighing 7.48 metric tons in Guangdong province - one of its biggest hauls - has reconfirmed the country's commitment to global anti-smuggling operations.
General Administration of Customs officers at Huangpu Port in Guangdong confiscated the tusks, which ranged in length from nearly a meter to around 2 meters and covered 400 square meters of the customs building.
"The seized tusks were brought into China from African countries and were labeled as wood," said Sun Zhijie, director of the administration's anti-smuggling bureau.
Sun said the crackdown earlier this year culminated a three-month joint operation involving more than 200 customs officers in cities including Hefei, Nanjing, Beijing, Fuzhou and Qingdao. The investigation is ongoing, Sun added.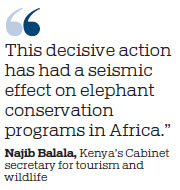 Sun said it was the greatest number of tusks seized by the customs authority through independent investigation.
From the beginning of the year through mid-April, China had solved 182 cases related to smuggling of endangered wild species - three times the number solved during the same period last year. More than 500 tons of wildlife and related products, including 8.48 tons of ivory, were seized.
Zhou Fei, chief program officer in China for the World Wide Fund for Nature, an organization that promotes wilderness preservation, said the nation has played a vital role in cracking down on wildlife-related smuggling.
"We congratulate China's customs authorities on their successful enforcement actions, which send a firm signal that trafficking of endangered species will not be tolerated," he said.
Elephant poaching has taken a heavy toll on Africa's natural resources. An estimated 100,000 elephants were killed on the continent for ivory between 2010 and 2012, according to a study by Save the Elephants, a UK-registered organization based in Kenya.
In 1981, China signed the Convention on the International Trade in Endangered Species of Wild Fauna and Flora. In 1989, the sale of ivory was banned worldwide after the African elephant population dropped to 600,000 from 1.2 million within a decade.
China banned the import and export of ivory tusks and related products in 1991. Penalties ranging from heavy fines to imprisonment and even capital punishment have been imposed for violations. In 2017, the government closed the ivory trade market.
"This decisive action has had a seismic effect on elephant conservation programs in Africa," said Najib Balala, Kenya's Cabinet secretary for tourism and wildlife. He said the country lost 38 elephants in 2018, compared with 68 the previous year.
According to Iain Douglas-Hamilton, founder of Save the Elephants, the success was largely driven by China's decision to end the illegal ivory trade.
Government programs have also felt the effects of the ban. John Waweru, the Kenya Wildlife Services' director-general, said the ban has not only helped stem the decline in the number of elephants, but has boosted tourism, since the elephants are a major attraction.
Kenya's tourism industry contributed $2.9 billion to the country's economy in 2017, accounting for 3.7 percent of the total GDP.
"This does not mean we have eased up on our efforts. We are using lessons learned to spread our efforts into other programs on endangered species such as rhinos and pangolins," Waweru said.
He also said China has provided technical assistance and training in China for the staff of Kenya Wildlife Services.
China has donated vehicles, tents, night-vision equipment and binoculars for use by the Wildlife Services staff to aid wildlife conservation.
In addition, between 2015 and 2018, China donated equipment worth $5.1 million to Zimbabwe, Botswana and Namibia for their wildlife protection programs.
Amado Philip de Andres, regional representative for Eastern Africa of the United Nations Office on Drugs and Crime, said efforts are now geared toward cutting off funds that support remaining poaching activities.
"There is a need for inter-regional and inter-continental cooperation to follow the money trail," he told China Daily earlier.
"If we don't have the cooperation of strong players like China, we will get nowhere. China is a trailblazer in Asia, but we need partners such as Europe and America, too," he said.
Meanwhile, demand for ivory continues in Japan and Europe. "Europe and Japan appear to be in need of small amounts of ivory for use in musical instruments such as Japan's traditional koto and shamisen," said Douglas-Hamilton, the Save the Elephants founder.
"It appears ivory is superior to any other material in some musical instruments, but there may be a chance to produce synthetic materials and replicate ivory's properties. This would be a promising way forward for these countries," he added.
He also said the UK recently introduced what he called "sensible legislation" to allow limited amounts of ivory to be used in musical instruments.
Zhou from the WWF's China office has called for more attention from authorities and the public on the emerging trend of new channels for cross-border wildlife smuggling, such as express delivery services.
"In recent years, we've noticed some cross-border trafficking gangs are taking advantage of the convenience of express delivery to send endangered wildlife and products to customers in China," he said.
On May 6, a dozen domestic express logistics companies, including EMS and SF Express, signed a self-regulatory convention and pledged to take various measures to halt transportation of protected wildlife and related products. The convention requires companies to strictly follow regulations and provide regular anti-trafficking training for their employees.
China has also upgraded screening facilities and introduced stricter policies, which require customs officers to open luggage and parcels that might contain endangered wildlife or products.
"China has always shouldered its responsibility of playing a leading role in anti-trafficking," said Liu Dewang, deputy director of the Wildlife Conservation Department of the State Forestry and Grassland Administration. "Strong measures have been taken by the government, nonprofit organizations and other industries."
Contact the writers at yangwanli@chinadaily.com.cn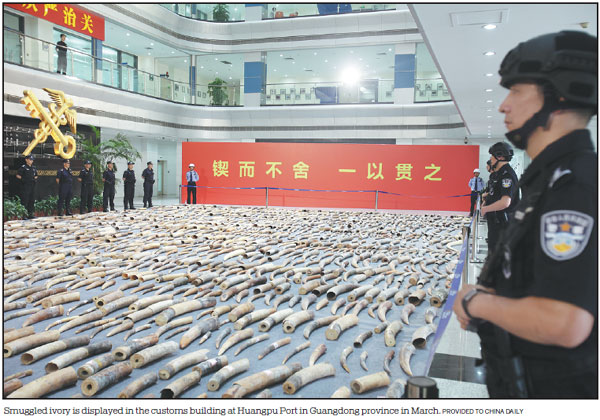 (China Daily Global 05/22/2019 page1)
Today's Top News
Editor's picks
Most Viewed