More woes for British high street as footfalls dip, midsized restaurants shrink networks
There was more bad news for the British retail sector as latest figures showed that one in 10 shops in the United Kingdom lay empty, the highest in four years.
The British Retail Consortium, a trade organization for the British retail industry, said the national town center vacancy rate rose to 10.2 percent in April, an increase from the previous quarter of 9.9 percent and the highest since April 2015.
"In many ways, these headlines should come as no surprise given the underlying weakness in consumer confidence ... and high level of corporate retail failures that have been making headlines for the last 3 to 5 years," said Karl McKeever, director of retail agency Visual Thinking.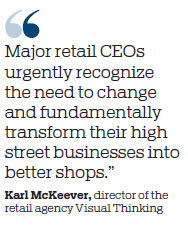 Issues such as overconsumption and climate change have been "feeding the fear" he said, leading to "a corrosive effect on consumer confidence and simultaneously a reluctance of many businesses to invest in this climate".
The number of shoppers heading into stores fell 0.5 percent in April compared to a year ago, according to the Consortium.
High street footfall declined by one percent and shopping centers saw the number of consumers decline by 2.1 percent.
Jonathan Reynolds, associate professor in retail marketing at Oxford University, said, "We have seen the gap between store openings and closures gradually widening over the past two years in the UK, as some of the big multiple chains in sectors from fashion, to department stores, to toys to mid-market restaurants shrink their networks or cease trading altogether."
Reynolds said a number of factors contributed to the strains in the retail sector, including increased costs for property, business taxes and labor, which makes operating shops in many locations less viable, along with less profitable sales in an increasingly competitive environment.
While Brexit uncertainty has affected consumer confidence, the Oxford professor said in the last five years "the UK has been at the epicenter of growth in online retailing in Europe with the second highest spending per household in any country in the world". Online sales make up around 19 percent of all retail sales in the UK.
Earlier this month, fashion chain Select was the latest British retailer to call in the administrators, putting 1,800 jobs at risk at its 169 stores across the UK.
Creditors for struggling department store Debenhams recently backed a restructuring plan by using a process called company voluntary arrangement, which will see store closures and negotiated rent cuts for some outlets to remain open.
Women's fashion chain LK Bennett fell into administration in March. The chain was brought out by a Chinese buyer but some 15 stores were closed.
It's reported that Arcadia Group is seeking a company voluntary agreement for fashion retailers, Topshop and Dorothy Perkins stores.
Helen Dickinson, chief executive of British Retail Consortium, commented, "Empty shopfronts, particularly for larger stores, can deter shoppers from an area, decreasing footfalls for all those around. This effect can be cyclical, with the long-term decline in footfall pushing up vacancy rates, particularly in poorer areas."
Experts say investing in innovation is the way forward if there is a chance for retailers to succeed.
Taking an example from China's format innovation, the country's growing high-tech mobile convenience stores, such as BingoBox, are said to be growing considerably faster than Amazon Go in the US and are "redefining what it means to be a convenience retailer".
"Innovation incubators sometimes get a bad press as being superficial," Reynolds said. "But linked to changes in the company culture, incubators in businesses such as UK grocer Tesco and department store business John Lewis & Partners have injected new thinking into these businesses."
Despite the doom and gloom of the British high street, McKeever believes there are reasons to be optimistic, as "major retail CEOs urgently recognize the need to change and fundamentally transform their high street businesses into better shops: connected, inspiring, engaging easy and brilliantly differentiated".
But to get there, it's likely to get worse before it improves.
"In the future there may well be fewer stores, better shopping areas and certainly more differentiation between brands," McKeever said. "An exciting new dawn awaits, but first the high street is going through the pain/pinch point - and it's hurting."
boleung@mail.chinadailyuk.com
(China Daily 05/21/2019 page3)
Today's Top News
Editor's picks
Most Viewed