More readers abuzz over audiobooks
As smartphones, and now smart speakers, reshape our lives, an increasing number of people are discovering the convenience and pleasure of listening to, rather than reading, books.
"I love audiobooks. I listen to them every day," said Steve Hoffman, an angel investor and CEO of start-up accelerator Founders Space, based in San Francisco and Silicon Valley. He said his fondness for audiobooks extends beyond his everyday commute - driving to meetings and work - to include his exercise time and even when he brushes his teeth.
Though an avid reader, Hoffman, who reads at least one book a week and has written and published his own books, was born with dyslexia, a learning disorder that makes reading difficult.
"As a student, I was last in my class in reading and writing. But I never gave up," he said. "Books have enriched my life in so many ways. I believe books are the best way to get inside the heads of the smartest people that ever lived and understand the world through their eyes."
A survey last month by the Chinese Academy of Press and Publication found that audiobooks are the latest trend among the Chinese, said Wei Yushan, director of the academy.
Wei said 30 percent of Chinese, or around 350 million people, listened to audiobooks in 2018, a rise of 3.2 percentage points over 2017.
In 2016, only 17 percent of Chinese adults listened to audiobooks, according to the academy.
The story was much the same in the United States and United Kingdom.
In March, there were several seminars - with packed audiences - dedicated to discussions on audiobooks at the London Book Fair.
In the UK, Nielsen's annual Books & Consumers survey found an audiobook boom, with sales going up 13 percent since 2017 and up 87 percent since 2014. As the fastest-growing publishing format, audiobooks now account for 5 percent of all book purchases in the country. "Young men are the biggest consumers," the report said.
Jacks Thomas, director of the London Book Fair, said, "Audio has beenone of the major success stories in publishing over the past five years, and its incredible growth clearly shows no sign of abating."
According to Mary Beth Roche, president and publisher of Macmillan Audio, audio has become a primary part of the company's overall publishing strategy. "Audio has integrated into Macmillan's publishing plans, right from acquisition," she was quoted by Publishers Weekly as saying.
Michele Cobb, the executive director of the US Audio Publishers Association, was quoted by Publishers Weekly as saying that in the US, the audiobook market has witnessed six consecutive years of double-digit growth "in both dollars and units".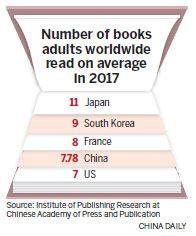 Cobb said 54 percent of listeners are between the ages of 18 and 44 - a "big change from what we used to see 20 years ago when they tended to be more in their 50s". The rise of smart speakers is driving the growth, she added.
The association's previous data showed that in 2017, audiobook use increased by 30.2 percent in the US, while that of digital books dropped 5.3 percent. Frequent users on average listened to 15 audiobooks a year.
Tan Xiaodan of Beijing said she spends more than 10,000 minutes a year on Ximalaya FM, a Chinese audio content provider that has captured 73 percent of the country's audio market.
Tan said she listens to storybooks along with her child.
"I'm willing to pay for my kid's audiobooks," she said.
Her favorite categories are humor and children's educational books. However, she added that listening to books can't replace the in-depth thinking that reading books can bring.
Ximalaya, meanwhile, has 530 million activated IDs, and these users listen on average 147 minutes a day, according to a report by the company.
About 73 percent of its users are ages 20 to 39. They listened to 15 audio books on average in 2018, the report said. Ximalaya, whose services cover 223 countries and regions, also said its listeners have spent 435 million yuan ($63 million) on its services.
A 2018 report from the Chinese Academy of Press and Publication said that in 2017, adult Chinese preferred romantic stories, fantasies and audiobooks, while children and teenagers preferred language learning, poetry recitation and stories.
meijia@chinadaily.com.cn
(China Daily Global 05/15/2019 page1)
Today's Top News
Editor's picks
Most Viewed