Former vice-governor sentenced to 20 years in jail
Wang Xiaoguang, former vice-governor of Guizhou province, has been convicted of taking bribes, embezzlement and insider trading, and sentenced to 20 years in prison, with fines of 173.5 million yuan ($25.7 million), Chongqing Municipal No 1 Intermediate People's Court announced on Tuesday.
All his ill-gotten gains will be confiscated and handed to the State.
The court said Wang abused power to gain benefits for certain enterprises and individuals with respect to bidding for project development and job promotions, then accepted huge bribes valued at 48.7 million yuan either paid in cash or property between 1998 and 2017.
Over a span of 19 years, he mainly served as Party secretary in Wudang district in Guiyang, Guizhou province; vice-mayor of Guiyang; secretary-general of Guiyang; vice-mayor and mayor in Zunyi, Guizhou province; Party chief of Liupanshui, Guizhou province; Party chief of Zunyi; and a member of the Standing Committee of the Guizhou Provincial Party Committee.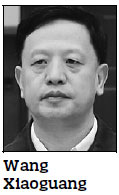 From 1999 to 2000, when he was head of Guiyang's Wudang district, he took advantage of his job and fabricated documents to illegally preregister the land use rights of 1 hectare of wasteland, and then asked a subordinate government unit to purchase it and sold it to another company, illegally gaining transfer fees of 4.81 million yuan.
Between August 2009 and February 2016, he used his positions and influence to obtain insider information, and asked his family members to purchase stock worth 495 million yuan, which led to profits of 163 million yuan.
"Because he actively confessed his crimes and revealed other criminal evidence that the judicial officers didn't know about, and he cooperated with us to return his illicit assets, the court issued a relatively lenient punishment," the court said.
zhangyan1@chinadaily.com.cn
(China Daily 04/24/2019 page4)
Today's Top News
Editor's picks
Most Viewed