Nursed to health on home turf
The internet is delivering care that keeps thousands out of hospital
Operating on the same principle as ride-hailing services that whisk passenger A from point B to C using driver D, Liu Xiujuan has been delivered from joblessness to a new lease of life in her career thanks to online technology.
Liu, 34, a Beijing nurse, says she takes on average three orders a day on apps she is registered with that broadcast her services and through which those seeking nursing care at home can find the professional help they need.
Before she sets out on her home visits she first phones patients to check on their state of health and takes with her all the medications the patient requires, and once she arrives her routine is to present documents showing her qualifications so patients can be reassured they are in good hands.
Liu had been a nurse at a Beijing hospital for seven years before she quit her job and left the city. When she returned in 2016 she could not find work, and nurse friends recommended such service apps so she could find part-time work.
"It's hard to credit that nurses can treat patients in their homes and turn it into a second job, but these platforms have made that possible," says Liu, who has registered with two popular platforms and says she has turned it into her sole job and source of income.
The background to this is the continuing integration of the health industry and internet technology, driven mainly by the needs of the elderly, discharged patients, those with chronic illnesses and others who are house-bound.
Goldnurse, on which Liu is registered, has been one of the most popular apps that offer such services. The nearly 40,000 nurses and therapists registered with it, and its more than 200,000 active users, are located in 300 cities around China, says Ding Shaolei, cofounder and chief executive of Goldnurse.
About half of their care services are provided to disabled or semidisabled elderly people, 30 percent are undergoing post-discharge care and the rest receive maternal-child nursing, Ding says.
The price for each order varies from about 140 yuan ($21) to more than 400 yuan, depending on the time needed and the complexity of the task. About 75 percent of the fees go to the nurses and the rest to Goldnurse.
Goldnurse provides services including injections, blood collection, catheterization, atomization and other treatment. It has also opened several offline nursery stations around Beijing with nearly 100 full-time nurses, Ding says.
His decision to get into the business in 2014 was both personal and commercial, he says.
When his grandparents were in their last stages of their lives it was difficult to find the appropriate home care, he says, and in terms of the number of nurses and care beds available demand far outstripped supply.
Ding says he hopes that eventually Goldnurse, in line with the latest government policies, can work hand in glove with hospitals, including opening the platform to them, so that they can carry out more specialized services, involve more nurses and serve more patients.
Liu says that when she considers which online service to use she considers its reputation, safety management and back-end service quality.
"Customer feedback and ratings are also very important. People choose nurses with high ratings, as with any other internet platforms."
She has completed several thousand orders and barely receives any negative comments, she says.
Before she leaves for a patient's home she phones to get detailed information about the patient's age, condition and a history of their illness, such inquiries being extremely important to ensure medical safety and help her to be well prepared.
Nursing patients at home is very different from working in a hospital, she says.
"In the hospital you just need to follow doctors' instructions, and if you're unsure about something, you can always ask the doctor. But in a patient's home you have to make your own judgment. That's why we need to be extra careful in finding out about a patient's condition."
The visiting nurses' professional knowledge and expertise are also very important for avoiding accidents, she says.
She occasionally notices mistakes in prescriptions, she says, and can double check with patients' doctors.
In any case where treatment involves risks, Liu says, she will go beyond the patient and talk to family members, and disclaimers are signed before nursing is provided.
"With all these careful preparations and communications, I have had no emergencies."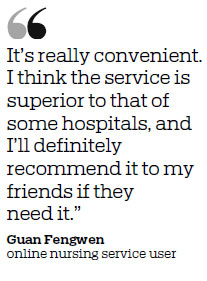 The prime consideration of those who avail themselves of home visiting services is convenience, Ding says.
Guan Fengwen, 40, who lives in Beijing, recently decided to try an online nursing service and was put in touch with Liu. Guan needed stitches removed after she underwent plastic surgery.
"Some of my friends were using this service so I wanted to try it," Guan says.
"I can understand the concerns of those who have not used it, but I wanted to decide for myself whether it was good for me."
Guan says she was satisfied with the job Liu did and decided to call on her services again.
The fee she paid, a little more than 300 yuan for each visit, was reasonable, she says, considering the hassle it saved by not having to go to a hospital.
"It's really convenient. I think the service is superior to that of some hospitals, and I'll definitely recommend it to my friends if they need it."
Sun Qian, 55, of Beijing, said: "I think this innovative way of receiving nursing can really benefit people like me."
He had surgery after rupturing an Achilles tendon while exercising and needed his dressings to be attended to regularly.
"Hospitals are always busy during Spring Festival and I didn't think that my condition warranted me going to the hospital. I'd heard about the home-visiting nursing service previously and decided to give it a go."
He and friends learned about apps such as Goldnurse about two years ago when they were talking about things such as taking care of elderly relatives, he says.
"But I guess it's going to be a long process of experimentation, and the government needs to do a lot in terms of guiding and regulating."
It would be of great help, especially for those who cannot leave their homes and are not so well off, if the costs for such home-based care can be included in the current medical insurance system, Sun says.
Zhang Kaili, who has been a full-time nurse for Goldnurse for more than six months, works in one of its nursing stations in Beijing. There she and colleagues receive clients and manage their medical affairs. Like Liu, she also undertakes home visits.
Their station can provide remote monitoring services for certain patients based on data collected through wearable devices, such as jackets that can monitor pulse and blood pressure and keep records of them, Zhang says.
"We can do a lot of things that people can do in hospitals. With remote monitoring we can respond quickly in the case of an emergency."
For those needing long-term care, health managers initially visit a patient's home to evaluate the state of their health, and then formulate healthcare plans, Zhang says.
Even many nurses who have full-time jobs in hospitals take orders online to make extra money in their free time, Liu says.
"In a big city like Beijing there's huge demand for home nursing."
Pay for nurses working in hospitals is often very modest, especially compared with what doctors are paid, Liu says. She can now earn between 20,000 yuan and 30,000 yuan a month, more than double what nurses in hospitals are normally paid, she says.
"I used to work in an intensive care unit and had to work nonstop through the day, and often had to do overtime."
Her working hours are more flexible now, she says.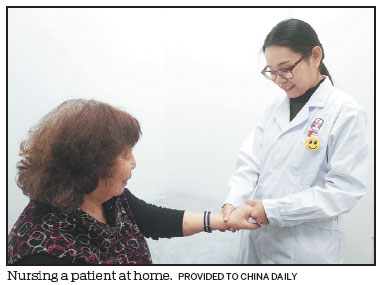 She also has a lot of job satisfaction now, she says, nursing elderly people confined to their beds and who need regular care for the replacement of gastric tubes or catheters.
She has developed close relationships with them, and many contact her for advice even after she has officially ceased nursing them.
"I've been with many elderly patients in the last stages of their lives. I like my current work because it gives me a sense of being needed and accepted. And I'm full of energy every day."
The internet-based nurse booking industry enjoyed a short boom in 2015, soon after it appeared, but most of the companies have failed to live up to their early promise, and the industry remains a fledgling.
In 2017 health authorities in Shanghai raised questions about how online nursing services were operating, with skeptical eyes being cast over the qualifications some of those working with them claimed to have.
In February the National Health Commission issued a guideline document on such services in cities and provinces including Beijing, Shanghai, Tianjin, Guangdong, Jiangsu and Zhejiang.
Ding of Goldnurse says he is encouraged by the guidance, which he says reflects the government's attention to the challenge of home-based care.
"With home-based care, the service receivers are scattered. The internet can play an important role in allocating nursing resources and providing one-on-one care that hospitals can't provide."
He is calling on the government to consider including costs of home care in the national medical insurance system and long-term care insurance, which would make such services affordable to more people.
Safety has also been a much discussed issue relating to the industry. However, Ding says this issue should not be exaggerated.
Goldnurse has set up a center to manage service safety and to quality control, he says.
"Home-based care is a medical activity after all, so quality control is extremely important."
The credentials of nurses who want to work with Goldnurse are verified when they register, he says, and work is underway to help the platform better control quality and reduce risks.
Three important steps - evaluating patients' conditions, making care plans and dispatching nurses - are done by the company's experienced full-time nurses, and records of care and of feedback are kept, he says.
"Initially the platform was just an intermediary. Now we're involved in the whole care process and much more deeply."
The platform alleviates safety concerns on the nurses' side by standardizing procedures, such as evaluating patients and avoiding high-risk tasks, and ensuring that nurses are covered by insurance whenever they perform their duties.
Technologies such as automatic alarms are also used.
liuxiangrui@chinadaily.com.cn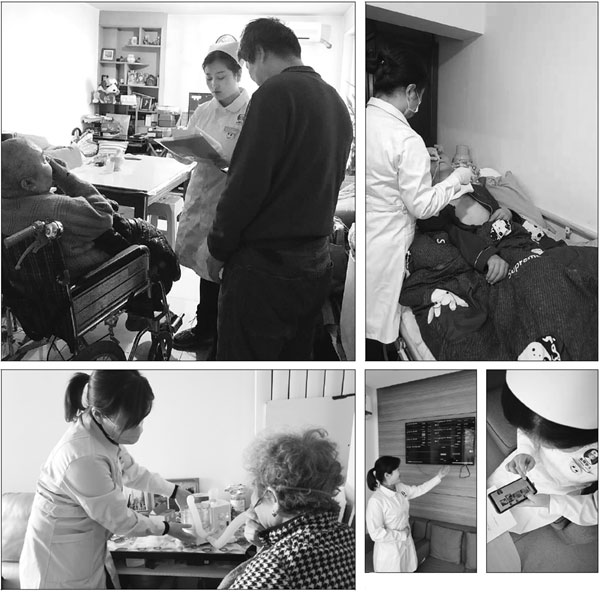 The prime consideration of those who avail themselves of home visiting services is convenience. Photos provided to China Daily
(China Daily 04/24/2019 page14)
Today's Top News
Editor's picks
Most Viewed