Flawed farming practices blur Thai skies
The dry spell coupled with slash and burn farming practices in Thailand and neighboring countries of Myanmar and Laos have induced a haze that is now blanketing the northern Thai provinces.
The air pollution is not only threatening public health but also the region's key tourism industry.
Thailand's problem is the latest example of how haze has been hurting Southeast Asian economies and human health in recent years. It also highlights a cross-border problem that requires a regional solution.
"Regional action is needed in the area of haze management," said Helena Varkkey, senior lecturer at the department of international and strategic studies in the Kuala Lumpur-based University of Malaya.
Varkkey told China Daily that the Association of Southeast Asian Nations keeps "haze issues high on the agenda", which led to the ratification of the ASEAN Agreement on Transboundary Haze Pollution in 2014.
AATHP requires ASEAN countries to cooperate in developing measures that prevent, monitor and mitigate transboundary haze pollution.
ASEAN members likewise adopted a haze-free road map in 2016, with a goal to make the region haze-free by 2020.
AATHP is a legally binding pact that requires signatories to honor their commitment, according to Dio Tobing, fellow at the ASEAN Studies Center of Universitas Gadjah Mada in Indonesia.
"All the ASEAN members carry an international obligation to ensure haze does not spread to their neighboring countries," Tobing said.
Southeast Asia has been grappling with haze pollution since the 1990s, but the situation has worsened in recent years. This is due to the rapid growth of agribusiness industries, resulting in massive land clearance and forest fires.
The worst haze crisis on record happened in 2015 when a prolonged dry season aggravated the air pollution caused by forest fires in Indonesia. The haze lasted over four months and spread across Brunei, Malaysia, Singapore, Thailand, Vietnam, Cambodia and the Philippines.
The World Bank said the 2015 haze cost Indonesia over $16 billion in economic losses, equal to about 1.8 percent of the country's GDP. Many of the economic losses resulted from the disruption of air, land and sea travel.
"Governments, firms, and communities take many shortsighted actions like overusing the natural environment and burning forests that have many long-term costs," said Subhrendu K. Pattanayak, professor of public policy and environmental economics at Duke University in North Carolina, in the United States.
Pattanayak co-authored a paper on the impact of forest fires in 1997 on Indonesian children. Published earlier this year, it revealed that exposure to air pollution during the prenatal stage is associated with stunting and, consequently, lower wages once these children become adults.
"Stunting is a very good proxy for human capital because many have shown that it is highly correlated with future wages, earnings and economic outcomes," he said.
Several studies show that stunting is linked to reduced cognitive and educational development, poorer adult health and lower earnings.
Pattanayak said burning to clear land for oil palm cultivation may spur export revenues, but the air pollution it produces can result in long-term human capital losses. A more eco-friendly but expensive option is mechanical clearing, he said, adding that palm oil producers are unwilling to pay the high cost.
University of Malaya's Varkkey echoed this by saying farmers rely on fire as "a cheap and quick way to clear land", while "enforcement is rare, due to the remoteness of these areas".
Tobing of Universitas Gadjah Mada said the central government must ensure local executives understand why forest fires have to stop. The officials can then regulate and monitor these activities, especially those in remote areas.
Efforts are being made at both national and regional levels to promote sustainable farming methods that discourage forest burning.
In 2016, Indonesia established a Peatland Restoration Agency to focus on improving the management of peatlands, which contain partly decomposed vegetable matter, usually mosses, and sometimes burned as fuel or mixed into soil to improve growing conditions.
Singapore enacted the Transboundary Haze Pollution Act 2014, allowing it to sue plantation firms that cause haze.
And some efforts have produced gains. For example, haze has long been a seasonal problem for Singapore owing to winds blowing smoke from forest fires in Indonesia. But from 2016 to 2018, Singapore was haze-free.
United Nations Environment Programme said the ratification of the ASEAN Agreement on Transboundary Haze Pollution in 2014 has reduced the incidence of forest fires in Southeast Asia.
Citing data culled from the ASEAN Specialised Meteorological Centre, UNEP said the hot spots - locations with possible active fires - in Myanmar declined from 52,033 in 2012 to 11,345 in 2017.
prime@chinadailyapac.com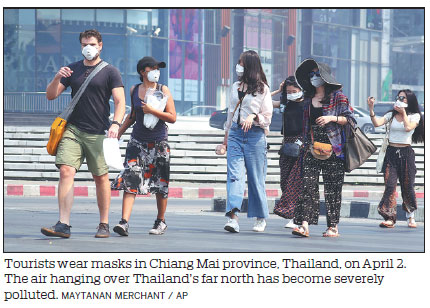 (China Daily 04/23/2019 page3)
Today's Top News
Editor's picks
Most Viewed