Global green deal requires all hands to be on deck
By Nansen G. Saleri, Christine Ehlig-economides and Howard J. Herzog | China Daily | Updated: 2019-04-16 08:08




Presenting climate stewardship as a choice between fossil fuels and renewables, or economic stagnation versus global warming, distracts from doable, practical actions
The Paris Agreement on climate change might be cynically described as a dead man walking, given the US administration's reticence bordering on open hostility. Some foresee a gloom-and-doom scenario as the inevitable consequence, with economic and social disruptions, caused by violent weather patterns as the new global norm. Just recently, an analysis published in the journal Science reported that temperatures are rising at rates unprecedented in recorded history.
The recent Green New Deal proposal led by US congresswoman Alexandria Ocasio-Cortez is a well-intentioned, but flawed attempt to energize the Paris agreement. However, the prospects for a climate wellness initiative are real and achievable, although admittedly complicated. What is needed is an energy-industry initiative that transcends international boundaries and which can leverage national and regional priorities in the fight against climate change.
As a basic premise, it is the net emissions of all greenhouse gases, not just CO2, which drives climate change. Hence, the overriding goal should be the reduction and eventual elimination of net greenhouse gases emissions.
Here the key operative words are "net greenhouse gases emissions", a distinction worth highlighting. This opens up numerous greenhouse gases management options, including CO2 capture and storage, utilization, and removal pathways such as afforestation and reforestation. This diverse portfolio enhances the ability of both market forces and new technologies to produce ever green solutions for reducing net greenhouse gases emissions.
World energy demand is projected to double in 50 years. The notion of a carbon-free world energy model fueled solely by renewable energy sources is flawed. While renewables are an important part of the solution set for addressing climate change, they are nowhere near capable of replacing what oil and gas offers in support of modern lifestyles. And substantive lifestyle sacrifices, are unlikely at a global scale.
There are no silver bullets in the fight against climate change. We need every bullet in our arsenal. Eliminating certain solution pathways, such as nuclear or fossil fuels, a priori, just makes a difficult task much more difficult and expensive.
By the same token, if energy suppliers -including of fossil fuels - play an active role, it will only enhance the likelihood of achieving the ultimate goal - to have a positive, substantive impact on the anthropogenic component of the climate change.
The potential consequences of climate change are many and varied, including rising sea levels, floods, droughts, wildfires and an increase in vector-borne diseases. According to the Intergovernmental Panel on Climate Change Assessment Report 5,"continued emission of greenhouse gases will cause further warming and long-lasting changes in all components of the climate system, increasing the likelihood of severe, pervasive and irreversible impacts for people and ecosystems".
The path forward must be apolitical, science-based, and pragmatic, that is accepting of reasonable yet imperfect compromises among technical, social, and economic factors to achieve substantial net greenhouse gases emission reductions. To present climate stewardship as a choice between fossil fuels and renewables or, for that matter, economic stagnation versus global warming, distracts from doable, practical actions that produce beneficial outcomes for nations and the global community alike. With that in mind, here is a potential framework to reduce net greenhouse gases emissions by 100 percent. Marginal goals will not cut it.
Energy providers must lead the way in setting substantive targets and establish net greenhouse gases emission definitions and standards.
Market forces, shaped increasingly by public perceptions, both global and regional, will determine future winners among the current energy providers.
The role of government will be to ensure an even playing field among all forms of energy, and to formulate policies to incentivize net greenhouse gases emission reductions admittedly governed by their respective national and regional priorities and political realities. What mechanisms work best for China will differ than those for the United States, India or Japan.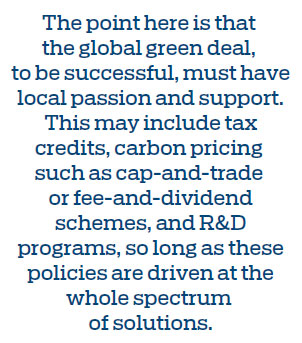 The point here is that the global green deal, to be successful, must have local passion and support. This may include tax credits, carbon pricing such as cap-and-trade or fee-and-dividend schemes, and R&D programs, so long as these policies are driven at the whole spectrum of solutions. That is, winners must earn their badges and should not be preordained by government policies as advocated by some of the sponsors of the US Green New Deal.
The role of the private sector (including energy producers) will be to get the job done. A good starting point will be to dedicate a non-trivial portion of annual revenues toward tangible reductions in net emissions. Interestingly, multinational oil and gas companies, having an existential stake, will be motivated to do so.
Climate change accelerated by anthropogenic factors is not a transient or a regional problem, and its solutions will require bold, fresh, and global thinking.
The space race between the United States and the Soviet Union in the 1960s culminated in the Apollo 11 moon landing(whose 50th anniversary is on July 20, 2019) is a good reminder of terrific outcomes that benefit all of humankind derived from competition. China and the US account for 28 and 15 percent respectively of the global CO2 footprint at 37 gigatons.
The race to slash those levels by half or more is a race worth winning by the globe's two pre-eminent industrial leaders. As Confucius noted, "when it is obvious that the goals cannot be reached, don't adjust the goals, adjust the action steps". The time for action for a Global Green Deal is now.
Nansen G. Saleri is chairman, CEO, and co-founder of Quantum Reservoir Impact, a leading advisory and advanced analytics firm in upstream. Christine Ehlig-Economides is the first-ever William C. Miller endowed chair professor of petroleum engineering at the University of Houston. Howard J. Herzog is a senior research engineer in the MIT Energy Initiative in Cambridge, Massachusetts. The authors contributed this article to China Watch, a think tank powered by China Daily. The views do not necessarily reflect those of China Daily.
(China Daily 04/16/2019 page13)
Today's Top News
Editor's picks
Most Viewed