Say goodbye to giant softshell turtle
ON SATURDAY, the last known female Yangtze giant softshell turtle, the largest species of freshwater turtle, died in Suzhou Zoo. China Daily writer Zhang Zhouxiang comments:
You might never have heard of the species, but the fact is that the death of the Yangtze giant softshell turtle in Suzhou means the species might highly possibly face extinction. There is a male in Suzhou Zoo, and two other turtles are known to be living in the wild in Vietnam. Unless one of the two turtles in Vietnam is female, the species will die out. Yangtze giant softshell turtles are known to have lived 270 million years ago, even earlier than dinosaurs reigned. They survived one disaster after another, except their encounter with humans.
Being over 1 meter in length and more than 100 kilos in weight, Yangtze giant softshell turtles have hardly any natural predator - except for humans.
As Shi Haitao, a professor of biological studies at Hainan Normal University, points out, humans have brought the Yangtze giant softshell turtle to the brink of extinction in two ways. First, the meat is considered a delicacy throughout Asia and they have been ruthlessly hunted. Second, humans have destroyed their natural habitats.
The rarer a species is, the higher its price on the table. But ironically, the meat of Yangtze giant softshell turtle is not nutritious at all. On the contrary, it is harmful to people's health because the turtle can live very long in the wild and it accumulates heavy metals inside its body.
It is easy to say what should be done to protect endangered species, yet harder to do. There are about 30 turtle species in China, and the majority of them need protection. There are many more species that need protection, many of which are unknown to the public. For the Yangtze giant softshell turtle, it is probably too late. But for all protected species, anyone found buying the meat, parts or products of protected species should be punished according to the law, as well as the poachers and those forming the profit chains.
The authorities must do their utmost to prevent the loss of the country's biodiversity.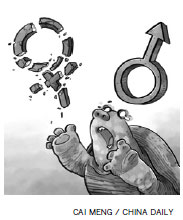 (China Daily 04/15/2019 page11)
Today's Top News
Editor's picks
Most Viewed