Partners' four-sector forward-looking focus
China and Morocco pushing their relations to new heights so that it can meet economic and social challenges
Sixty-one years ago, Morocco was one of the first African countries to recognize the People's Republic of China. And since then both countries have had steady cooperation covering fields ranging from infrastructure, finance and health to medical and education missions.
Overall, the two countries have succeeded in maintaining winwin cooperation established within the diplomatic norms of respect for each other's sovereignty and territorial integrity. However, today's policymakers understand the need to move this relationship to new heights so that it can meet the 21st century's economic and social challenges.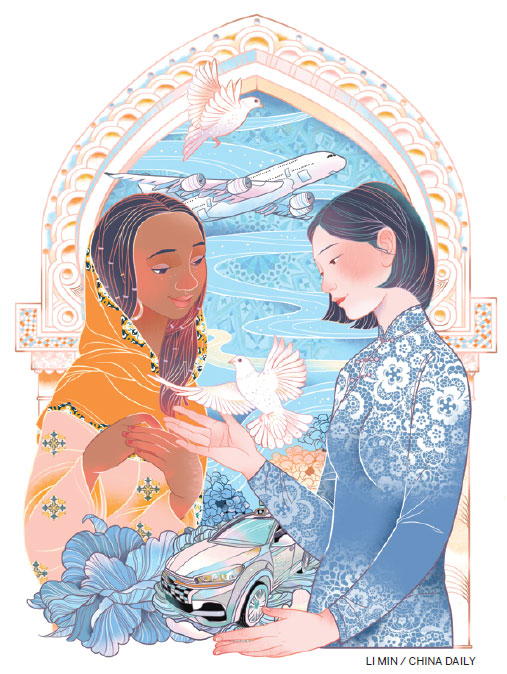 Geopolitically, the Kingdom of Morocco offers both political stability and geographic importance as a gateway to Europe, sub-Saharan Africa, North Africa and the Arab World. And this geopolitical strength is translated by having free trade agreements with the United States, Egypt, Jordan, Tunisia, Turkey, and the United Arab Emirates and relations with the European Union.
Now that Morocco has signed up for the Belt and Road Initiative, it is going to change the dynamics of investment in trade as Chinese traders can now invest in Morocco in production units and develop new market access with preferential rates.
However, Morocco's engagement with China seeks more than trade platform access, as the kingdom's ambition is in developing key emerging sectors matching China's policies of industrial restructuring and innovation.
In aviation, Morocco is already becoming an aerospace subcontracting hub with units from Bombardier, EADS, Boeing, Safran, Lisi Aerospace, Le Piston, Daher, Souriau, Ratier Figeac, Eaton, Alcoa and Aerolia operating in Casablanca.
And although China now imports all its aviation cabling from Morocco, as it is developing its own airplane manufacturing capabilities, it will be natural for major Chinese aerospace manufacturers to establish maintenance centers in Morocco taking advantage of its aerospace hubs and skilled workers.
Another industry that is shaping up strongly is the automobile sector, as Morocco plans to make 1 million vehicles by 2020, against 650,000 currently, with an estimated turnover of 10 billion euros ($11.3 billion), and the objective to create 160,000 jobs.
If China helps Morocco with its strong production capacity and know-how, it can easily help Morocco become a competitor to French automakers locally and at the African level.
Beside these two sectors, China can also easily integrate with the new alternative energy policy that Morocco has established.
Morocco has decided to switch to renewable energy to secure not only its needs of production, but also to support the Paris Agreement for a better, clean environment.
The Noor 1 project reflects the kingdom's ambitions for alternative energy. With an investment of $3.9 billion, Noor 1, which started operations in 2017, is the largest solar farm in Africa.
In this context, a delegation from Chinese companies, including the Export-Import Bank of China, Power China Group, the China Gezhouba Group, Huawei and the Shanghai Electric Group, visited the Ministry of Mining and Energy in 2017 and expressed their wish to invest in Morocco and establish partnerships with public and private players.
Finally, we have an important sector in Morocco that has seen an extraordinary development in recent years, the tourism industry.
Since the visa waiver in 2016, Chinese outbound tourism to the kingdom has surged 300 percent year on year, from a mere 10,000 in 2015 to 120,000 in 2017.
Sure, the numbers are small compared with other destinations, but from a percentage point of view, both countries have some good indicators to work on improving them.
If both operators, public and private, manage to devise a strategy that involve not only promoting the destination, but also investing in hotel capacity, flight connections, and package design, the two countries can turn the success already at hand into an integrated policy on investment and local economic development.
The four sectors offer policymakers in both countries, a focus for raising their partnership to new heights, establishing a winwin relationship that can shape the future of both countries.
The author is secretarygeneral of the China-Morocco Friendship Association Peace Foundation. The author contributed this article to China Watch, a think tank powered by China Daily. The views do not necessarily reflect those of China Daily.
(China Daily 04/15/2019 page13)
Today's Top News
Editor's picks
Most Viewed