Public health warning a tough nut to crack
Snack enjoys popularity in region amid belief it has medicinal benefits despite fears it is behind epidemic of oral cancer
When the dry season sets in across China's southernmost province of Hainan in November, local farmers will gear up to harvest from rows of areca palms in its vast coastal fields.
Hainan is home to nearly 1.4 million mu (93,000 hectares) of areca palms and supplies 95 percent of total output nationwide, according to local authorities.
The freshly-picked fruits - oval, green and dewy - are briefly boiled and dried up in plants nearby to prolong the preservation before embarking on a long journey to Hunan province in Central China.
There are at least 50 factories devoted to processing areca palm fruits in Hunan province, churning out over 200,000 metric tons of betel nuts each year, or one-fourth of global production, Hunan Daily reported.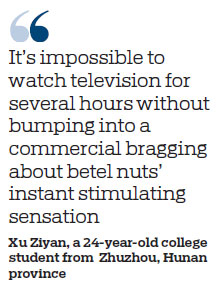 The tropical fruits, more commonly named betel, are then soaked in a syrup and alkaline solution, dried again, halved and stoned, and packaged in silver foil for sale. Easily found in roadside shops or large franchises, the betel nuts are chewed throughout the province for their alleged stimulating effect.
About 38 percent of residents in Hunan have a habit of consuming betel nuts. The consumption ratio soars to more than 50 percent for people aged 30-40 in the region, according to a report released by Hunan Betel Food Industry Association.
On March 7, however, the Hunan Betel Food Industry Association released a notice, ordering related enterprises in the province to halt advertisements across all media channels and any form of promotion in public places.
Though Yang Xun, head of the association, said the ban is not tied to rising concerns about the betel nut's role in causing oral cancer, but aimed at regulating the industry, an increasing number of people are waking up to the fact that the widespread consumption contributes to the region's high incidence of oral cancer.
According to Hunan Cancer Hospital, five major medical institutions in Changsha have seen the number of oral cancer patients jump from 305 in 2005 to 2,108 in 2016.
The average incidence of oral cancer in Hunan is 20 times higher than the national rate. Each year, more than 25,000 people die from malignant mouth tumors in the region, Beijing News reported.
Lin Ye, vice-president of Peking University Hospital of Stomatology, said the fruit is often taken with lime powder, and thus damages delicate tissues in the mouth and leads to an increased risk of developing tumors.
In February 2019, the National Health Commission released an action plan aimed at improving oral health across China. It called for campaigns to increase oral checkups in regions where chewing betel nuts is popular.
Historic appetite
For decades, local historians in Hunan have debated on when betel nuts were introduced to Hunan province - thousands of miles away from the major planting site - and how the chewing habit has gained a popularity that outstrips the rest of the country.
The most famous legend says that during the Qing Dynasty (1644-1911), people in Hunan, especially those in Xiangtan in the central part of the province, used the fruits to fend off a deadly plague.
They had learned to roast raw betel nuts, cut them open and sprinkle a variety of spices on top. The simple concoction reportedly provided a refreshing and toasty feeling for the sick and prevented the disease from spreading.
He Gejin, 69, a native researcher on the history of Xiangtan, said the association between betel nuts and plague prevention is faulty for a lack of evidence in credible chronicles. But widespread belief in its medicinal benefits has played a role in boosting and sustaining consumption.
"The esteemed poet Su Shi in the Song Dynasty (960-1279) and the novelist Cao Xueqin in the Qing Dynasty, best known for Dream of the Red Chamber, have both mentioned betel nuts in their literary works," he said. "It was described as a mildly sweet snack that also works to aid digestion and soothe an empty stomach."
"According to city annals, it is likely that betel nuts were first used to remedy bloated stomachs and later adopted by a wider population," he added.
By the end of the 19th century, the sales volume of betel nuts in local markets was almost equivalent to that of rice, a staple food, he said.
The custom of chomping down betel nuts for either pleasure or remedial treatment has since become rooted in everyday life in Hunan province.
"In the 1950s, when I was little, betel nuts were quite common. I bet each and every one of the residents in Xiangtan was exposed to the smell of betel nuts or lured to have a taste," He said.
He added that during "cultural revolution" (1966-76), the betel nut craze died down, but came back in the early 1980s.
Commercial appeal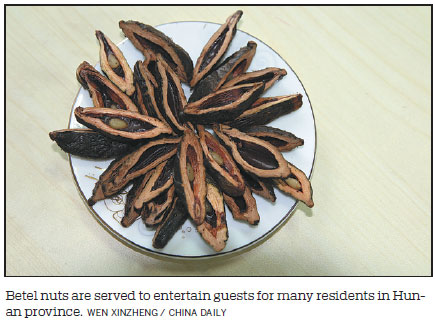 The surging demand in Hunan prompted entrepreneurs to invest in factories that processed betel nuts. It heralded a new era that saw the street snack become a key element of social etiquette in the region.
"Betel nut production used to take place in private, small workshops with minimal attention paid to packaging," He said. "Children were used to running errands of picking up some betel nuts from the closest store to treat guests who came to visit."
Rapid industrialization expanded production volume and allowed manufacturers to experiment with packaging and promotion.
Yin Die, a Xiangtan native who has been eating betel nuts for at least 50 years, said the glamorous wrappings for betel nuts began popping up about two decades ago, according to a report posted on news portal qq.com.
"In the past, a piece of paper and a plastic bag would suffice. But nowadays, I've seen each betel nut delicately folded in gold metallic foil, like a newborn resting in a cradle," Yin was quoted as saying.
According to He, betel nuts have become mainstream gifts presented at weddings, funerals and other occasions in Hunan to express kindness and gratitude.
A mixture of promotional methods have picked up pace in recent years, according to Li Peng, 51. He manages a store in Changsha, the provincial capital of Hunan, selling betel nuts along with cigarettes and liquor.
According to Li, Zhangxinfa, a time-honored brand, prints QR codes on its packaging so buyers can enter a lottery to win as much as 600 yuan ($90). Hechengtianxia, another giant brand based in the provincial capital, rolled out a "buy one get one free" lottery campaign. Also, Wuzizui, an emerging competitor, has sent Li a large rack to display its betel nut products.
Xu Ziyan, 24, a college student born in Zhuzhou, Hunan province, said she has grown numb to messages about the alleged benefits of betel nuts broadcast to her.
"For instance, it's impossible to watch television for several hours without bumping into a commercial bragging about betel nuts' instant stimulating sensation," she said.
"At airports and railway stations in Hunan, as well as on the trains that depart from or arrive in the region, I often see signs and advertisements for betel nuts. They are everywhere," she added.
She is not optimistic about the advertising ban's impact on the sales and consumption of betel nuts. But she tells her uncle, who eats at least 10 betel nuts a day, to take regular examinations.
Contact the writer at wangxiaoyu@chinadaily.com.cn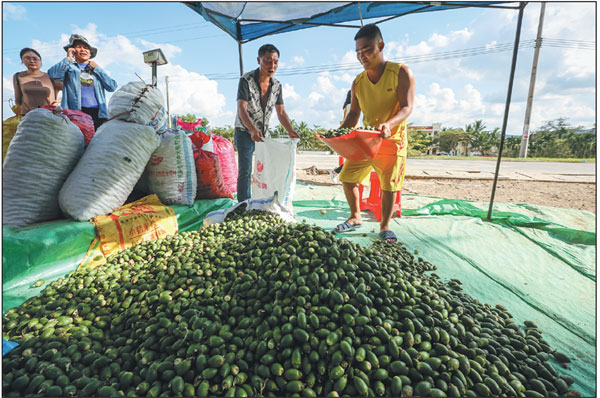 Farmers in the Qiongzhong Li and Miao autonomous county of Hainan province package areca nuts after harvesting the tropical fruit in November. The areca nuts would be briefly boiled and dried up before they are shipped to their main consumption areas including Hunan province. Yuan Shen / For China Daily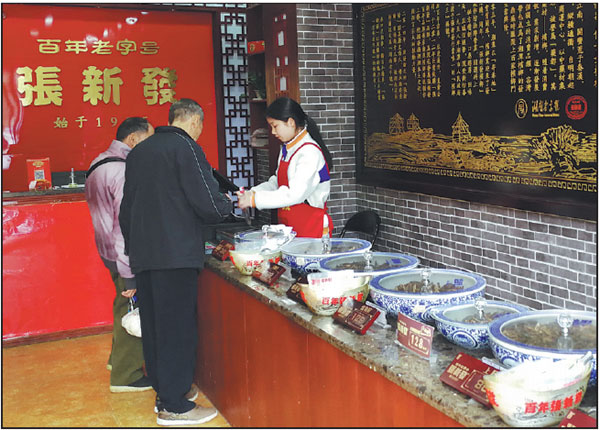 Two men purchase betel nuts in a chain store in Changsha, capital of Hunan province on March 28. Feng Zhiwei / China Daily
(China Daily 04/05/2019 page6)
Today's Top News
Editor's picks
Most Viewed