Import expo looks ahead to create stronger business ties
The first China International Import Expo, or CIIE, that ran from Nov 5-10, was a complete success, according to Zhong Shan, China's minister of commerce.
At a news conference during the second session of the 13th National People's Congress on March 9, Zhong said that the success came in three aspects: large scale, high level and good results.
Official statistics show that the inaugural CIIE covered 300,000 square meters and attracted representatives from 172 countries and regions. More than 800,000 exhibitors and buyers attended.
"We expanded the area twice. Still, the exhibition area fell short of demand," said Zhong.
He said that participants' passion "fully speaks to the strong attraction of the Chinese market".
The six-day event attracted 220 Fortune Global 500-listed companies and industry leaders. More than 300 products and services were introduced to the market.
During the expo, seven sections, including industrial products and agricultural produce as well as services, reported overall transactions of $57.8 billion.
"The first CIIE is a public platform established by China to uphold the multilateral trading system and support economic globalization. It is also an effective vehicle to promote China's quality economic development and to meet the needs of businesses for progress and the needs of people for a good life," Zhong said.
The 2019 edition
The second CIIE is scheduled for Nov 5-10 in Shanghai. The 2019 event will be bigger, with a planned exhibition area of 330,000 sq m. It will also feature higher quality, better services and results, according to Zhong.
Statistics from the CIIE Bureau show that 812 companies from 72 countries and regions, including 156 Fortune Global 500-listed companies and industry leaders, had signed agreements to attend this year's expo by March 15. An exhibition area of 186,000 sq m has been booked.
The second CIIE will have seven demonstration areas including automobile, food, healthcare equipment and pharmaceuticals. It will show more new products and technologies in various forms, Zhong said.
Zhong also revealed that some exhibition areas, like healthcare, are fully booked.
A promotional event for the CIIE was held in Paris on Jan 29. Wang Bingnan, vice-minister of commerce, and Jean-Pierre Raffarin, former prime minister of France, attended and gave speeches. Nearly 150 representatives from the French government and various companies participated.
A series of promotional events for the second CIIE have been held in Hong Kong and Macao and countries such as France, Japan, South Korea and Australia.
On March 4, the State Council announced the establishment of the CIIE Organizing Committee, which is headed by a vice-premier.
The Ministry of Commerce, the municipal government of Shanghai, the Ministry of Foreign Affairs and other relevant departments are members of the committee, whose office is in the Ministry of Commerce, said the notice released on March 4.
The notice also said the committee will develop overall plans for the expo and coordinate specific tasks during preparation for the annual event.
French companies' support
French companies have become a major force in supporting the upcoming CIIE.
Statistics from the CIIE Bureau show that more than 30 French companies have confirmed to participate in the second CIIE. By March 15, a total exhibition area of 6,000 sq m was booked by French companies. In 2018, 69 French companies participated in the expo with an overall exhibition area of more than 10,000 sq m.
Cosmetic giant L'Oreal, one of the largest exhibitors at the first CIIE, signed an agreement to participate in the 2019 event on Nov 6.
During the six-day event last year, L'Oreal exhibited its latest technologies, innovative retail models and sustainable development concepts to visitors. More than 500 products under L'Oreal's 21 brands were displayed. Many were debuting in the Chinese or Asian market.
Apart from L'Oreal, French yeast and fermentation supplier Lesaffre is looking for new business opportunities at the event.
"The CIIE is a very good demonstration platform for companies. It not only allows us to demonstrate the latest products and services, but also gives us a chance to learn from our peers," said Jean-Philippe Poulin, president of Lesaffre Greater China.
Lesaffre plans to double its exhibition area this year to host the Coupe Louis Lesaffre Asia final competition. The competition is considered the baking Olympics of the world.
China's pledge to improve its business environment and further opening-up measures announced during the first CIIE received positive response from French leaders.
In addition, Jean-Maurice Ripert, ambassador of France to China, was quoted as saying that the first CIIE brought major business opportunities to French companies, which will attract more of them to the second CIIE.
Ripert said that beef from France re-entered the Chinese market and Sino-French cooperation in agriculture resulted in breakthroughs.
There is no reason for French companies to give up such a huge market, he added.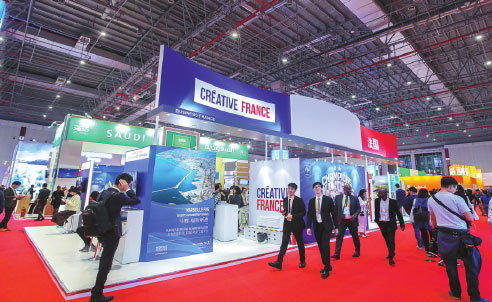 The French pavilion at the first CIIE attracts many visitors.Photos Provided To China Da Ily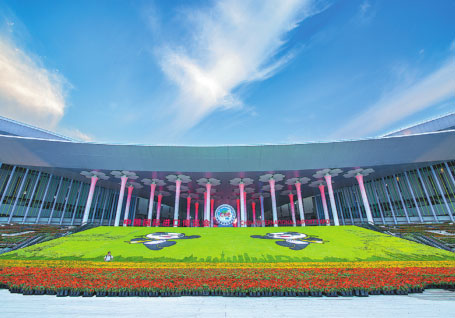 The CIIE is a new platform to promote China's opening-up.Photos Provided To China Da Ily
(China Daily 03/25/2019 page5)
Today's Top News
Editor's picks
Most Viewed