More parents turn to private route learning
Yang Shuman's 7-year-old daughter seems to have it easy compared with other children. While her peers cram into tutoring camps and scramble to perform in international math competitions, the girl goes on sightseeing tours every week and attends classes on painting, Chinese classics and martial arts.
Yang's daughter, who completed her early-childhood education at a bilingual Christian kindergarten, is now enrolled in a private school in Beijing. The mother opted for an all-private route for her child and plans to send the girl overseas for studies.
"I want her to have a happy lifestyle. At least I think it is good for the growth of her physical and mental well-being," Yang said.
Yang is one of an increasing number of parents who are turning their back on traditional Chinese test-centric schools to private ones that are more Western-styled, teaching English and offering prospects of globally recognized qualifications.
Fueled by a burgeoning middle class, the number of parents who are willing and financially able to send their children to private institutions is rising rapidly.
Li Ai, the director and founder of the Beijing Blossoming Kids education company, which offers courses to prepare students for international schools, used to work for a private establishment in Beijing as an assistant teacher for more than a decade.
"Nobody had heard of international schools when I just started working. They asked me if it was like a private training center," she said.
In 2008, Li began to notice a few Chinese students sitting in her class, so she offered some extra help for a number of them to adapt better to an English environment. She subsequently found it hard to cope with the soaring number of students over the years.
"The market is way too big now, the applications are 10 times the vacancies. Some students even drop out of their current school to better prepare for an international school application," she said.
Private schools in the country enrolled a total of 1.38 million students at the primary level and 2.09 million at the secondary level, according to Education Ministry figures released in July. The rate of growth was 7.78 percent and 10.79 percent, respectively, compared with 3.58 percent and 2.64 percent five years ago.
Chinese citizens make up most of the total enrollments of Western-styled schools, which used to cater exclusively to foreigners, according to ISC Research, a provider of data and market intelligence for the international schools market.
Major Western boarding schools, such as Harrow, Westminster and Dulwich College, are set to open more branches in China. The number of international Chinese-owned private schools have been growing by an average of 13.6 percent annually since 2012, according to industry figures.
The Chinese education system itself has long been known for its tough discipline and intense competition. Each June, more than 9 million students sit for the same college entrance examination, or gaokao, which determines their career paths and social status.
The competition starts at a very young age, as parents race to earn their children a spot at the best kindergartens in the city, in turn leading to top-performing primary and secondary schools that will eventually give them an edge in the final nationwide exam.
"Chinese parents are filled with anxiety, fearing their children would be left behind at the starting line," said Ye Zi, editor-in-chief of education and parenting platform Qinziying.com. "Today's students are consumed by all types of after-class tutoring classes."
Jia Qian, a mother from Shanghai, also opted for an international bilingual education at YK Pao School when her elder daughter was heading into the seventh grade.
They did try for a public school initially, but numerous competitions and camps put huge pressure on the family.
"We probably rested for only three days in the 60 days of summer vacation. I nearly had a mental breakdown," she said.
Her elder daughter is still busy most of the time now, but with foreign language, piano, flute, English debating and tennis classes pinned on her schedule. Jia said these various activities allow her daughter to think about what she wants to do in the long-run.
Abandoning public schools means future gaokao spots are no longer available to these children, but the rising numbers heading abroad, especially at younger ages, mean the loss is lessened by access to international certifications, such as baccalaureate diplomas and A-Level programs that fit better with Western higher education.
While international schools have often been styled as skills-oriented, against public schools as being more knowledge-oriented, educators are beginning to realize that the best way to foster talent globally is the combination of East and West approaches, said David Mansfield, YK Pao School's executive headmaster.
zhangyangfei@chinadaily.com.cn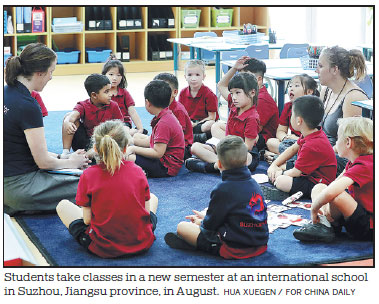 (China Daily 03/22/2019 page3)
Today's Top News
Editor's picks
Most Viewed