Delivering genuine outcomes to those truly in need
China's targeted poverty alleviation work has made huge achievements but it is getting increasingly difficult as it progresses to the end
Targeted poverty alleviation is a major theoretical and practical innovation of China's anti-poverty endeavors and a fundamental means for China to realize rural revitalization and to build a moderately prosperous society in all respects. After the 18th National Congress of the Communist Party of China, China established a system whereby the central government draws up the overall plans, provincial-level governments take overall responsibility, and city and county governments ensure implementation. The aim is for all rural residents living below the current poverty line to have been lifted out of poverty by the year 2020.
With huge public endorsement, China's poverty alleviation work has made decisive progress since the 18th CPC National Congress. This progress is reflected in major theoretical innovations and a grand system design aimed at fulfilling President Xi Jinping's requirement that the poverty alleviation work "deliver genuine outcomes to those truly in need".
All possible forces throughout society have been encouraged to make concerted efforts to promote poverty alleviation, economic development and community-level governance.
Since 2015, 2.8 million cadres have been designated to poverty alleviation tasks in rural areas, covering all the regions in need, and notable achievements have been made: 82.39 million people have been lifted out of poverty, the poverty headcount ratio has dropped from 10.2 percent to 1.7 percent, and the sense of gain, fulfillment and happiness among people in poor areas has significantly improved.
However, we still face big challenges as China's poverty alleviation work has now entered a critical stage that requires breaking a number of bottlenecks.
First, there is still a large number of people living in poverty. There are six provinces with over 1 million people living below the poverty line and the poverty headcount ratio in 28 counties is above 28 percent. Second, the poverty alleviation work is increasingly difficult. Of the current poverty, 40 percent is caused by illness, serious and chronic illnesses in particular. Illness-induced poverty has become a tough challenge for poverty alleviation efforts. Third, endogenous driving force for development lags behind in the poorer areas. The economic foundations for most poor counties are very fragile, which is an acute problem in Sichuan province and the Tibet and Ningxia Hui autonomous regions. Poor households rely mainly on government transfer subsidies and the incomes of family members working elsewhere as migrant workers, with the former contributing as much as 39.7 percent of their income. The endogenous driving forces are so weak that some poor households are over-reliant on government help and are not willing to take actions on their own.
After the 19th CPC National Congress, more systematic and targeted policies and measures have been adopted to help those trapped in severe poverty.
First, endogenous drivers for local development and a social security mechanism for poverty alleviation are aimed at establishing a long-term stable income generating mechanism for those relocated from remote areas. Second, improved support work in terms of healthcare and job creation are aimed at enhancing the sustainable development ability of those who were lifted out of poverty. Third, third-party evaluators and supervisors are being employed to ensure the poverty alleviation results can stand the test of practice and history.
Poverty alleviation is a long-term complex project which requires us to constantly study and resolve new issues and summarize new experiences.
In terms of guiding principles, we need to have clear aims and a firm resolve, adopt a problem-solving oriented approach, focus on those regions and special groups trapped in severe poverty and strengthen monitoring of how poverty alleviation funds are used.
In terms of specific measures, we should forge ahead with the land system reform and collective ownership reform in rural areas to unleash the dividend of these reforms; give a full play to the "Internet Plus poverty alleviation"; strengthen the accountability system and establish a rigorous evaluation and monitoring system.
In terms of sustainable development, we need to urgently make poverty reduction strategies for China beyond 2020 and build an urban-rural poverty management system that is comprehensive and integrated. To fully engage with the UN Sustainable Development Agenda 2030, we need to incorporate our two tasks of poverty alleviation and rural revitalization, with the former guaranteeing the basic needs in poor regions and households and the latter addressing the issues of rural degradation and the urban-rural gap. We should strive to strengthen international cooperation and establish a Belt and Road international poverty reduction and development alliance so as to lay a solid foundation for global poverty alleviation work and the building of a community with a shared future for mankind.
The author is a research fellow with the World Academy of Sciences and director of the Center for Assessment and Research on Targeted Poverty Alleviation, the Chinese Academy of Sciences. The author contributed this article to China Watch, a think tank powered by China Daily. The views do not necessarily reflect those of China Daily.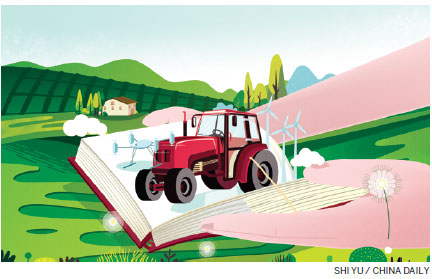 (China Daily 03/14/2019 page13)
Today's Top News
Editor's picks
Most Viewed