Fever for Szechuan Sauce makes Pixian bean sauce hot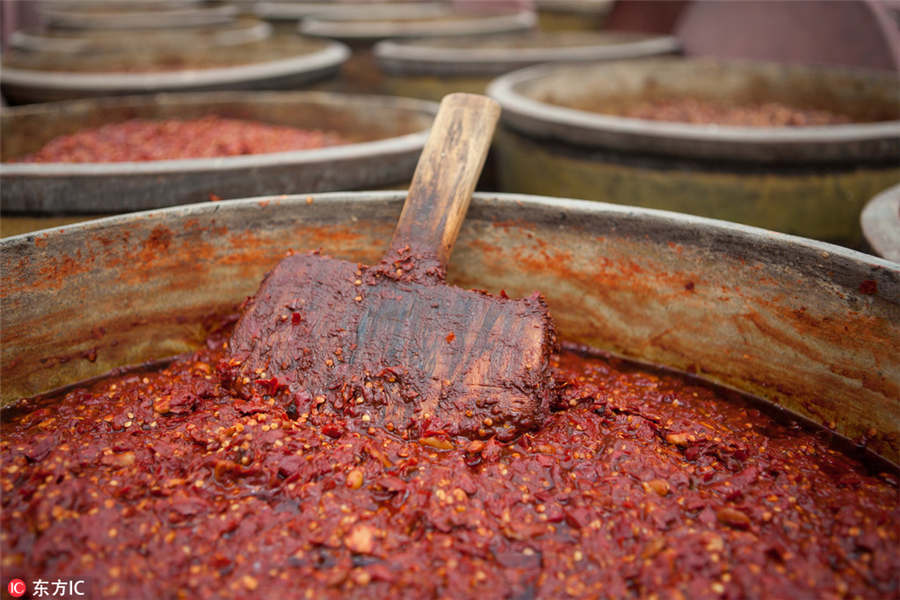 View of Pixian thick broad-bean sauce at a factory in Pidu district, Chengdu city, Southwest China's Sichuan province, Oct 11, 2017. [Photo/IC]
With the Szechuan Sauce causing a craze in the US, its raw material, Pixian thick broad-bean sauce, has also become a hot item online. Some people claimed that the much-touted Szechuan Sauce at McDonald's in US is Pixian bean sauce added with sugar.
Currently, the First Level Thick Broad-bean Sauce and Red Oil Pixian Thick Broad-bean Sauce are most popular bean sauces overseas, occupying 80 percent of the total export.
Among different brands of Pixian bean sauce, the Juancheng thick broad-bean sauce has been exported to more than 40 countries and regions, such as Japan, US and New Zealand.
Shaofenghe, which still sticks to the traditional manual way of making bean sauce, is the originator of Pixian bean sauce. During recent years, Shaofenghe company is also paying more attention to the international market.
The flavor of Pixian bean sauce exported to foreign countries is almost the same as the sauce available in domestic market. According to Juancheng thick broad-bean sauce company, if foreign customers have special requirements, some adjustments will be made but the original flavor will remain unchanged.
Pixian thick broad-bean sauce, a national-level intangible cultural heritage, is a specialty from Pidu district (previously Pixian county) in Chengdu of Sichuan province.
Related: McDonald's limited Szechuan Sauce leads to chaos, again