Natural treasures from the mountains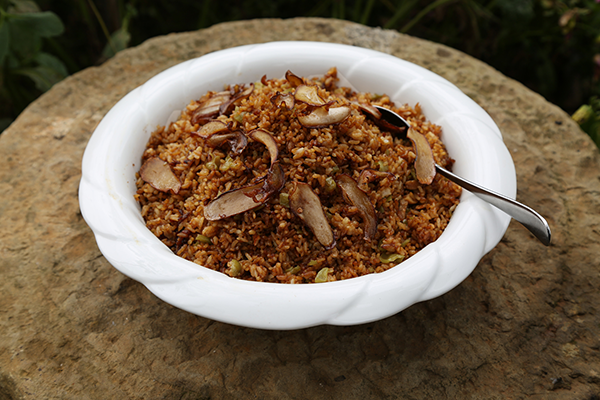 Fried rice with wild fungi. [Photo provided to China Daily]
While the untypical weather in Southwest China's Yunnan province this summer has resulted in disastrous floods and mudslides, it has been good news for the region's mushroom dealers, as half the average rainfall from May to early June, followed by 40 days of consecutive storms has made wild, edible mushrooms scarce, pushing up prices.
"The prices of wild fungi, matsutake in particular, have soared," says Yan Ji, a 32-year-old native of Kunming, who is one of hundreds of mushroom dealers in the province.
For locals like Yan, there is a strict distinction between gu, cultivated mushrooms that are available all year around, and jun, edible fungi that are picked in the wild between July to early September every year. The price of the latter is naturally five to 10 times higher than the former, if not more.
While mushrooms are a traditional delicacy in the province and the province's edible fungi are exported all over the world, it is only in the last two to three years that they have captured the attention of gourmands in China's metropolises including Shanghai, Beijing and Guangzhou, who have belatedly discovered these tasty treasures of nature.
Yan, who joined the family business that primarily wholesales pricy fungus and vegetables to Japan and South Korea, notes that exports used to account for 90 percent of his company before 2014. Then domestic consumption of the fungus started to pick up.
His company, Xintian Fungus, is one of the 12 top exporters in Yunnan province licensed by the local government and has been in the business for more than two decades.